Article by Dave Burrows
Mapping Ireland - A Challenge
NAVTEQ commenced work on mapping Ireland in 2000 and is well on it's way to completing full map coverage of Ireland in 2005.
The Republic presented its own unique set of challenges with historical roots. An economy built on agriculture (before the mid 1800's) meant each county was, for tax purposes, divided into thousands of 'townlands' each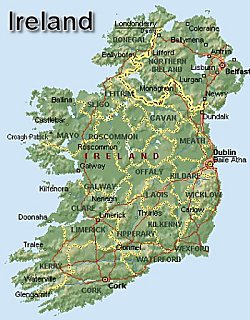 comprising of a few farms. That structure remains the basis for today's official postal destination hierarchy.
For a total population of around four million, there are over 50,000 defined 'localities' – each of which needs to be available as a destination. Compare this to the UK where the Royal Mail defines only 25,000 localities for over 54 million people! Consequently, a huge destination hierarchy is needed for the relative size of the population.
In addition, in there are no postal codes outside Dublin and rural road signs are notoriously very poor!
The first step is finding the right source material so a destination hierarchy can be built into the database – country, county, post town, locality – before mapping even begins. The next decision is whether or not the road network can be based on existing digital mapping (perhaps from a Government agency) or whether it has to be digitised from scratch - using either paper maps or aerial photography.
For the major built up areas in Ireland, NAVTEQ chose to commission orthorectified aerial photography from BKS in Coleraine. The geometry captured from this photography forms the basis of the map and incorporates the centre lines of roads, rivers and railways; and also the outlines of land use features.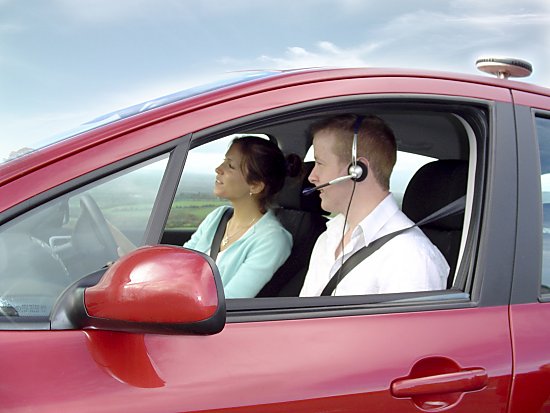 In more sparsely populated areas, teams of field staff survey the roads using a differential GPS receiver mounted on the roof of a car. This creates a trace of the road centre line. The use of DGPS also allows the database to be updated rapidly - often within days of new roads opening to traffic.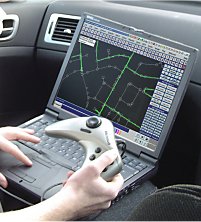 Name and address sources are then added. In the Republic of Ireland An Post and Ordnance Survey Ireland have recently completed the development of GeoDirectory – a complete database of all 1.5 million addressable commercial and residential buildings in Ireland . It locates the centre point of each building to within one metre and includes accurate, standardised postal addresses.
By merging the GeoDirectory data with the road centre lines established by the field teams, road names and address ranges can be added to the road network. Ultimately, this means destinations can be accurately selected by both street name and house number. Finally, the navigable attributes are added to the map.
Back in the office, the laptop is simply plugged in and linked to the main database ready for the new information to be coded and sent back to the mainframe. The data is interpolated using, for the Republic, GeoDirectory to add street names and address ranges to all the new links. It also provides the correct address structure for each link – i.e. the locality, the town/city and the county.
Ireland map coverage as of July 2004
| | | |
| --- | --- | --- |
| | Republic of Ireland | Northern Ireland |
| Length of road | 25,111 km | 10,257 km |
| Area in square kilometres (detailed coverage*) | 2,708 sq km | 1,430 sq km |
| Area in square kilometres (intertown coverage*) | 68,604 sq km | 12,710 sq km |
| No. of people – (detailed coverage*) | 1,250,000 | 750,000 |
| No. of people (intertown coverage*) | 2,750,000 | 850,000 |
| Cities, towns and villages | 998 | 326 |
| Points of interest | 3,831 | 1,379 |
Detailed coverage:

Includes details down to house number ranges – meaning drivers can literally receive turn-by-turn instructions from door to door. Every named road, any unnamed roads with public access, pedestrian zones, and any named walkway containing buildings are all included.

Turn lanes, roundabouts and slip roads etc are also added to ensure optimal accuracy when you are on the move. A broad range of off-road features - such as administrative boundaries, rivers, railways, built-up areas, parks and golf courses - all help the driver's orientation.
Even without an address, Points of Interest – such as theatres, restaurants, hotels and tourist attractions - can be selected by name. Using navigation systems, drivers can, for example, ask to be routed to the nearest casualty department or even the nearest petrol station. In rural areas where there are no street names, a village name can be selected.
Intertown coverage:

The areas with detailed coverage will be seamlessly connected by the intertown coverage. This includes defined categories of road which vary from country to country. In the Republic of Ireland , the database will have every Motorway, National road and Regional road. In Northern Ireland every Motorway, A road and B road will be included .
All are mapped to the same high level of accuracy as the detailed coverage areas – taking drivers to 1,152 towns and villages throughout the Republic and Northern Ireland . Most of the off-road features are also included.