TomTom Custom Cursors
Updated 19th March 2013

by Darren Griffin

With some versions of Navigator 7 TomTom added the ability to use custom cursors when in 3D map mode. Officially these custom cursors can be used on all x20 and x30 models and ONE and ONE XL models upgraded to Navcore Version 8. For other TomTom devices running version 7 or newer read on for a workaround.

If you have cursors you would like to submit for inclusion on this web page please either post in the cursor thread linked at the foot of this page or email to me. My email address is available via the 'Contact PocketGPS' links on the left hand side of every web page on this site.

Please Note: The cursor files available on this page are supplied for your personal use only. You may NOT share these files on other web-sites, distribute them or share them through P2P or TT HOME without the express permission of PocketGPSWorld.com (or the original author if different) who retain copyright at all times. The original files remain copyright of their individual authors but are used here with their permission. Please consult the Licence terms at the foot of this page before use.

Detailed installation instructions and a work-around for older units that do not support custom cursors out of the box can be found at the bottom of this page here.

Cursor Library

All the previews below are in .jpg format for preview only. To access the correct .bmp version that is required for your TomTom single-click the image, this will load a pop-up window with the correct .bmp format version of the cursor. Right-click and select 'Save As' on this image.

A | B | C | D | E | F | G | H | I | J | K | L | M | N | O | P |Q | R | S | T | U | V | W | X | Y | Z
Aircraft

Boeing Globemaster

Moller
Skycar

Assorted

Yellow Arrow

White Arrow


Google
StreetView Car

Tamiya R/C Truck

Trike

M1 Tank

Alfa Romeo

159

Brera

147

GT

8c

Spider

Aston Martin

DB5

DBS

DB9

Audi

A3

A4 Estate

A5

Q7

R8

TT

RSQ (iRobot)

Concept

BMW

3-Series

320T

5-Series

X3


X5

Z3

Z4

Z4 Shnitzer


K1200R

Bugatti

Veyron

Caterham

7 - (Eugene)

This and other Lotus/Caterham cursors available exclusively from:

for a donation (proceeds go to the Leukaemia Research fund).

Christmas

Santa

Santa's Sleigh


Rocket Sleigh

Chrysler

Voyager

Chevrolet

Corvette

Corvette

Citroen

Berlingo

C4

C4

Commercial

Dump Truck

White Van

Transit Van

Pilote R309

Motorhome

Fiat Ducato
Camper

Double Decker

Scania Tractor Unit

US Telco Van

Van Hool Coach

Transit Connect

HGV Trailer

Astra Estate

TeleAtlas Mapping Van

TeleAtlas Mapping Van

Hymer Motorhome

VW
Transporter

Daewoo

Lanos

De Lorean

De Lorean

Back to the Future

Dodge

Viper

Avenger

Emergency Services

Met Police Focus

UK Police Harley

Octavia Traffic

Fire Appliance

UK Ambulance

US Police Cruiser


Grand

Theft Auto

TVP RPU

Omega


Safety

Camera Van

Polizei Mercedes

NYPD

Volvo T5

Ferrari


Enzo

F430

430 Scuderia

F360

Fiat

500


Punto

Film & TV

Back to the Future


Batmobile




Brum

Dr Who

Dalek


Dr Who
Tardis


Ghostbusters
Ecto-1

Thunderbird 2

Thunderbirds

FAB 1

Herbie

57 Mercury Monterey
Sheilas Wheels

Starsky & Hutch

Speed Freaks

Ford

C-Max

Escort

Focus 2003
Station Wagon

Focus 2003
Station Wagon

Focus Mk1

GT40

Mondeo

Mondeo Estate


New Mondeo

Mondeo


S-Max


Torino
(Starsky & Hutch)

General

Motors

Hummer H3

Army Hummvee

HRV

Barina

Honda

CBR1000RR8

Civic

Civic Type R

Element

FRV


Mansell's F1 Car


Prelude

Hyundai

Getz

Santa Fe

XKR

X-Type

XF

Kia

Sorento

Lamborghini

Gallardo

Lancia

Land Rover

Discovery II G4


Discovery 3 / LR3

Defender 90




Freelander 2

Lexus

GS

London Taxis


MetroCab

Image Needed!

TX4

Lotus

Exige

Evora GT

Esprit - 007

Mazda

6

6 Sport

5 C-MAV

CX7

RX8

Mercedes

190

B-Class

C-Class

CLK Cabriolet

Polizei

CLC Coupe


SLK

MG

MGF

Mini

Mini

Mini Cooper

Driving School

Mitsubishi

Shogun SWB

Spacewagon

Morris Motors

Minor Traveller

Minor Saloon

Nissan

350z

Micra CC

Primera

Skyline GTR

Terrano II

Opel

Vectra




Omega

Manta

Zonda




Peugeot

206

206 CC


307

406 Saloon

309


1007

Porsche

Cayman S

Rolls Royce

Corniche Convertible

Rover

75

75

Renault

Laguna

Megane


Scenic

Saab

93

95

Seat

Altea

Ibiza

Leon

Toledo

Skoda

Fabia


Fabia VRS

Suzuki

Spacecraft

Space Shuttle

Apollo CSM

X-Wing

UFO

Subaru

WRX Cars with kind permission of the fomer

WRX


WRX 2008

Forester

Toyota


AyGo


Corolla

Matrix

Prius

RAV 4

Reverso


Supra

Yaris


IQ

TVR

S2

Astra

Astra VXR


Astra


Astra Twintop

Frontera Estate

TVP Omega

Vectra SRi


Vectra


VX220 Turbo


Zafira Estate

Volkswagen

Beetle (Herbie)

Golf MkI

Golf MKI Cabrio

VW Golf MkII



Golf GTi

Jetta GTi


Passat

Passat Estate

Scirocco


Passat

Volvo

C30


S40

T5

Video Game

Crazy Taxi

Crazy Taxi 2

Grand Theft Auto

Grand Theft Auto

Super Mario

Donkey Kong

Wario

Bowser

HALO Warthog
Custom cursors are only officially supported on the GO x20, x30 and certain ONE models upgraded to v8. There is a workaround for other older models that have been upgraded to Version 7 explained below produced by TomTomHeaven.com. Please note that the custom cursors are only in effect when your map is set to 3D mode. In 2D mode the default blue triangle is always used.
Install (GO x20, x30 and ONE models upgraded to v8 that support custom cursors)
To install you need to copy the .bmp (bitmap) version of the cursor to the art\cars folder on your TomTom device.

The .bmp file version of the cursor can be obtained by double-clicking the previews below.

The image that is then displayed is in the correct .bmp file format and can be saved to your PC.

Locate the cursor you wish to use in the previews below and double-click.

A new page will load with the .bmp version of the cursor displayed.
Save this image to your desktop or a folder on your computer. For PC's you right-click the image and choose 'Save As', for Apple Macs right-click and choose 'Save image to the desktop'.
Connect your TomTom to your computer as normal.
All that remains is for the image you saved in step 3. above to be copied to the correct folder. If you browse your TomTom device you will see a folder called art. Within this folder is a sub folder called cars. Paste the cursor image into this folder.
Activate
To select the new cursor on your device:
Open 'Change Preferences' from the Main Menu.
Select 'Change Car Symbol'
If you have correctly followed the steps above your new cursor will be shown amongst those available for you to choose from.
Select the new cursor.
Workaround for v7 models that do not have native custom cursor support.
Please Note: This requires use of as third party tool. We cannot be held responsible for any issues arising from its use.
Download this .zip file which contains the missing 'art' folder, a default arrow and a custom cursor to get you going.
Extract the .zip file and copy the resulting 'art' folder and all its contents to the root of your GO's SD card or internal memory so it appears in your GO file structure like this: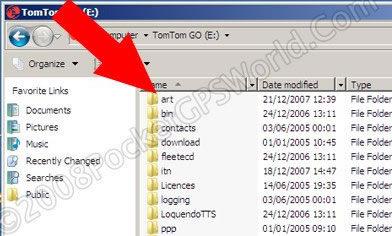 You will then need a third party utility, the TomTomHeaven Explorer available here .
Download, install and launch.
Save the default Arrow cursor by clicking 'Save'.
So long as you left your GO connected after installing the 'art' folder in Step 2 above you will see this screen. The file list shows all the cursors you have copied into your 'art' folder. Choose the one you wish to use as your default and click 'Apply'.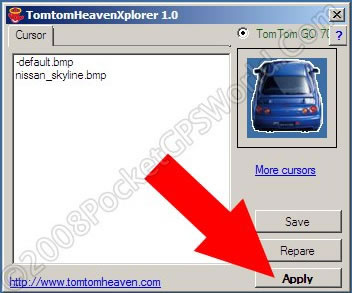 When you see the 'Congratulations' message the deed is done. Click OK, exit the application, undock your GO.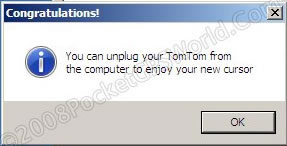 and if all has gone to plan you will see your new cursor: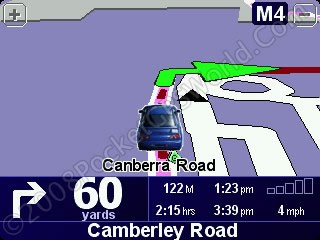 Creating your own
If you want to make your own it is a simple process
Locate a suitable image or take a photo of your own car. The best cursors are those that are viewed from the rear but slightly above the car rather than from directly behind.
The image size should be re-sized to 80 x 80 pixels.
TomTom automatically sets any part of the image that is red (RGB 255,000,000) to transparent
For optimum results a continuous 1 pixel white border should be added around the cursor.
The image should be saved as .bmp (bitmap).
You can easily experiment with your cursors or take a look at some of the ones supplied with the device to see how they have been designed.
Licence
By downloading these files you are deemed to have agreed to the following conditions:

You may copy these files for you own use without financial gain only.
You may NOT use the files for commercial purposes nor may you share uplaod or otherwise offer them in any format to third parties. The files are provided "as is" without warranty, either expressed or implied. In no event shall there be any liability for any damages whatsoever.
Copyright (C) PocketGPSWorld.Com Ltd, 2012, .