Reviewed By

Darren Griffin
Review Date

24th May 2011

Manufacturer
Otterbox

UK Street Price

£33.99 inc VAT (Amazon UK)

8
Otterbox have earnt a deserved reputation for no-nonsense protective smartphone cases. Over the years we have used and abused many of their designs and they have always lived up to their promise of offering the very best protection possible.
But, good as they are, you could never accuse them of being understated. The designs were distinctly utilitarian and were more suited to the equipment belts of Batman than to the inside pocket of your suit, until now.
The latest product to emerge from the design studios at Otterbox is their 'Reflex' range of smartphone protection.
Design And Use
Eschewing the bulletproof look of previous designs, the Reflex range looks much like other smartphone cases. It has a simple two piece design that can be attached, and removed, with ease and slots for power, volume and sync ports.
But that is where the similarity ends. In the reflex range, Otterbox have designed a case that incorporates crumple zones. The shell incorporates soft rubber that separates the hard outer edges of the case from the inner. The end result is enhanced protection for your phone when fitted inside a Reflex case. You can see from the image below that these protection zones surround the phone and include extra corner protection. If you press down on the outer shell you can actually see it compressing, simple but clever.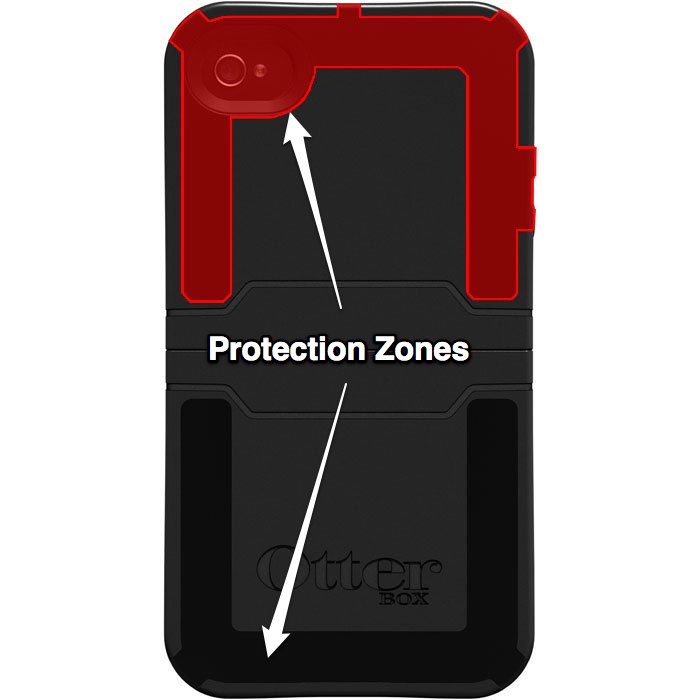 Otterbox Reflex
It sounds gimmicky but it actually works. Otterbox claim that tests showed that the case reduced the shock from a fall onto a hard surface from 15g's to 5g's, a significant reduction. Otterbox also bundle a screen protector and applicator which is a nice touch. I've never had any success in applying screen protectors. No matter how careful I am I always manage to trap a spec of dust underneath. I'm sure there is a knack to their application, but I've yet to discover it!
I wouldn't normally put such claims to a test but unwittingly, only a few hours after first fitting my iPhone 4 into the review sample I managed to drop it from shoulder height onto a granite floor. I'm delighted to report that my iPhone survived unscathed as did the case! It was a heart stopping moment, especially considering that I normally use a clear plastic shell for protection. I'm certain that, had I had that fitted, it would have shattered on impact and left me sweeping up the remains of my iPhone.
In the iPhone4 version that I tested, the case has built-in buttons for power and volume up/down plus cutouts for mute, headphone, microphone, speakers and sync port. The lower half can be removed for docking in cradles and home Hi-Fi's etc and I can even report that it will happily accommodate a white iPhone4 (which some sites have claimed to be a fraction thicker).
Although the case is still a little more robust in appearance than a basic case, the added bulk is there to allow for movement of the outer shell without compromising the phone within. I though it suited my iPhone very well and made it nicer to hold.
The cut out underneath was large enough to accommodate the range of iPhone sync cables that I have in my possession and for use in a car-cradle it was a simple matter of sliding off the lower half of the case.
So, in conclusion, it's another product from Otterbox that does exactly what it claims to do, protect your phone. The £33.99 cost may be on the high side but then, if it saves your £400+ smartphone from becoming a worthless pile of circuitry and smashed glass then it has to be a worthy investment.
---