Reviewed By

Darren Griffin
Review Date

24th May 2011

Manufacturer
Nike

RRP

£179.00 inc VAT

8
Nike and TomTom unveiled their sports watch at CES earlier this year. Adding to the already successful Nike+ brand, the sportwatch enters a market that has, until now, been dominated by Garmin with their Forerunner watches.
Design
The first thing you will notice is the very striking design. With a very modern look and a large inverse LCD display, the Nike+ Sportwatch looks great. Although chunkier than a normal watch, due to the battery and GPS receiver, it is not unduly bulky and Nike have done well to design a GPS watch that looks this good.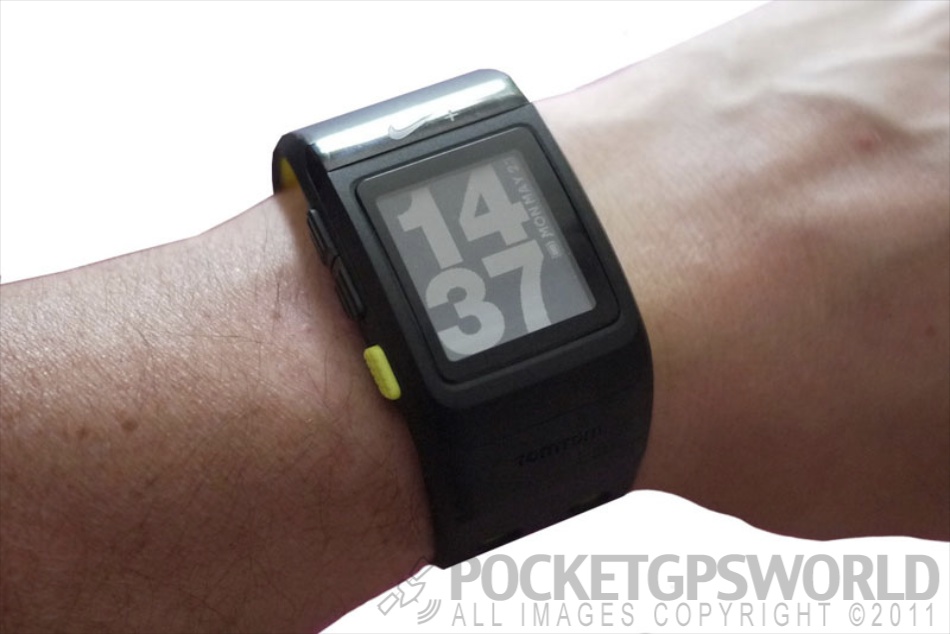 Setting off the charcoal case colour is a yellow accented strap and side button. Nike's logo appears above the display with TomTom's below to indicate the collaboration in the design.
The strap has a wide range of adjustment that should be enough to accommodate most wrist sizes and very cleverly hides the USB connector that is used both for data transfer and for charging. This has been hidden inside the end of the strap and can be plugged into a USB port on your computer without need of any adapter or custom cable. A very nice touch.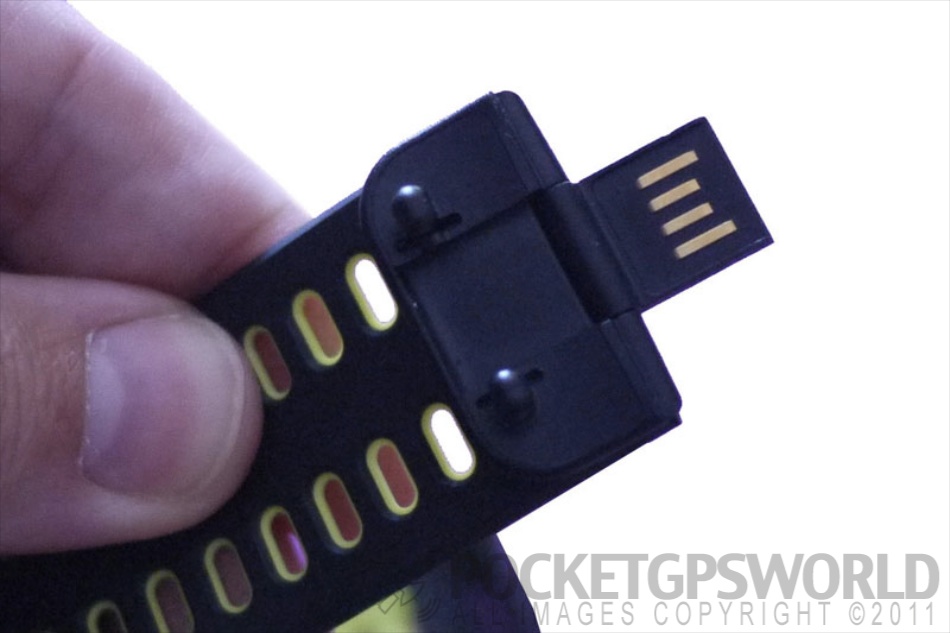 The strap uses the standard watch-type buckle but, instead of a loop to retain the loose end, uses small buttons on the strap which clip into the slots. This works very well and keeps everything neat and tidy.
The strap and the watch are a one piece design, necessitated by the USB feature and the battery is non-removable. It remains to be seen how the watch will bear up to long term use but these points could become an issue further down the line.
What's Included
In the box you will find the watch, a USB extension cable, a quick start guide and a Nike+ foot pod. The foot pod is a small cadence sensor that is designed to fit into a slot provided for it in Nike+ compatible running shoes. The sensor itself isn't new and has been available for some time for use with other Nike+ compatible products including the software built-in to some iPod's as well as the iPhone app.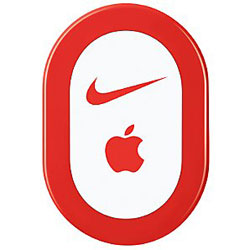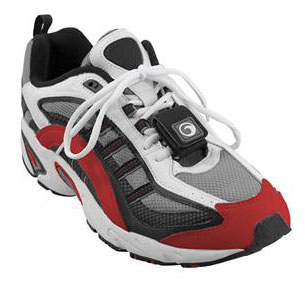 The cadence sensor will help supplement GPS data when you are out running, useful if you lose GPS signal at any time. It can also be used when running on a treadmill indoors where GPS data would not be able to measure your activity.
If you don't have Nike+ compatible shoes then you can still use the foot pod but you will need some method of attaching it to your running shoes. Nike do not supply an adapter for affixing it to laces but there are a number of products available that provide this. For the review I purchased a Marware Sportsuit Sensor+, a small velcro pouch that holds the foot pod and attaches to your laces.
The beauty of this is you can attach it and remove it easily as required. There are a number of other suppliers of similar solutions but it is a few more pounds on top of the purchase price of the sportwatch.
The Nike+ Sportwatch does also support connection to a Polar Heart Rate Monitor should you wish that feature.
Installation and Setup
Nike support both PC and Mac with their Nike+ software and web site. Installation is straightforward, plug the watch in to your computer and it will appear as a disk drive with a link to the Nike+ web site and the necessary installation software which needs to be download and installed.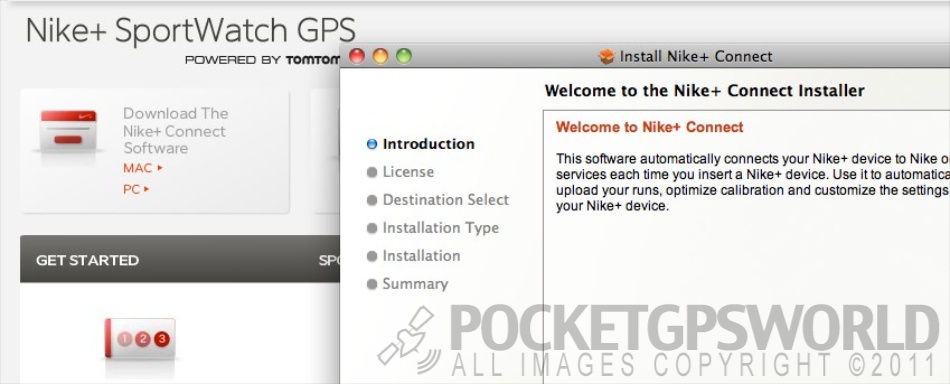 Mac Installation
Once that has been done, the client software will start up automatically when you connect your sportwatch. If there is run data on the watch it will automatically be uploaded to the Nike+ web site. At the same time it will update the watch with any software updates or new GPS data that is available. This process is seamless and straightforward.
Nike+ Client
You can also configure the watch via the client software. Clicking 'Settings' gives you access to a range of options including weigh (used to calculate calorie burn), distance units, date of birth, date & time, customisation of the display, lap features and alerts etc
The Nike+ Client Software
In use
This is where the Nike+ Sportwatch shines. Unlike other GPS watches that I have used, operation is simple and intuitive. You access the menu by pressing one of the two top buttons. This brings you to the main menu page with clock, run, history and records options.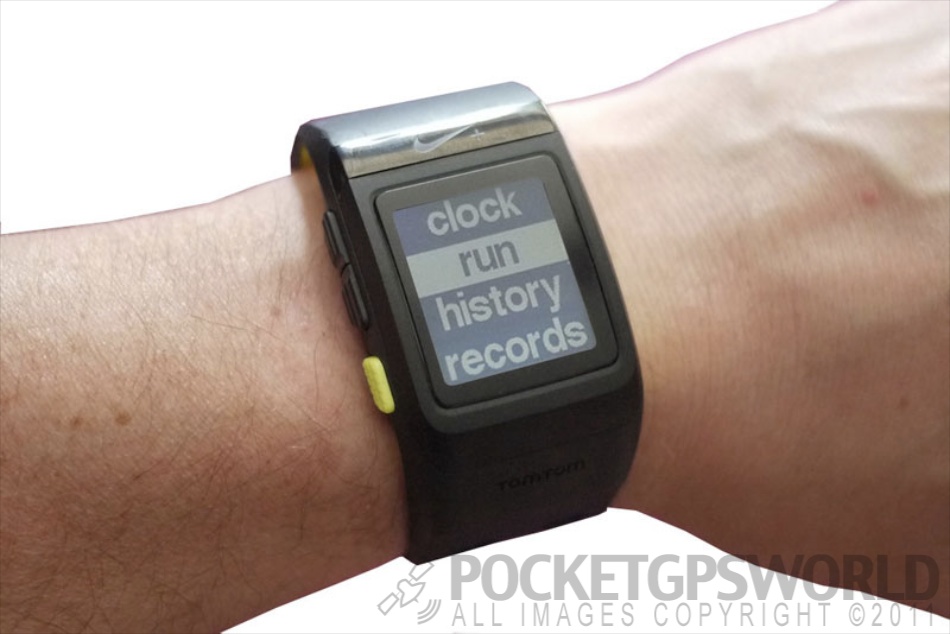 You use the top two buttons to navigate up/down the menu and the yellow button to select. It's very straightforward and easy to accomplish. Selecting Run gives you a further page where you can choose whether to use GPS, Shoe Pod or both. Click Continue and the watch will automatically connect to the Shoe Pod and attempt to acquire a GPS fix. Once that has been done it displays Ready and you can commence your run.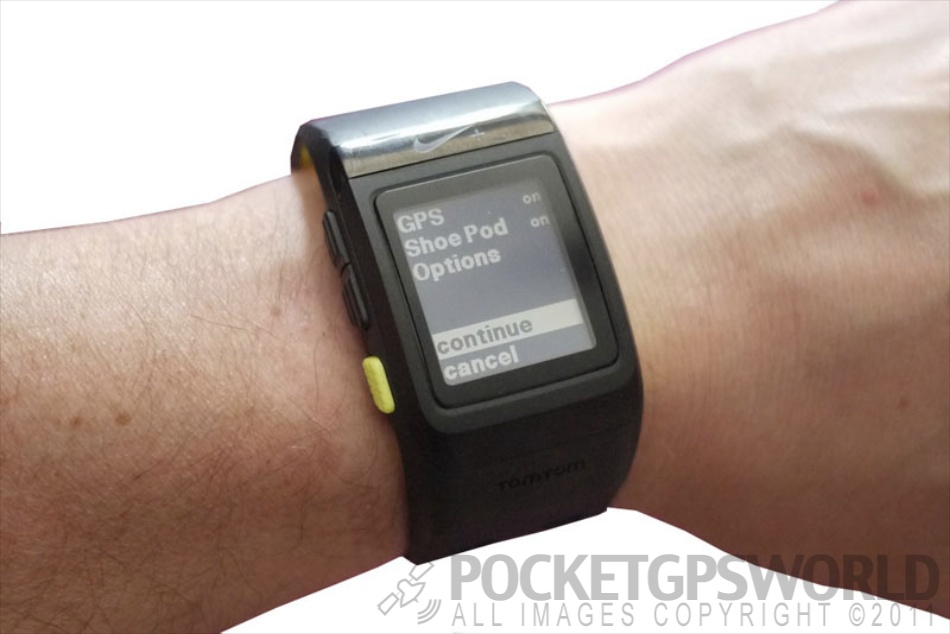 Whilst running, the watch display shows your configured choices of data in the main display panel area and the smaller one located above it. You can scroll through all the other data available using the side buttons. I found my preference was for distance as the main display and elapsed time in the smaller panel but you can easily configure which ones you prefer.
The display is very easy to read, the inverse LCD being especially clear outdoors. A back light is available and is activated by a firm tap on the screen.
At the conclusion of your run you need only press the yellow side button for three seconds to save the activity. You are presented with a quick summary screen and even some encouragement and congratulations if you have beaten a previous record. As I'm getting back into running after a long absence it seems that every run I do is rewarded with a cheer at the end, a nice little bonus which helps encourage you.
To upload your run data all you then need do is connect the watch to your PC.
Nike+ Web site
The watch is, of course, heavily tied into the Nike+ community web site so if you do not have an existing account you will be prompted to create one. The Nike+ web site is the on-line portal for all the Nike+ products and here you can see your activity history, access all the various stats for every run, see the run overlaid on a Google map and set yourself challenges and goals.
I have had some issues with the GPS side of things. On one occasion I chose the quick-start option offered when you select 'Run' believeing, incorrectly, that this would forgo the need to wait for a GPS fix. However, having completed the run I discovered that choosing the quick-start option simply ignored the GPS altogether, relying on the foot pod data instead and resulted in no map overlay for that outing. lesson learnt!
The Nike+ Dashboard
I have experienced an issue with the GPS data that seems to have affected others users. On some runs, the GPS track drifts off the actual route. It seems to roughly mirror the true route but offset by a few hundred yards. Out of the fifteen runs I have done whilst testing, I only experienced this issue on two occasions but it has been reported by other users and reviewers.
I haven't been able to subject the watch to a long term test but, given it is accurate on most occasions, that would suggest the problem lies in the software and so will hopefully be pinned down and fixed. There has already been one firmware update in the time I have been testing and I will be seeking some comment on this particular issue.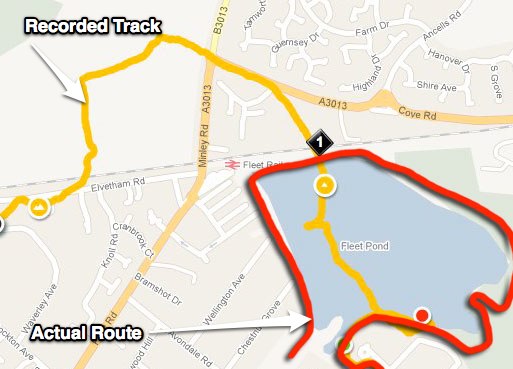 Screenshot showing the GPS error that has been observed.
Conclusion
There are many different reasons why you might like a watch such as this. You may be a serious athlete, you may be training for your first marathon or you may simply be looking to keep fit. And so it is difficult to anticipate every feature that each group may desire. Others have bemoaned the lack of a stopwatch facility. This may be useful to time recovery periods or to sue when track side and timing others but it isn't something I have missed. And the GPS issue is something that needs to be ironed out and resolved once and for all.
Overall I was impressed with the Nike+ Sportwatch. It was supremely easy to use, offered me all the data that I needed and was backed up by the comprehensive Nike+ web site. The only downside for me was the web site and its reliance on Flash which can be slow and clunky at times. Also, if you own an iPhone (3GS or 4) or an iPod Touch(2nd generation or later) then you could achieve much of what is on offer here using the Nike+ app.
But, for the target market, an iPhone or iPod Touch strapped to your arm is no replacement for a dedicated GPS watch. I liked it so much that I've ordered one as my birthday present. Or at least I will do as they are proving rather popular and finding one to buy is a task in itself. In the Nike+ Sportwatch GPS, Nike and TomTom have a winner on their hands. I have decucted one point in the review score because of the intermittent GPS issue. When that is fixed it will have justifiably earnt a very deserved 9/10.
---