CES 2011 - Nike And TomTom Unveil Sportwatch


Article by: Darren Griffin
Date: 6 Jan 2011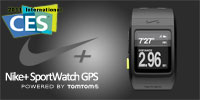 Catching everyone off guard, Nike and TomTom have today unveiled their collaborative effort - the Nike+ Sportwatch.

The Sportwatch is a GPS equipped sports centric watch that will go into battle as a direct competitor for the sports watches from Garmin who have long held the top spot in this sector.

With a svelte modern look, touch screen operation, a cunningly concealed USB plug hidden in the wristband and full integration with Nike's www.nikeplus.com website it looks certain to be big hit with runners.

Other features include heart rate monitor support, run history, optional Nike+ shoe cadence sensor and 'Attaboys', Nike's pat on the back system for when you reach or beat a personal best.

Pricing has not yet been confirmed but the Nike+ Sportwatch is set for a simultaneous launch in the UK and US on April 1st 2011.
Viist TomTom's Nike+ SportWatch Microsite here.
All thumbnails clickable for larger versions


Comments
Posted by andy-c1 on Fri Jan 07, 2011 7:57 am

it certainly does look nice BUT my first question that popped into my head was do all the features work and how often will it crash

---

TomTom 5001
Posted by Chaps01 on Fri Jan 07, 2011 11:48 am

Will it have routes, courses and turn by turn navigation similar to the Garmin forerunner 305?

Surely there is a RRP or projected cost for this or do manufacturers no longer do this?

---
Posted by Darren on Fri Jan 07, 2011 11:50 am

?? The 305 has none of those features.

---

Darren Griffin - Editor
Posted by Chaps01 on Fri Jan 07, 2011 11:58 am

Darren Wrote:
?? The 305 has none of those features.



I have a Forerunner 305 and can save a run/cycle ride as a route or course and if I chose one of these it gives basic navigation.

I grant you that it is very basic (i.e. turn ahead or something like that) but you get a picture of the route and an arrow to show where on the route you are. You do have to have done the route first so no it is not proper turn by turn navigation but I do use it as a basic sat nav.

---
Posted by Darren on Fri Jan 07, 2011 12:05 pm

What you describe is not turn-by-turn navigation nor is it tracking (which you edited out after my reply).

Nike/TomTom haven't yet released detailed info on what it can/cannot do so the answer is "we don't know".

I've a Globalsat GPS watch which offers the same functions but for the target market of runners this isn't top of the 'wants' list. I'd guess it will have more in common with the Forerunner 405 (without the awful touch bezel).

It's odd that they have not announced a price bit it may simply be because it is still 3 months away and pricing is still being decided.

---

Darren Griffin - Editor
Posted by Chaps01 on Fri Jan 07, 2011 12:22 pm

I edited tracking out as I deemed it misleading. What I meant was would it keep a tracklog of points that you have covered so that it can be exported as a gpx file or uploaded to Google Earth etc.

I have since been on the website and seen that you can upload this data to the Nike website so it must save a tracklog.

---
Posted by Darren on Fri Jan 07, 2011 12:26 pm

Chaps01 Wrote:
I edited tracking out as I deemed it misleading. What I meant was would it keep a tracklog of points that you have covered so that it can be exported as a gpx file or uploaded to Google Earth etc.


Yes, it interfaces with NikePlus.com so retains tracklog data.


Quote:
I have since been on the website and seen that you can upload this data to the Nike website so it must save a tracklog.


It needs to have that data to calculate Pace/Laps etc. But I doubt it will have anon on-screen route map/breadcrumb function.

---

Darren Griffin - Editor
Posted by Darren on Fri Apr 01, 2011 4:03 pm

The watch is now on sale, RRP £179.00. Full press release with more details on the watch copied below:



Quote:
New Watch Delivers World's Most Dynamic Running Experience

NIKE and TomTom have collaborated to create the Nike+ SportWatch GPS Powered by TomTom. The new running watch, which is now available in-store and online in the UK priced £179, provides athletes with the most dynamic and motivational running experience in the world thanks to its unique functionality, beautiful design, and direct connection to www.nikeplus.com, the world's leading running community with almost 4 million members.

The Nike+ SportWatch GPS is designed for high-performance with an extremely clear and readable user interface that delivers the information necessary to the user while in-run. It adds personalisation and motivational features to the running experience, including audible sounds, challenges, run reminders and more.

"The Nike+ SportWatch GPS is a game-changing product that furthers our commitment to provide all athletes with unparalleled motivation and the tools to get better," said Stefan Olander, VP of Nike Digital Sport.

"It is part of TomTom Consumer's strategy to move into the fast-growing sports and fitness market. This true partnership with Nike combines the strengths of two leading companies to deliver a game-changing product for runners," said Corinne Vigreux, Managing Director, TomTom Consumer. TomTom is the world's leading provider of location and navigation products and services.

On-Watch Experience
The Nike+ SportWatch GPS is designed to be simple and intuitive with only three buttons and a Tap Screen for navigation. During the run, the new Nike+ SportWatch GPS captures location information while showing runners their time, distance, pace, and calories burned on an easy-to-read screen featuring a customizable layout. Throughout the run, the GPS receiver works in tandem with the shoe-based Nike+ Sensor to deliver highly accurate pace and distance data.

On-watch features include:
o Tap Screen for setting laps and activating backlight
o Run History with data from past runs
o Personal Records including those imported from Nikeplus.com
o Quick Start with optional shoe-based Nike+ Sensor
o Heart Rate Monitor compatibility

Some of the unique motivating factors the Nike+ SportWatch GPS offer runners on-screen include:
o Recognition (or "Attaboys") for personal records
o Run Reminders that appear after five days if a run has not been logged
o Post-run acknowledgement and encouragement

Post-Run Experience
The Nike+ SportWatch GPS plugs neatly into any USB port on a Mac or PC, then immediately launches the Nike+ Connect interface which automatically transfers information to www.nikeplus.com.

"With more than 150 million runs logged since its launch in 2006, Nikeplus.com captures the pulse of the running world everyday," added Olander.

Nikeplus.com presents runners with the GPS mapping, total miles, pace and elevation data for their most recent run in a rich and engaging way that will be familiar to users of the popular Nike+ GPS iPhone application.

"Providing runners with accurate pace, distance and location information during and after their run gives them the information they need to better train and track their progress," added Vigreux.

Data from each run is automatically applied to all current Nike+ Challenges, Nike+ Goals, and Nike+ Coach programs in which the runner is participating.


Additional Features at Nikeplus.com
Athletes who want to get the most out of their run and from the Nike+ SportWatch GPS will have access to a huge catalogue of run routes logged by Nike and published by other runners on streets and trails around the world.

Each run will be graphically mapped with the help of TomTom technology, and include route notes, elevation and length. Runners will also be able to find the perfect route by searching the catalogue by location, length, difficulty, and even landmarks.

Since the 2006 launch of Nike+ in partnership with Apple, a variety of Nike+ enabled devices have been introduced to help runners reach their full potential including the Nike+ iPod Sport Kit for iPod nano and iPod touch, the Nike+ SportBand, and the new Nike+ GPS App for use with the iPhone.

---

Darren Griffin - Editor