Traffic4England - Real-Time Traffic Alerts for Android


Article by: Darren Griffin
Date: 13 Sep 2009



Traffic4England provides GPS enabled, real-time traffic reports and live radio reports covering Motorways and A-Roads in England (Data from Highways Agency).

The app, which is FREE and available from the Android Market, provides a map view with all events plotted along with traffic speed where it is less than 40mph.

Additionally, a list view shows all current events and a detailed view provides detailed description of events.

Navigation between views is carried out by tapping the screen or using the Android 'Back' key and enabling the GPS allows the map to focus on your location.

The data, provided by UK Highways Agency is automatically updated every three minutes when the app is active in the foreground.

Various icons represent roadworks, traffic queues, accidents, lane closures and road closures and in the Map View additional icons show the road speeds.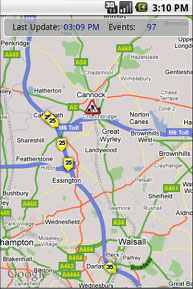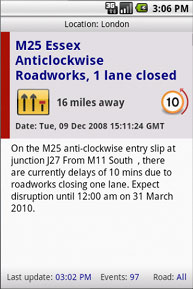 Map View - List View - Detailed View


Finally the Traffic Radio function allows you to listen to traffic information broadcast by the UK Highways Agency.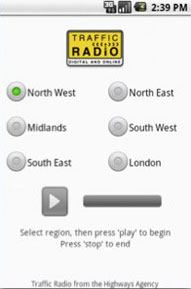 Traffic Radio
In use the app works very well offering the ability to quickly peruse and identify any events or incidents along your route.

It is simple to operate and the information is presented in an easily digested format.

For more information see the developers website here or download the app from the Android Market.
Comments
Posted by IMB on Sun Sep 13, 2009 5:09 pm

Looks go, pity it cant intergrate with Copilot. Anyone any ideas when Traffic will be available for Copliot on Android? All Alk say is that Traffic isnt compatable at the moment but will be soon, I hate that word soon, its so relative to what your expectation of the word means, 'next month', 'next year' or 'when we get around to it'. I hope it means tomorrow!!!!

Ian

---
Posted by Darren on Sun Sep 13, 2009 6:25 pm

No idea but regardless thats a question for the CoPilot Forum not this one.

As for this app, it works very well and offers a quick and easy way of reviewing your planned route to see what if any disasters await!

---

Darren Griffin - Editor
Posted by Darren on Sun Sep 13, 2009 7:31 pm

The developer has acknowledged a small bug which means the map does not follow your GPS position as you move. An update will be released in the next few days to correct this.

---

Darren Griffin - Editor
Posted by gpspod on Tue Sep 15, 2009 4:33 pm

Darren Wrote:
The developer has acknowledged a small bug which means the map does not follow your GPS position as you move. An update will be released in the next few days to correct this.



GPS update available on the Android Marketplace. Release notes at http://traffic4england.blogspot.com/

Enjoy :-)

J.

---
Posted by Darren on Tue Sep 15, 2009 4:36 pm

That was quick, -----------> Off to Market

---

Darren Griffin - Editor
Posted by No1-teef on Fri Sep 18, 2009 10:35 am

Where can i download this app from?

What is Android Market?

---
Posted by Darren on Fri Sep 18, 2009 10:57 am

You need an Android powered phone. Android Market is the Android version of iPhone's Appstore. An app on the phone that takes you to the Market where all the apps can be bought and downloaded.

If you don't have an Android phone then this isn't for you.

---

Darren Griffin - Editor
Posted by No1-teef on Fri Sep 18, 2009 11:35 am

I have an iPhone, so i was wondering if the app is availble it

---
Posted by Darren on Fri Sep 18, 2009 11:45 am

No1-teef Wrote:
I have an iPhone, so i was wondering if the app is availble it


Android only for now.

---

Darren Griffin - Editor