Part 3 - Road Data / Coverage
Article by Dave Burrows
Road Classification
NAVTEQ has 5 levels of hierarchy in their mapping data.
FC1 - is categorised as motorways / major roads for france.
FC2 - equivalent of main roads in UK (A Roads)
FC3 - main connector roads (B roads)
FC4 - local roads (fastest way between two villages)
FC5 - residential and minor rural roads
Each function class (FC) must link into the network to FC2 or FC3.
Address Finding
NAVTEQ cover both Administrative and postcode data collection. Some towns/cities work better on postcodes and others on administrative.
Mapping Coverage
Street Level mapping for Great Britain was completed in May 1999 and mapping of Ireland commenced in 2000 and is currently on-going to receive 100% coverage. NAVTEQ now maps more than 40 countries.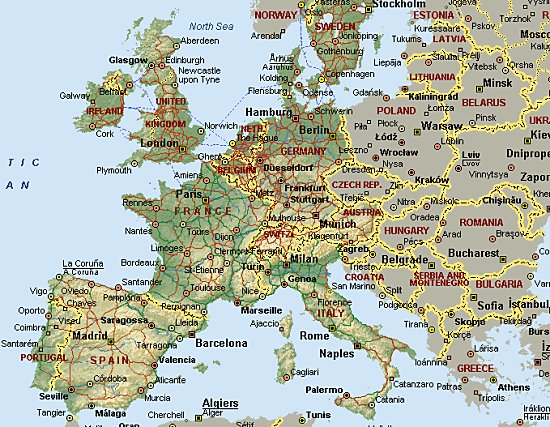 NAVTEQ 2004 Plans:-
Initial mapping of seven Eastern European countries by the end of 2004.
NAVTEQ has just launched a navigable map of Hungary including a nationwide major road network which connects all key urban areas.
Poland, Slovenia, Croatia and the Baltic States (Estonia, Latvia and Lithuania) will also be added to the database for release Q4 2004 and Q1 2005.
Full coverage for France and Finland
Significant increases to address range coverage in Germany, Switzerland and Belgium
NAVTEQ's Future Plans:-
Full coverage of Ireland, Italy, Spain and Portugal
Further and faster expansion into Eastern Europe
Points Of Interest
NAVTEQ currently has 46 Points Of Interest groups for North America and 40 Points Of Interest groups for Europe.
Base Data
NAVTEQ's GB map is based on Ordnance Survey Data. Various OS files, comprising road, addressing, landuse and administrative data were combined to create the map. Since 1995, all new roads and updates to the map have been carried out by NAVTEQ's team of Geographic Reseachers who drive over 300,000km each year.
UK Coverage
As of September 2004, NAVTEQ are covering around 442,000 km of road networks, 2.9 million links. Each link has around 160 attributes totaling 435 million attributes in total. Attributes include items like:-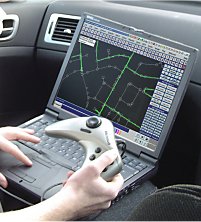 turn restrictions
physical barriers and gates
one-way streets
restricted access
relative road heights (e.g. speed bumps).
NAVTEQ currently holds 65,846 Point Of Interest in the following categories:-
Airports (42)
Car Parks (4,188)
Hotels (5,577)
Petrol Stations (11,217)
Restaurants (2,803)
Why is my road not in the SatNav product I'm using ?
This is a common question we are repeatedly asked and also a popular question posed to NAVTEQ by end users and is unfortunately a "how long is a piece of string" question. In reality NAVTEQ are usually aware of most road updates (especially major ones) well before they are completed. NAVTEQ go out and survey the road, and in terms of the M6 Toll get to survey the road before completion. They cannot make this data live until the road is officially opened.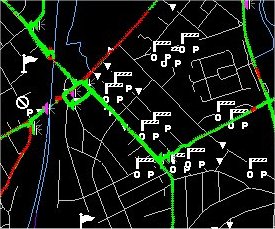 This is because the last thing people will want is to be told to turn off onto a service road that is not completed. Once the road is opened, NAVTEQ release the data in their next quarterly release to their clients.
It can take anything from several months to 18 months to get this into a product that most of us use. The reason for this is because most companies that use NAVTEQ data won't have a release date shortly after the release of the latest NAVTEQ maps. So by the time you get to receive the updated maps in your annual release of say CoPilot, you may find that the road is not in there because of the data set that is being used.
Furthermore because in the PDA market most products with maps are only updated on an annual basis, it means that you may not see the road for another 12 months which ultimately means you could be sometimes looking at a realistic figure of 18-24 months. Some smaller roads and new housing estates can take longer because it may take longer to get a geographic research team to that location, or to be notified by the local authorities, so you can sometimes find the odd road not being mapped for a longer period of time.
Another reason for outdated maps can be that a GPS company has been having problems and their product release dates have continually slipped. Rather than having to re-format the maps with a new release of map data from NAVTEQ which can take some time, they need to get the product out the door quickly so they stick with the last quarters maps, or perhaps maps from 6 months ago.
Why are there no maps available for my country, or the country I am visiting ?
This is another common question. Firstly you have to bear in mind there are two issues at heart here. One is the product you are using or looking to use. For instance most GPS companies are producing products with only Western European and North American maps. There are maps of other countries, but it's whether there's a vested interest in these countries to provide local data. NAVTEQ as you may recall has mapping for more than 40 countries. NAVTEQ have recently started mapping Eastern Europe, so you should see some more Eastern European countries like Czech Republic and Slovakia which already has some coverage appear in future NAVTEQ maps.
We would also like to thank NAVTEQ, and especially Graham, Sue and Tony for arranging the visit and Dan for showing us how he maps data to the PC.