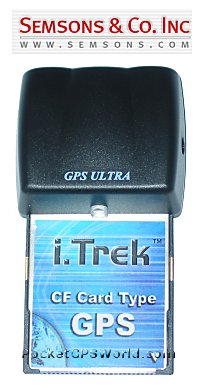 Review by Dave Burrows
Introduction
Semsons are known more in North America rather than Europe as this is where their online store is physically located. Semsons have their own badged brand of GPS products called i.Trek and some of you may recall we reviewed the i.Trek Mouse back in October 2003. Semsons have recently sent us the new i.Trek Compact Flash GPS Receiver for review.
The i.Trek Personal Navigation System (as it's called) comes complete with a Compact Flash GPS Receiver running SiRF XTrac v2.02. For those of you who do remember our Holux GM-270U review, it does look extremely similar to a Holux GM-270 Plus, that's because it is. However it does have one major different, it comes complete with the latest XTrac v2.0.2 software for greater sensitivity.
Box Contents
The i.Trek CF Card comes complete in a blister style pack (that's the see through plastic packs to you and I. It's just a GPS Receiver, so it does not come pre-packaged with any software but does come with the standard Holux Tools CD which supports the GM-270 and GM-210 GPS Receivers, so although you will not need a Pocket PC Driver, there is a PC Driver on the CD and also a PC and Pocket PC SiRF Demo to help you check that the GPS Receiver is receiving a signal.
External Antenna
Unfortunately an external antenna is not included with this GPS Receiver, however you really should only require one if you have an athermic (UV Coated) windscreen which will dampen GPS signals and cause problems in obtaining a continuous satellite lock. Some cars and trucks may experience a degraded signal with CF cards, because the patch antenna inside these CF cards are actually facing back at you when you have the Pocket PC suctioned to the windscreen or clipped to the vents, and due to this you may see a degraded signal, but this is where XTrac comes in and can lend a helping hand.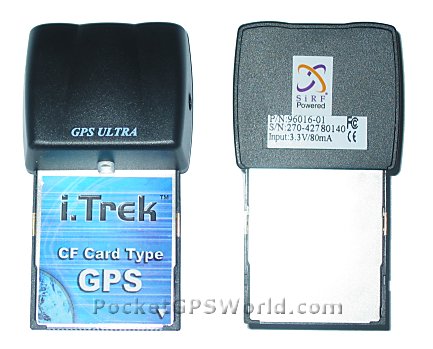 Acquisition time:
Warm start: < 38 seconds
Cold start: < 45 seconds
Hot start: < 8 seconds
Snap start: <3 seconds
re-acquisition: 100ms
Interface:
RS232 (NMEA protocol)
USB (NMEA protocol)
iPAQ® connector (NMEA protocol)
Update rate:
1 second continuous
Antenna:
Built-in, External MCX antenna connector
Accuracy:
Position: 5 - 25m (SPS).
Position: 2 - 5m (EGNOS)
Velocity: 0.1m/s
Time +- 1us
Power:
< 30mA @ 3.3VDC ± 10%
30% duty cycle trickle mode
Altitude:
Velocity: 515m/s
Acceleration: +- 4G
Temperature:
Operating: -10C ~ 70C
Storage: -40C ~ 85C
LED function:
Off: unit powered off
On: Unit searching for satellites
Blink: 3D fix obtained
Dimensions and weight:
91 x 50 x 20 @ <50g
NMEA output protocol (v2.2)
4800, N, 8, 1; GGA, GSA, GSV, RMC

XTrac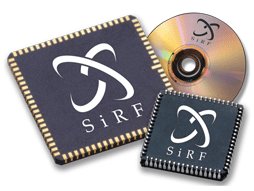 There's been a lot of debate over XTrac over the past year. All of the XTrac devices I have used with Street Navigation Products I haven't really seen any major issues with. XTrac v1 did have the tendency to overshoot say a roundabout if you were braking from 70mph down to 0mph, but never really saw any major issues with the position jumping to nearby roads. In inner town usage, with roads less than 50 yards apart in parallel formation then you could find that Street Navigation software may jump to the adjacent road because of the way it was receiving lower strength signals and interpolating the data. XTrac V1 was certainly worse if you were not using snap to road functions, e.g. if you were using Topographical style maps as opposed to Street Navigation maps. However, that said, SiRF have improved their chipset and XTrac V2.0.2 is supposed to be much better.
What's the difference ?
Ok, so you now know that XTrac is more of an enhancement in software terms on how it can enhance the signal that you see, but how does that relate in real the real world ? Take a look at the screenshot's below. The first screenshot is using the i.Trek CF GPS in a reduced signal area (e.g. indoors). Now take a look at the middle screenshot of an XTrac 1 device (SysOnChip CF Plus) using the early version 1 of XTrac. To the right of this is a standard GPS Receiver screenshot from a a non-XTrac CF GPS card.
Hopefully this should highlight the difference. Please note that XTrac will not always give you a boost in signal, it only works properly when you are having difficulty in receiving signals so you'll see more of a performance gain in hard to reach places like in urban canyons and under foliage (trees to you and I).
| | | |
| --- | --- | --- |
| XTrac 2.0.2 | XTrac 1 | Standard |
You can also see from the above screenshot's that under XTrac 1 it would discard some satellites and try and pick up on others close to the horizon, however if you compare XTrac 2 to a Standard GPS Receiver,it's more in-tune with what you would expect to see.
Pro's
Compact GPS Receiver
No real need for an external antenna for most applications
XTrac 2.0.2 Software loaded onto the SiRF IIe/LP Chipset
Con's
Inability to manually switch between XTrac and Standard mode
No external antenna supplied
Conclusion
The i.Trek Compact Flash GPS Receiver is a good all round performer. If you are state side (USA), then you cannot go far wrong with the i.Trek. If you are situated in Europe, then likewise the Holux GM-270 Ultra may be easier to get your hands on.