Review by Dave Burrows
Price £149.99 inc VAT
Introduction
Holux are no new comer to the GPS Market. Holux currently operate out of Taiwan, and also have a UK presence at Holux-UK.com. Holux have a complete range of GPS Receivers available for the consumer market ranging from GPS mouse, to Compact Flash, to the new XTrac CF Ultra and even dedicated handheld GPS Receivers.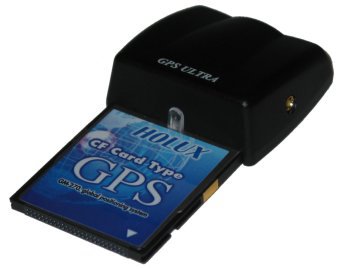 In this review we are going to look at the new Holux GM-270 Ultra Compact Flash GPS Receiver (sporting SiRFXTrac).
The Holux GM-270 is a well known work horse in the GPS Compact Flash card category and Holux has kept the Ultra identical to it's older sister but added SiRFXTrac support. The Holux GM-270U comes in at a smaller form factor than other Compact Flash GPS Receivers on the market.
Box Contents
One thing that not all Compact Flash GPS Receivers have is an antenna socket, but the Holux GM-270U not only has this already built in, but it also comes complete with an external patch antenna making this a very attractive option. If you do have problems with signal in-car, then you don't have to look at purchasing a re-radiating antenna, or external patch antenna because you have it all in the box. The external antenna socket has an MCX Connector which is standard amongst nearly all GPS products, and can come in handy if you have tinted windscreens or AV coated windscreens.
One problem with Compact Flash GPS Receivers is they never come with any type of PDA mount, so you always have to factor this into your purchase, and PDA mounts can range from as little as £10 up to £70 depending on the type and quality of the mount you decide to purchase in-car.
Another thing you'll notice is that just above the Holux logo on the card, you'll notice an LED. This will tell you whether the GPS Receiver is off, searching for a signal, or have a fix. However, the version we tested didn't have a working LED.
| | |
| --- | --- |
| LED OFF | GM-270U CF GPS Receiver Switch Off. |
| LED ON | GM-270U CF GPS Receiver Signal Searching. |
| LED Flashing | GM-270U CF GPS Receiver Signal Position Fixed. |
The Holux GM-270U utilises the SiRF IIe/LP chipset, which is one of SiRF's latest chipsets and it also supports SiRFXTrac for greater sensitivity. The Receiver is capable of using both the NMEA and SiRF protocols and defaults out of the box to NMEA 4800 COM7 on a HP iPAQ 2210. NMEA 4800 will be static across all GPS Receivers, but the COM port is a variable that may change depending on the Pocket PC and also what you have installed that may be utilising other COM ports.
Testing the GPS Receiver is straight forward. Install the supplied GPS Viewer program to your PC. Then let ActiveSync install it to the Pocket PC. Now run GPS Viewer and you'll be greeted by the following screens.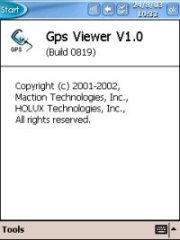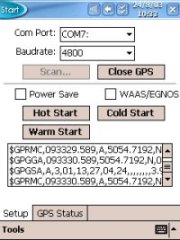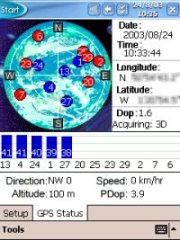 Once you have the GPS Viewer running, go to the SETUP tab and you'll find a button called SCAN. This will allow you to scan for the COM port the GPS is using if you are unsure. For me I knew that the iPAQ 2210 uses COM7, so all I needed to do was set the COM Port to COM7, Baud Rate to the default NMEA prefers which is 4800 and where the Close GPS button is, this toggles between OPEN and CLOSE. Tap Open and it will start acquiring satellites as in the second screenshot above. If you switch to the GPS Status screen you'll see an image of the Earth, and where the satellites are located. Red satellites are usually closer to the horizon which means you won't usually get a fix on these, blue satellites mean it's acquired a 3D fix, so in the above screenshot you'll see a 5 Satellite fix. If you want to physically change the baud rates and switch between NMEA and SiRF then you will need to use SirfDemo.exe.

Included Antenna
As described above, the included antenna is a small patch antenna which has a magnetic base and a long flex of cable allowing you to position the receiver outside of the car, the patch antenna is waterproof so you have no worries about it getting wet!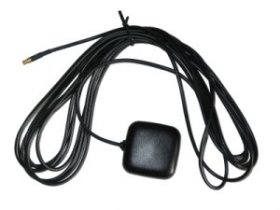 Technical Specifications
Acquisition time:
Warm start: < 38 seconds
Cold start: < 45 seconds
Hot start: < 8 seconds
Snap start: <3 seconds
re-acquisition: 100ms
Interface:
RS232 (NMEA protocol)
USB (NMEA protocol)
iPAQ® connector (NMEA protocol)
Update rate:
1 second continuous
Antenna:
Built-in, External MCX antenna connector
Accuracy:
Position: 5 - 25m (SPS).
Position: 2 - 5m (EGNOS)
Velocity: 0.1m/s
Time +- 1us
Power:
< 30mA @ 3.3VDC ± 10%
30% duty cycle trickle mode
Altitude:
Velocity: 515m/s
Acceleration: +- 4G
Temperature:
Operating: -10C ~ 70C
Storage: -40C ~ 85C
LED function:
Off: unit powered off
On: Unit searching for satellites
Blink: 3D fix obtained
Dimensions and weight:
91 x 50 x 20 @ <50g
NMEA output protocol (v2.2)
4800, N, 8, 1; GGA, GSA, GSV, RMC
So what is XTrac ?
XTrac is a firmware on the SiRF chipset that will boost the sensitivity of a GPS receiver. It does so by acquiring more signal from weaker satellites to help bring in a stronger signal giving better sensitivity in difficult areas. For example, a normal GPS may acquire signals from 4 satellites with the strongest signals to calculate your position. In the XTrac mode, the GPS will acquire signals from several more weaker satellites (e.g. total 6 satellites) before outputting a position. Thus, the better sensitivity.

SiRF say in their October 2002 Press Release "The SiRFXTrac software enables the highly popular SiRFStarIIe/LP chipset to acquire, and continue tracking GPS signals at far lower signal levels than is currently possible with competitive autonomous GPS solutions. For the user, this means that GPS can now be used in environments previously deemed inaccessible – environments such as urban canyons, parking garages, dense foliage, multi-level freeways, and, in some cases, indoors. By expanding the number of areas in which GPS can get a position fix, SiRFXTrac will improve existing location-based applications and enable new ones that have been impractical until now."
Difference between Holux GM-270 and Holux GM-270 Ultra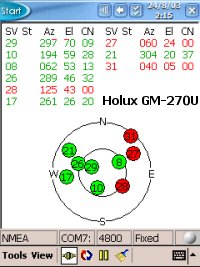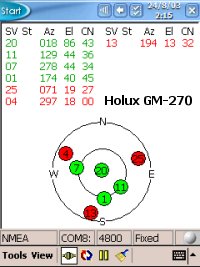 The Holux GM-270 is still a good GPS Receiver, but sometimes you need that extra little bit of help in obtaining satellites when it comes down to CF GPS Receivers, and having that help with XTrac will get you a more stable position and stronger fix. The GM-270 Ultra does have a greater overall performance compared with the original GM-270. From the outside casing the only difference you will notice between the Holux GM-270 and GM-270 Ultra is the words GPS Ultra on the black plastic casing, other than this, there's no easy way to tell the two apart. So how do the differences make the receiver more productive ? Take a look at the screenshots to the right. The left screenshot is from the Holux GM-270 and the right screenshot from Holux GM-270 Ultra. Both were inside a house, 10ft from the closest window. The GM-270 did very well to achieve 4 satellites, as many GPS Receivers wouldn't be able to achieve this, but the new GM-270 Ultra (XTrac) managed 6 satellites. Interestingly enough, check the satellite numbers, and how different they are between both screenshots. The GM-270 Ultra has picked up a lot of different satellites compared to the GM-270.
Performance and Time To First Fix Tests
The Holux GM-270 Ultra performs very well. We didn't experience any major issues with the GPS Receiver, it was always very responsive in obtaining it's Time To First Fix, and re-acquisition time was more than acceptable. We saw quicker TTFF's on the GM-270U compared with the GM-270, but they were marginal. The quickest cold TTFF on the GM-270U was 42s compared to 50s on the GM-270, and the slowest cold TTFF on the GM-270U was 1m 01s compared to 1m 12s on the GM-270. For a complete comparison of TTFF tests between all the GPS Receivers we have tested, check out our TTFF Comparisons table.

High Sensitivity and SiRFXTrac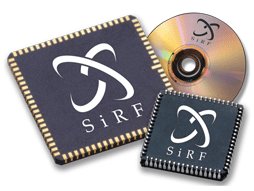 One thing that needs to be understood with high sensitivity GPS Receivers, or GPS Receivers running the SiRF XTrac firmware is that these receivers do something special. With regular GPS Receivers, most will only examine the strongest 7 or 8 satellite signals and focus their attention on bringing a signal in from these satellites alone, discarding the rest. High Sensitivity GPS Receivers and those using the SiRF XTrac software will not discard the remaining signals, in-fact they will utilise these to give you a stronger fix, so if you are in a difficult position, under heavy foliage, or even indoors you should be able to get a satellite fix (albeit reduced). However to do this, they are receiving weaker signals from other satellites that may not be fully in-view, which means that the data they are receiving may not be as accurate as the data from stronger satellites. This in-turn can sometimes create what appears to be lag when used in-car driving at speeds, or can depending on the software you use snap you to a road that is close by because the positional data isn't quite as accurate as it should be due to the weaker satellite signals. Please note there is nothing wrong with the GPS. Compact Flash GPS Receivers really come out best when used out walking and hiking, and this is where High Sensitive and SiRF XTrac GPS Receivers come out the best, when walking through heavy foliage like trees or forests. Most people won't experience lag, but it depends on the environment you are in, the speed you are traveling, how fast you are accelerating or decelerating, and the mapping software you are using.

If you would like to read more about SiRF XTrac and see the benefits and pitfalls, please read the XTrac Or No XTrac article.

Summary
The Holux GM-270 Ultra we found to be a good Compact flash GPS Receiver. Comparing it to it's older brother, performance wise the GM-270U came in slight better in our TTFF tests, received signals from more satellites, and generally outperformed it's older brother. Having an external antenna bundled with the GM-270U is good, and although there are cheaper Compact Flash GPS Receivers on the market, non of them include the antenna as part of the package, making this a much more desirable package. Whether you want XTrac in your GPS Receiver is entirely up to you. You'll mostly benefit from XTrac when walking or driving at slow speeds, where as you may see more errors appearing at faster speeds, so XTrac really comes home in use with Topographical maps over Street Routing.