Grab free power and keep your gadgets topped up this summer.

Black Hills Outdoor are running a special on their Solar Charge backpacks in time for Summer.

These nicely made day packs contain a solar panel and a re-chargeable battery pack. You can charge the pack at home using the mains AC-USB adapter or by connecting to a USB port on your computer and of course you can charge it using the solar panel.

The backpack comes complete with 17 different power 'tips' covering most common handsets from Nokia, Samsung, Motorola, Sony Ericsson, Blackberry etc as well as iPod/iPhone and TomTom/PSP and other devices that use mini-USB. The full list is here.

The rechargeable battery pack can be removed for use elsewhere or can be stored in the pouch behind the solar panel where it can be continually topped up. Plug in your phone and make use of solar power.

The backpack itself has three zipped pockets, the main compartment (with a headphone 'port'), two side net pockets for bottles and straps side and bottom for umbrellas, bed rolls and other items.

With forecasters promising a hot summer grab one now and you can keep all your gadgetry topped up. The Black Hills Outdoor Solar backpacks are currently on a limited first come first served offer at £29.99, a 40% discount on the normal price.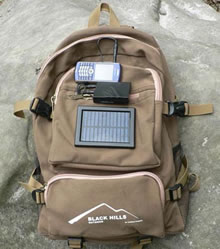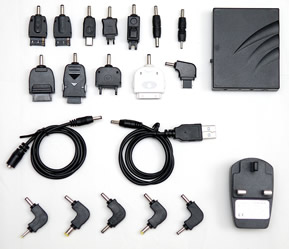 Comments
Posted by Bearkeeper on Tue Jun 23, 2009 9:09 pm

I liked the idea of this when I saw your write-up and followed the link to the Blackhills website. To be honest, there isn't much more info there than you give in your precis.

However, I liked the idea and thought "what the heck, it's only 30 quid", so I went ahead and ordered one. It was late Friday night and I was slightly drunk. The backpack arrived today (Tuesday) which is pretty good service.

The pack itself is made of good quality cotton canvas, mine in a desert stormish brown, which feels so much nicer than the usual plastic fibres and the design is nice and chunky with oversize zips and ample strapage.

It's not what you would call a "technical" pack, for example there is no waist strap, so it's definitely more for casual use than serious trekking.

The solar panel is about 12 x 9 cm and doesn't feel at all flimsy. It's also a lot less standy outy than it looks in the picture.

The electronic hardware that comes with the pack is of surprisingly good quality and certainly includes connections for just about anything you might have, even down to a white plug for I-Pods.

The website doesn't make any extravagant claims for the power of the cell - they recommend you use it as a topper upper rather than trying to revive a completely flat battery - but they reckon you'll get up to a couple of hours of 5.8v charging from a full battery pack and the pack itself will recharge while discharging if the panel is in enough light. Obviously I haven't had the beastie long enough to test this performance but it doesn't seem out of this world.

The LED torch on the battery pack certainly works and is bright enough to let you sort out all the connections in the dark. I was so impressed by the overall package that I've just ordered another one, this time in black (for formal events!).

---
Posted by Darren on Tue Jun 23, 2009 9:16 pm

Nice write-up. To be fair I refererred to it as a daypack and I don't think it was ever intended to fill a more serious role.

I did review a more technical backpack a few years ago (see here). It's an old review and I'm not even sure if they are still available.

But this one, aimed as it is at casual use fits the bill nicely. Our esteemed Database Admin is putting one through its paces in Spain this week.

---

Darren Griffin - Editor
Posted by MaFt on Fri Jun 26, 2009 9:07 am

it works well although the connections for the ipod charger are different to the iphone so didn't actually charge teh iphone

the wife's samsung u600 and a couple of usb-charged devices worked well though..

the battery didn't seem to hold it's charge very well though but then if you're out and about it will be continually topped up anyway.

full review coming soon - lemme catch up on camera submissions first!

MaFt

---
Posted by DennisN on Fri Jun 26, 2009 11:25 am

I cudda done with one out here in Corfu - after carefully packing two or three different chargers I then proceeded to leave my phone in the bedroom and my camera charger in my computer room! So I have three devices without chargers and two chargers without anything to charge.

However, as we've had thunderstorms almost every day, maybe it wouldn't have been so useful after all.

---

Dennis

If it tastes good - it's fattening.

Two of them are obesiting!!