| | |
| --- | --- |
| Blackhills Solar-Charging Backpack Review | 3rd July 2009 |
Review by Matthew Morley (MaFt)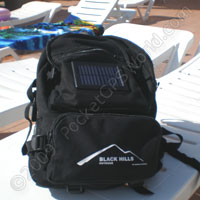 We recently announced on our news page that the Blackhills Outdoor Solar-Charging Backpacks (see here) were available at a special price of only £29.99 including postage (they are now back to full price at £49.99 BUT read the full review for how you can get one at the special low rate again - especially for PocketGPSWorld.com readers!). As Summer is fast approaching I felt I should jet off with the 'Orange and White' budget air travel company to the Costa del Sol with a range of devices to give the backpack the once over.
My first thoughts of the backpack were how good the quality was – it's made of a nice thick canvas-like material with thick, strong zips. There is plenty of room (25L) as well as a few pockets to keep things organised and two side-pockets for drinks bottles. The straps are adequately padded although it is more of a 'casual' backpack than one for seasoned hill-walkers. The solar panel itself measures approximately 10cm x 7cm and is securely fitted to the smaller pocket of the backpack. The 'solar pocket' has enough room in it to store the battery and supplied leads / adaptors and still has space for other smaller items.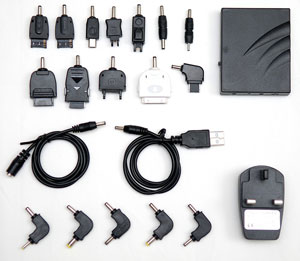 So, what does a backpack have to do with a GPS website? Well, quite simply there are enough charging tips for most devices that can charge via the 5V offered by USB. Of the seventeen tips provided GPS-addicts are most likely to use the mini-USB as this would charge Garmin, TomTom, Mio, dataloggers and probably a whole host of other GPS devices. It can also be used to charge various media players ranging from Creative, Apple, Archos and phones such as Nokia, Samsung and Sony Ericsson (among others). The full list can be found by clicking here.
You can pre-charge the 5.8V battery via the supplied USB adaptor connected to either a laptop/PC or the supplied mains adaptor. While you are out and about the sun (or even artificial light) will trickle charge the battery to keep it topped up. Charging times for devices vary depending on the actual device in question but you should bear in mind that it is meant for topping up a device rather than for a full charge! One use would be to keep a handheld GPS topped up while you are using it out walking, or to give your mobile phone that extra boost before you get back to your accommodation to give it a full charge.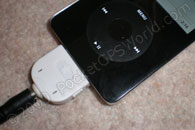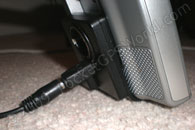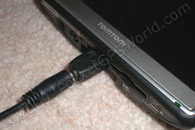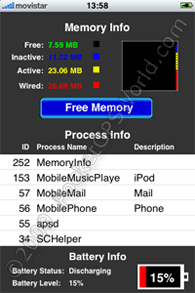 While out and about the Blackhills Solar-Charging Backpack kept my iPhone 3G, my T-Mobile MDA Compact III (HTC Artemis), my Columbus V900 Datalogger and my wife's pink Samsung U600 all nicely topped up. The iPhone 3G did take considerably longer to charge but I have also read that other portable chargers face this issue too. You can see on the animation to the right that it still shows the status as 'Discharging' even though it is actually charging! At home I confirmed that it charged my TomTom 520 as well as both my Garmin nuvi 350 and my wife's pink nuvi 200. The only issue, really, was that the fly-out lead used to power the devices is only 60cm long which isn't quite long enough to keep a handheld device charging while you are using it.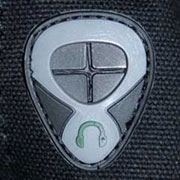 One of the extra features of the bag is the headphone port – basically an opening in the backpack protected by a rubber seal where you can feed your headphones through to listen to music while out and about. There is a design flaw with this though – there is no internal pocket inside the bag so unless your music player was resting on top of the bag's contents then you would effectively lose 35cm of the headphone lead.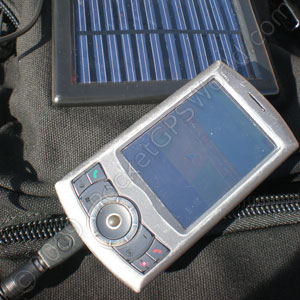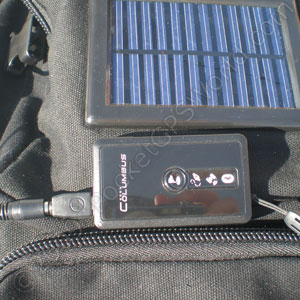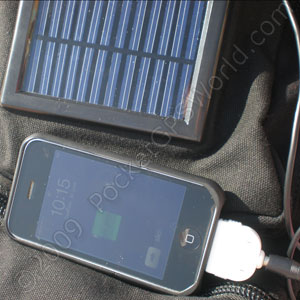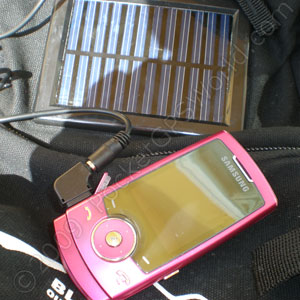 So, in conclusion, the Blackhills Solar-Charging Backpack is not only a nice bag to carry around but also an effective way to keep a plethora of devices topped up. The fact that the tips are interchangeable also opens up the door for Blackhills to produce new tips easily as new devices are released. The battery is also connected via removable leads so that, too, could be replaced or upgraded if it was ever needed.
UPDATE: Blackhills Outdoor have given PocketGPSWorld.com readers their special offer price of £29.99 for the Solar Charging Backpack; simply follow this link.
| | |
| --- | --- |
| References | |
| Manufacturer's Web site | http://www.blackhillsoutdoor.com |
| Pocket GPS World Contributor | Matthew Morley (MaFt) |
| Guide Price at time of publication | £49.99 inc postage |
| | |
Comments
Posted by MaFt on Mon Jul 06, 2009 2:44 pm

UPDATE: Blackhills Outdoor have given PocketGPSWorld.com readers their special offer price of £29.99 for the Solar Charging Backpack; simply follow this link.

---
Posted by W90BHP on Fri Jul 10, 2009 6:56 am

Just ordered one. Couldn't resist at that price... ;)

---

LG G4: Android 6 : Viewranger : CoPilot : Waze
TomTom Go 730T : Traffic subscription long expired
Nokia E61 : Nokia GPS : TomTom Navigator 6 : Retired from duty
iPAQ 3970 : Navman Sleeve : CoPilot 4 : Somewhere in the loft
Posted by Holdfast on Fri Jul 10, 2009 9:03 am

After following the link regarding the special price for PGPSW members I purchased a Backpack. This is one of the best purchases I have made in a long time. It's a quality product packed full of features, even at the full price I would say this would be a bargain. As a delivery driver, I carry all the bits and pieces I need together with my water bottles. I use a Blackberry, what with Instamapper and Bluetooth running, they suck the living daylights out of the phone, this is now no longer a problem.

I did loose a lead, I contacted Blackhills on a Sunday!!, I received a reply within a couple of hours from the Customer Support Team, my problem was resolved. I received a lead with the mini usb attachment within a couple of days. This kind of customer service is sadly lacking these day's.

I would highly recommend this Backpack and hope that Blackhills receive the success they deserve.

Mike Raw

---

Sat Nav of choice WAZE