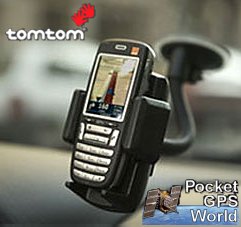 Review by Dave Burrows, Darren Griffin
Introduction
TomTom Mobile was first announced a CeBit 2004 in Hanover which would be based on TomTom's then flagship product TomTom GO based around the new core platform that would support GO, Mobile and Palm OS and soon to be Pocket PC.
Since then we've seen the new platform in operation on GO, Mobile and the new HP Navigation Kit.
TomTom Mobile contained a lot of features but also missed a lot like GO did when compared to previous versions of TomTom Navigator. Now TomTom have taken strides to address this in the new version which this review addresses, namely TomTom Mobile 5!
This review covers the new TomTom Mobile 5 software but doesn't cover the new TomTom Bluetooth GPS Receiver as at the time of writing this review, we did not have a review sample available.
Compatibility
TomTom have increased the compatibility of TomTom Mobile over the past year and also with the addition of TomTom Mobile 5 now supports the following platform technologies:-
Gizmondo
Imate SP3
Motorola
Nokia

6260
6600
6670
7610
7710
9300
9500

Orange
PalmOne
Qtek
T-Mobile
That's quite a line-up in Mobile Phones that are now supported under TomTom Mobile 5!
In the Box
TomTom wireless GPS receiver
MMC Memory card with pre-installed application and map (Size dependent on Country, the UK Version is 128Mb)
User Manual CD containing user guides for software and GPS unit
Cigarette lighter charger cable for GPS receiver
Combined Installation & Quick Start Guide poster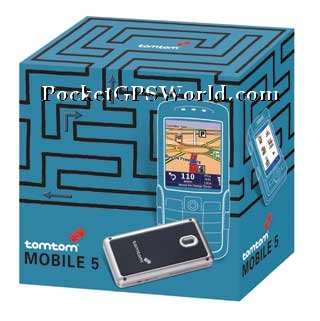 Note: No phone is included in this package although retailers are already offering bundles with compatible handsets. TomTom Mobile 5 cannot be used in conjunction with Bluetooth car kits or headsets unless your phone supports concurrent Bluetooth connections to multiple devices.
Map Coverage
TomTom Mobile is available for the following map areas:
Germany
Germany / Alps
Benelux
France
Great Britain
Italy
Iberia
Scandinavia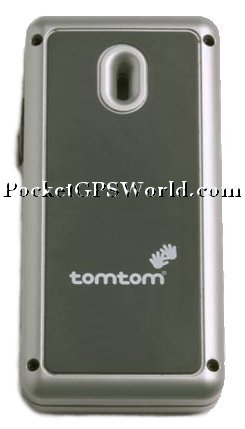 Hardware
TomTom Mobile 5 comes complete with the New TomTom Bluetooth GPS Receiver. This uses the latest SiRF III chipset and TomTom suggest that it should keep powered up for most of the day.
We haven't had the chance to review the GPS but will review it as soon as we receive a review sample.
The original TomTom BT GPS wasn't without problems; units suffered a high failure rate and because the car cradle was suspected to be the cause it was withdrawn. The quality problems appear to have been resolved now but the Car Cradle is no longer supplied nor is it available as an option.
Lets hope the new BT GPS isn't dogged by similar problems!
GPS Setup
Because TomTom Mobile comes complete with its own GPS Receiver installation is fairly straightforward and the configuration options within the software itself are limited. It is important that you follow the supplied instructions to the letter when bonding the Bluetooth GPS but once done it all works well. In day to day use all that needs to be done is to power on the GPS and launch TomTom, initially the map display will be grey to indicate no valid fix but after a few seconds GPS communication will be established (confirmed by a bell sound). Following this your current location will be ascertained and displayed on the map at which point the map turns from grey to colour.
Software Installation
All the required software is supplied pre-installed on the MMC Memory Card. As soon as you insert this into your handset the installation will auto-run and you will be ready to use the application in seconds. No need for access to a PC to perform the installation here!
Display
TomTom Mobile uses the common platform navigation engine that is already available on the Palm and GO versions. If you have already seen this then you will feel at home straight away as the displays are very similar. The navigation display presents all the information you require on a single screen. In the top 4/5ths of the screen is the map view and at the bottom is the information bar which displays next turn information, distance to next turn, distance to destination (DTD), estimated time of arrival (ETA) and remaining journey time. Below this is an information bar which provides the name of the road or street you are currently on.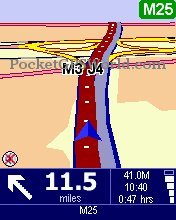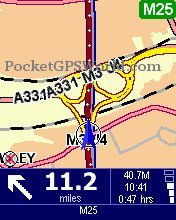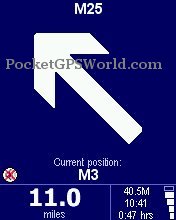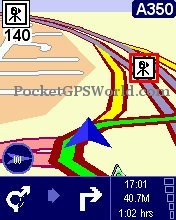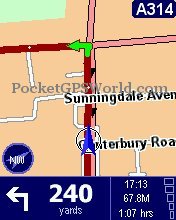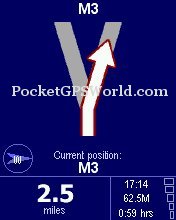 Now although TomTom have tried to give you as much information on screen as possible you have to bear in mind this is a mobile screen which is limited in size and resolution, so some text may appear a little too small for you to read when you are actually driving.
Menu Structure
TomTom have done a good job on the menu system, making it easy to select using the joystick or using the numeric keypad which can be a lot easier when you are on the move.
Existing TomTom Mobile users will notice a change here on the menus. TomTom have included an Advanced planning mode, Itinerary Planning mode, TomTom Weather, Downloads, Call Number just as a few enhancements that you'll notice in TomTom Mobile 5.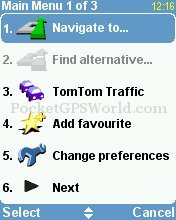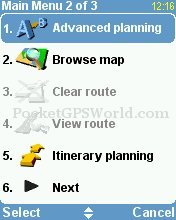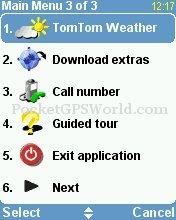 Address Entry (Navigate to..., Advanced Planning, and Itinerary Planning)
Creating a destination is simple with TomTom Mobile 5. Simply select the Navigate To menu option, Advanced Planning or Itinerary Planning and you can then start adding your destination address. Using the keypad to spell out letters like you would when texting by pressing 5 three times to get L allows you to type in alphabetical and numerical addresses.
Once you have chosen one of the above options, you will then be greeted by the navigation entry screen. For Navigate to... you'll see the three screens below.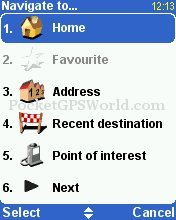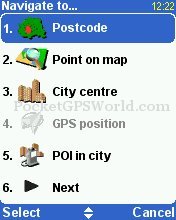 The first Navigation Destination screen is identical to the original TomTom Mobile version, but the second screen shot above will show something different. Yes! That's Postcodes! No, not 5 digit postcodes but 7 digit UK postcodes!
TomTom Mobile 5 now supports both full UK and Netherlands postcodes. TomTom Mobile 5 also ads the ability to navigate to the centre of a town (City Centre) and also now to a POI in the City of your choice. Selecting POI (5) on the first menu will show the third screen shot above where you can select the POi groups and drill down into the various POI's you want to navigate to.
Drilling down through the categories you'll also see your custom POI groups you may have loaded to the TomTom Mobile 5 directory.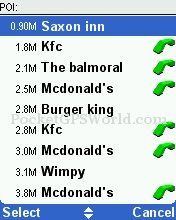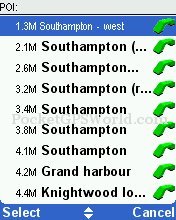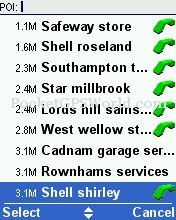 Entering an address allows you to select the city, street name and then house number.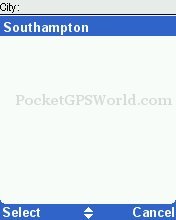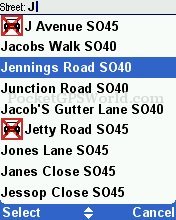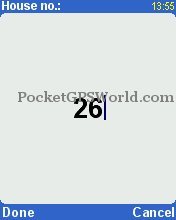 Or you can now use postcodes to enter an address...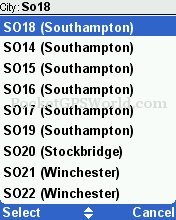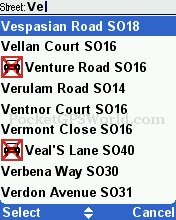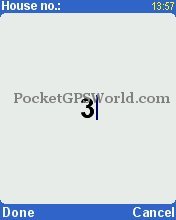 On completion of entering the address the route will be calculated and an overview map displayed showing the planned route.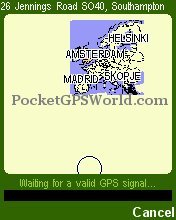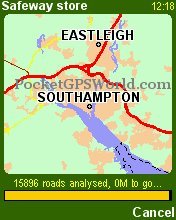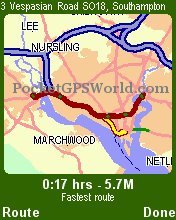 As with previous TomTom products, voice instructions are clear and concise using Ogg Vorbis files that have been designed for loud vehicles.
Calculated routes are generally very good and you can choose to have it calculate an alternative or indeed avoid entire sections of road if you prefer.
Preference Options
Accessing the preferences sub-menu provides you with a plethora of options to choose from. In Preferences menu 2 seasoned TomTom Mobile users will notice a new feature called Back light Preferences allowing you to customise the back light when using TomTom Mobile 5.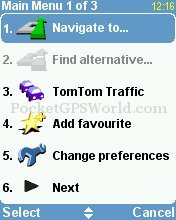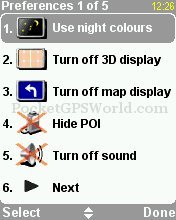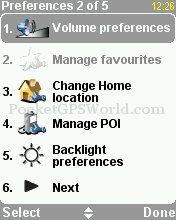 Planning Preferences, Toll Charge Preferences, Compass Preferences and Status Bar Preferences are new features available within TomTom Mobile 5. We'll go into depth in these features a little later. Another new feature is the Show/Hide Tips which is a good feature for newbies allowing you to receive pop-up tips on-screen when performing specific functions.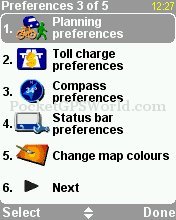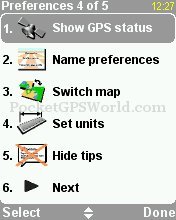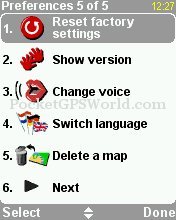 Planning Preferences
A new feature in TomTom Mobile 5 is Advanced Planning and Planning Preferences. It allows you to plan a route before you leave the house. You can select to browse the route by text (screen shot 2 below), browse the route by images (screen shot 3 below).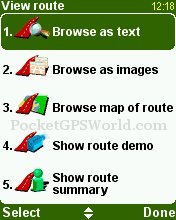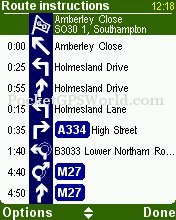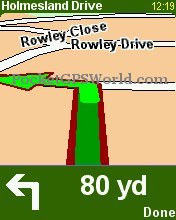 Browse map of route (screen shot 1 below), Show route demo (screen shot 2 below).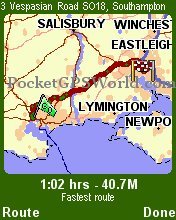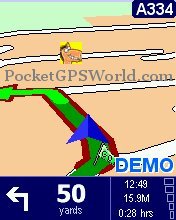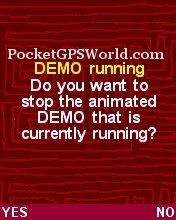 So now not only can you receive instructions of the route prior to driving it, but see a screen shot slide show or actually drive the route in demo mode with full voice instructions.
Planning and Toll Charge Preferences
Two new features are the Planning Preferences screen below allowing you to tailor and customise your journey to various preferences like fastest or shortest route, avoidance of motorways etc and the Toll Charge Preferences screen below.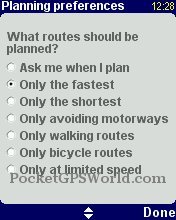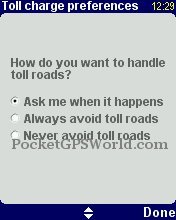 Itinerary Planning
Another new feature seen in TomTom Mobile 5 is Itinerary Planning. First seen on TomTom Navigator 3 and added onto TomTom GO and Palm OS, now sees Itinerary Planning on TomTom Mobile 5. This simply allows you to create multiple destination points.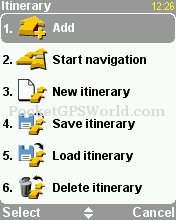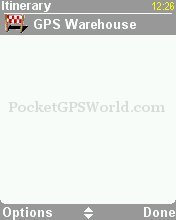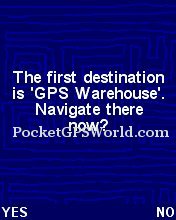 Itinerary also allows you to save and re-load an existing itinerary that you saved, which means if you have a regular set of clients or businesses you want to drive to in a manually sorted way, then you can save this for later use and retrieve it when you go to re-drive the journey.
Compass Preferences
A new feature in TomTom Mobile 5 is the ability to show the Compass on the main screen display.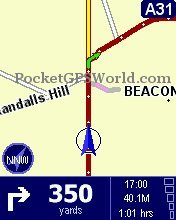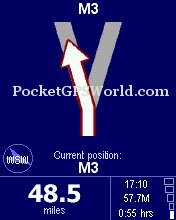 Mobile GPRS Features
Many TomTom users will have already experienced Traffic. Traffic is also now available on TomTom Mobile 5 as well as TomTom Weather and extra Downloads. Providing you have created a TomTom Mobile account and are paying the subscription fee you will be able to access these services over a GPRS GSM connection.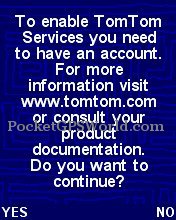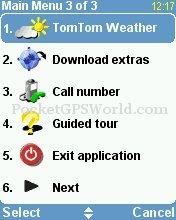 Colour Schemes
In common with other TomTom variants, there are many options to customise the display colour's both for daytime and night time display modes.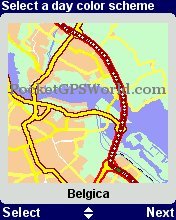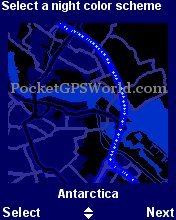 Voice Prompts
The voice prompts used for navigation can be changed by selecting either a different language, or a different person within your local language. For UK users, Tim and Jane are the default voices available.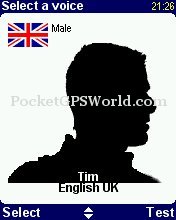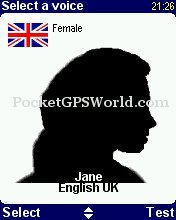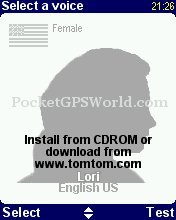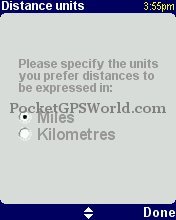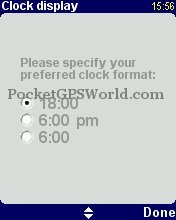 POI Warning
TomTom Mobile 5 comes with a huge array of pre-installed POI's including petrol stations, car parks, railways stations, cash points etc and has full support for all the 3rd party POI's available for TomTom Navigator. TomTom Mobile originally had a POI-Warner enabled out of the box, and this carries over to TomTom Mobile 5 with no changes in this field as the POI-Warner really did everything it needed to do in TomTom Mobile.
Configuration is a simple process; load your chosen POI file into the Map Folder. Access the 'Maintain POI' menu and enable the POI. All that remains is for you to select 'Warn when near POI', select the distance before the POI that you wish to receive an alert and choose from the supplied warning sounds.
The supplied sound choices are limited and cannot currently be changed by the user, although we did change these ourselves for GO and will have some changes soon for Mobile 5 users. It would be useful if TomTom addressed this and allowed you to add your own sound files, but unfortunately this isn't available in Mobile 5.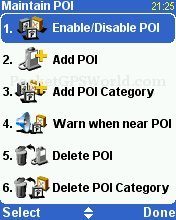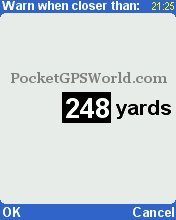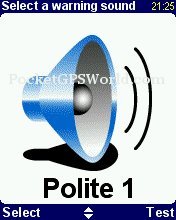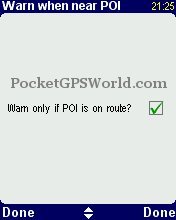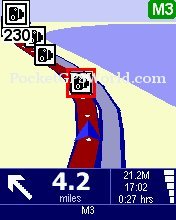 An added feature is the ability to choose to receive warning only on the planned route. This is intended to reduce false alerts for POI's off route but needs to be used with caution as you may end up missing some locations, if as is likely this is being used for Safety Camera warnings that could be costly!
When you are on the road and a POI Alarm is triggered you will see the POI highlighted in Red, the chosen alarm will sound and another indicator at top left of screen will show the distance to the POI.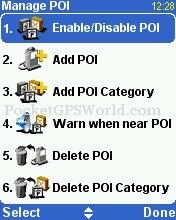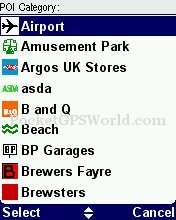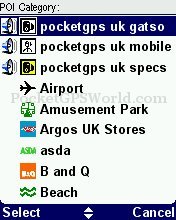 How to transfer POI's to TomTom Mobile 5
This is something we are constantly asked, and believe me it's not rocket science. If you have never used ActiveSync before then you need to go and read a tutorial on it, or at least read the ActiveSync Manual first!
Secondly all you need to do is download the relevant ZIP file from our TomTom POI Page. Open the ZIP file and extract the OV2 and BMP file to a directory on your C: drive. Once extracted, connect your mobile with the ActiveSync cable/cradle to your mobile phone, and if you have ActiveSync installed, it should pop up within a few seconds and show a green connection icon.
Simply click EXPLORE from ActiveSync on the PC, browse to your \Storage Card and then the country map directory (e.g. \Great Britain) and copy the corresponding BMP and OV2 files that you extracted earlier to this country directory. If you don't know how to copy files from one Explorer window to another, then either read your Windows Manual, click START | HELP or ask someone to do this for you.
Voila, that's it. They're now in TomTom Mobile 5. Simply restart TomTom Mobile 5, go into the Manage POI screen and enable the new POI (it will show on the list) and likewise if you've downloaded the safety camera database you may want to go into the Manage POI screen and then Warn When Near POI and configure this.
If you are not seeing the POI then you've done something wrong, go back and read the bare basics on how to use ActiveSync (as this review will not cover this) or post a question in the forums!