Reviewed By

Darren Griffin
Review Date

28th March 2012

Manufacturer
Powermonkey

RRP

RRP £120.00

8
Powermonkey have earned a reputation for no-nonsense portable charger and power solutions. They're designed for travellers and are built with portability and ruggedness in mind. Their catalogue of products ranges from small battery packs intended to recharge your mobile phone to monster packs capable of running a power hungry laptop for hours.
Regular readers may recall that we have reviewed a Powertraveller product previously. Back in September 2008 I came across their powermonkey explorer in the in-flight magazine on route to Dubai. I was sufficiently intrigued to splash out real money to buy one for testing and it was an instant favourite of mine.
Fast forward a few years and we now have a much more powerful version in the powermonkey extreme which we are reviewing here.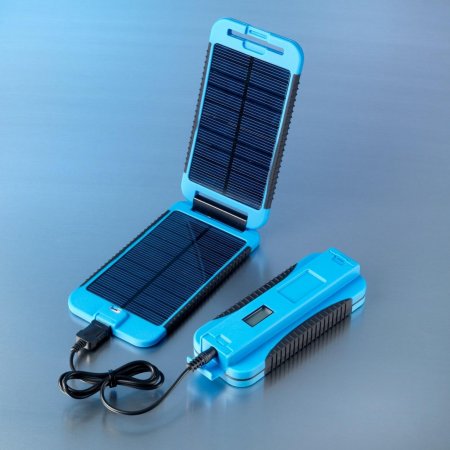 What Do You Get?
The powermonkey extreme solution consists of two parts, the battery pack, a 9000 mAh power house, and a large, folding solar panel. The battery supports recharging of 5v devices which means most smartphones, satnavs and, uniquely, it has two outputs. One is a standard USB port and can supply up to 700 mAh whilst the other is a barrel type port that can output up to 2100 mAh and so is capable of recharging an iPad using the supplied adaptor.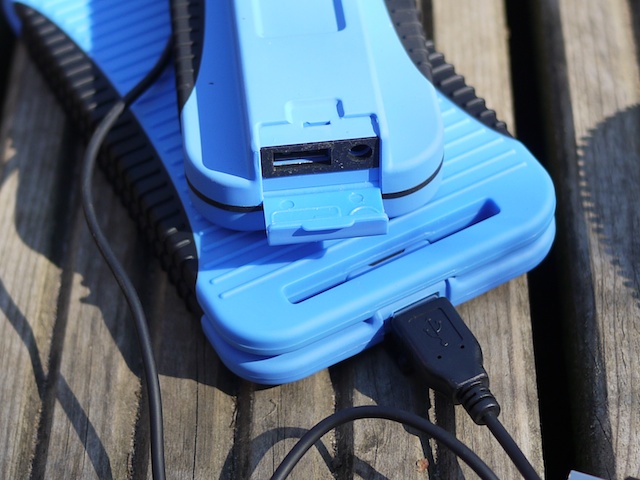 USB (700 mAh) and DC (2100 mAh) outputs
The battery pack is both waterproof and shock resistant, which will come in handy for our British summers and has an LCD display which indicates battery charge level and status. It can be re-charged via the solar panel, using the supplied mains charger or from USB.
The solar panel has a USB outlet that is intended for connection to the battery pack but, in strong sunlight it is capable of outputting enough power to charge your device directly.
Both the battery and the solar panel have a rubberised coating, and, for the design conscious, you can choose from five colours, blue (as reviewed here), black, grey, red and yellow.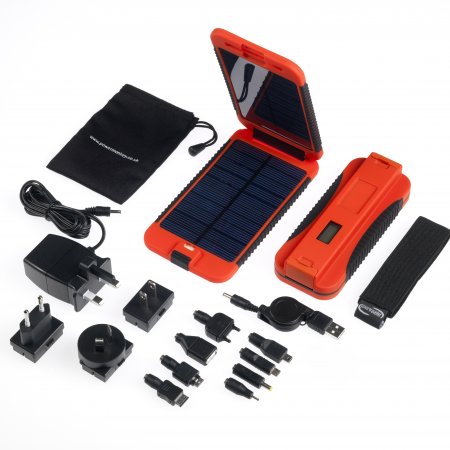 Available in some very bright colours!
The kit includes a useful, zippered storage case that holds the battery and solar panel, a mains charger with interchangeable plugs for world-wide compatibility (UK, USA, Europe and Australia) and eight charge tips (or, as Powertraveller call them 'monkeynuts') which adapt the power output for mini-USB, microUSB, Nintendo, Samsung and Sony Ericsson. Powertraveller have a large range of other tips available for sale on their web-site but, most devices can be plugged directly into the battery pack using the manufacture supplied USB charge lead.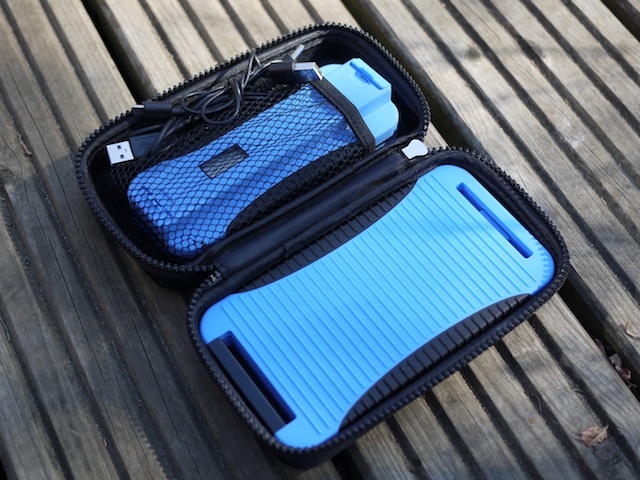 Handy zippered carry/storage case
In Use
Helpfully, the recent spell of sunshine has been very useful in testing the capabilities for this device. It comes supplied fully charged and Powertraveller claim it will retain 75% of its charge for up to a year. operation is simplicity itself, plug your device in and switch on by swiping the touch panel adjacent to the LCD. It cannot be turned on unless a device is connected and it will auto power off once a device reaches a full charge level.
Unlike the powermonkey explorer, the powermonkey extreme can be daisy chained so that it it can be topped up using the solar panel (or mains charger) whilst it is, in turn, charging a connected device. That's useful if you want to capture solar power and want to charge a device too!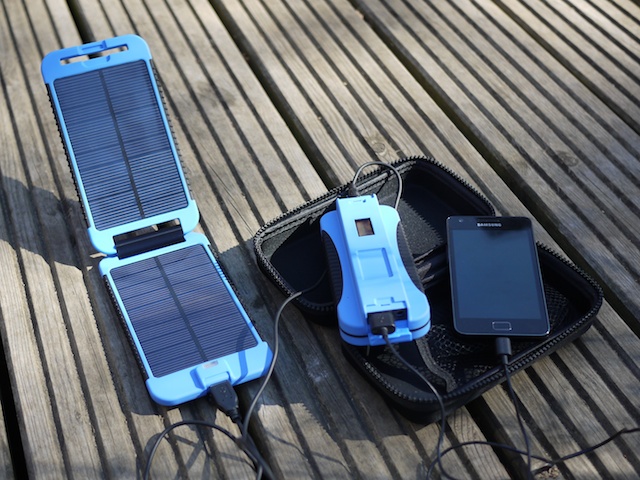 The large solar panel was able to bring the battery pack from 60% to a full charge in 6 hours of charging which means you can recover over half it's capacity on a sunny day. That's enough power to recharge an iPhone three times for example.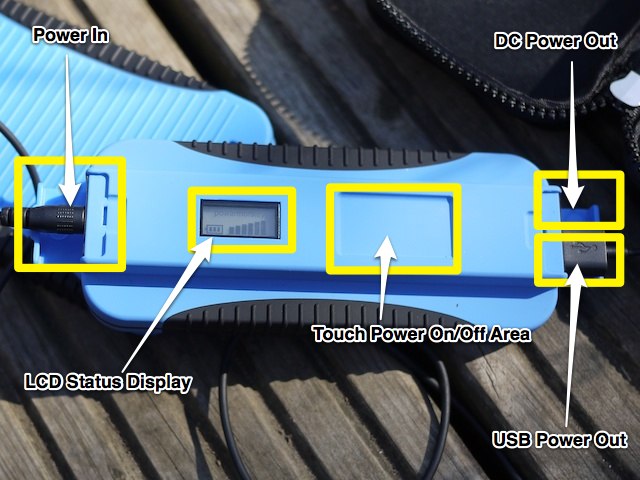 The full capacity of 9000mAh is more than enough to charge an iPad 2, with it's 6944 mAh battery, and still have enough juice to fully charge an samsung Galaxy S2 with its 1800 mAh bettery. Or it could recharge six smartphones. That's quite a reserve of power there. Place the solar panel on your dashboard, or tie it to a rucksack and you can capture free solar energy. The large panel is a useful size, small enough to be portable whilst large enough to capture a decent amount of energy.
Conclusion
It's another win from Powertraveller. For anyone who needs a large reserve of portable battery power it ticks all the boxes. The design and operation is well thought out, the hardware is rugged and waterproof and, with USB output it can support most common devices available nowadays.
The only area where it loses marks is cost. At £120.00 it's never going to be an impulse purchase. But it can do the job of 2 or three smaller battery packs and, with it's mains charger and solar panel it means you have the ability to recharge your devices anywhere, be that the outback or the Costa Del Sol. If you have a need for such a solution, and can justify the cost, it's money well spent. My powermonkey explorer is still going strong three years after I bought it, despite heavy use, and I have no reson to believe that the powermonkey extreme won't be providing sterling service for years to come either.
---