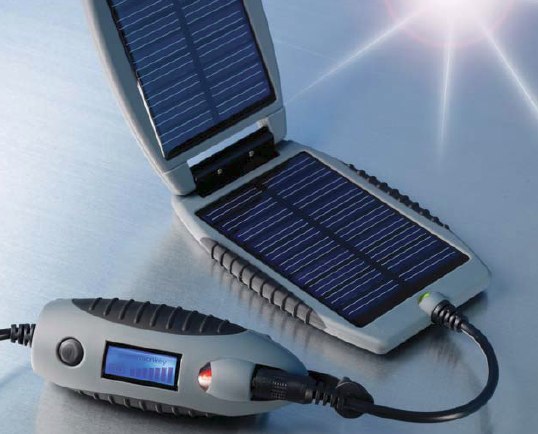 By Darren Griffin
Now here's a first. I actually bought this using my own hard earned cash. Now that's a phrase to send a shiver down the spine of any self respecting journo!
I saw it in the in-flight magazine en route to Dubai for our family holidays earlier this summer and thought it looked interesting. I've been constantly on the lookout for a viable solar charging solution, although going on past trials of solar products, I didn't have high hopes.
But as it was also a rather neat portable battery pack and mains charger combination I thought it worth a try. At least in Dubai I could test the solar panel effectively. If it didn't work there then it wouldn't work anywhere! So in a moment of sheer madness I splashed out £55.00 (Tax Free) from my own wallet.
Design
The Powermonkey eXplorer is three separate parts that can be combined in various ways. A rechargeable battery pack (the powermonkey-eXplorer), a solar panel (the solarmonkey) and a universal mains charger. All share a common charge tip and can be connected individually or in different combinations to charge your various devices. There is also a selection of charge 'tips' that convert the charger/panel/battery pack to suit your chosen device.
The universal charger will accept 110-240v inputs and comes with four different plugs to ensure world-wide compatibility (UK, EU, US & AUS). It outputs 5.5v so can directly charge most devices that could otherwise be charged from a USB port. You can use it to charge your device directly from a wall socket. You can use the charger to charge the powermonkey-eXplorer or you can use the solar panel to charge it instead. If sufficient sunlight exists you can also charge a device directly from the solar panel and of course you can power/charge your phone, PDA, MP3 player from the powermonkey-eXplorer.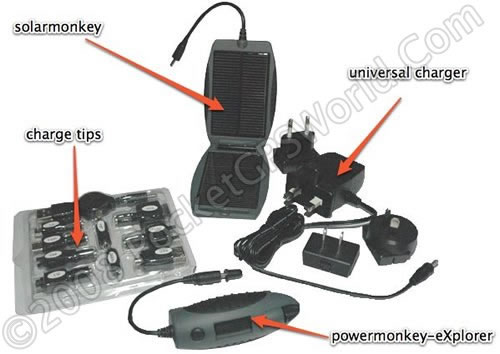 The solarmonkey has a central hinge and slots so that it can be hung from a hook, tied to a rucksack etc. It can also be sat on a flat surface. A green LED indicates when it is receiving sufficient sunlight to output an electrical charge. A short fly lead terminates in the power connector.
Finally the powermonkey-eXplorer. I've struggled to come up with words to describe its shape adequately, torpedo or bomb shaped perhaps? What it does look like I can't say here but I'll leave you to form your own conclusions! It has a red/green LED to show charging or charged status and an LCD panel that shows the battery level. There are two power connections, one 'input' to receive a charge and a separate 'output' on a short fly lead to which you connect your chosen device using the correct charge 'tip'. Both input and output are protected by bungs to prevent water ingress.
In The Box
A very comprehensive set here, you get:

Universal charger with UK, EU, US and AUS plug tips.
Solar panel
Rechargeable Battery Pack
Storage pouch for the spare charge tips
Tray with 9 charge tips and a retractable USB - charge tip cable
Zipped storage bag that holds all the above

The supplied charge tips cater for:

iPod
Samsung
Motorola
LG
Nokia
Sony Ericsson
Sony PSP
miniUSB
USB female A (allows a male USB cable to connect)


A comprehensive kit
PowerTraveller also have an extensive list of charge tips available for purchase from their Web-site at reasonable cost. If you want a tip to suit a Nintendo DS, they've got it covered, along with a long list of others. The tips are called 'Monkey Nuts', in fact as you will have noticed there is a strong primate theme running throughout the naming of all their products!
In Use

Because it comes with miniUSB and female USB 'A' tips (or 'Monkey Nuts'), the comprehensive kit is compatible with a huge range of additional devices. If your device can be charged from USB and you have the necessary cable then you can use the Powermonkey.
Testing in Dubai, where they helpfully use the standard UK 3-Pin plug format, I was able to fully charge the battery pack using the universal charger. Once the battery pack was fully charged (out of the box the pack was at 50% and it took 2hrs to fully charge from that point) I plugged it into my Sony PSP and it began charging. I also tested the mains charger and used the PowerMonkey to charge my iPhone.
A few weeks later, I was able to put all this to a much more realistic test on a trip to France. For a few days of the holiday we were visiting in-laws caravanning in the South. Using the powere of the sun I was able to raise the charge level in the battery pack from 25 - 50% in 7 hours, not bad when you consider this is FREE electricity. Helpfully the Powermonkey will even switch off automatically to protect a connected device from over charging.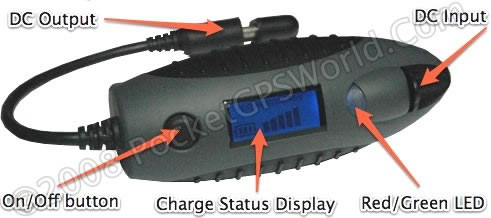 powermonkey-eXplorer
The only feature I missed was the ability to re-charge the battery from the mains AND charge a connected device at the same time. If you try to do this, the connected device stops charging when mains power is connected to the other side of the battery pack.
Specification
PowerMonkey Battery Pack
| | |
| --- | --- |
| Battery capacity | 2200mAh |
| Input voltage | 5v 600mAh |
| Output voltage | 4.5 - 5.5v |
| Output current | 700mAh max |
| Weight | 83g |
| Dimensions | 90 x 45 38mm |
Solar Panel
| | |
| --- | --- |
| Output voltage | 5v |
| Output current | 200mAh (varies depending on solar strength) |
| Weight | 82g |
| Dimensions | 110 x 70 x 10mm |
Examples of Reserve Power
| | |
| --- | --- |
| iPod's | 40hrs |
| Cell phone | 96hrs |
| PSP's | 5hrs |
| PDAs | 48hrs |
| Digital Camera | 1600pics |
---

Conclusion
A superb product that comes with a comprehensive selection of charge tips. At £65.00 inc VAT this is a must have for frequent travelers. The inclusion of a comprehensive selection of charge tips and its sturdy construction, with weather sealed parts, mean it should survive the rigours of travel whether your destination is Africa, Antarctica or Aberdeen.
It's rare for me to expend my own cash on a whim but I'm rather glad I did. The Powermonkey has joined the kit in my 'GO' bag and is now my number one travel essential. Consequently it deservedly earns a PocketGPSWorld Recommended Award.
PowerTraveller have a range of other products and we shall be trying to secure reviews of some of them in due course.
Review unit supplied by ME!
---