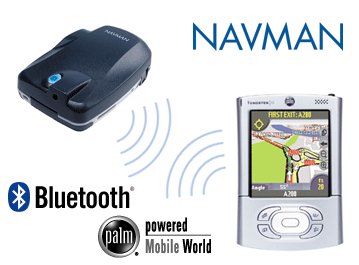 Review by Dave Burrows
Introduction
Navman's SmartST Pro was originally released back in the latter part of 2002 making a decision to break away and create their own GPS based software to bundle with their GPS Receivers. Now in the first quarter of 2004 and Navman have released not only a new version of SmartST Pro V2 for the Pocket PC, also for the iCN630 V2 but now a complete Palm solution for Bluetooth enabled Palm PDA's.
If you are looking for the Pocket PC Review click here.
The Pocket PC has been a nice niche market for a number of years, but with the faster processors being made available for the Palm OS, and better designed Palm OS PDA's, it was only a matter of time before we started seeing the same quality of applications appear on the Palm. You either like the Palm or you hate it. A lot of people prefer Pocket PC's mainly because they have the Microsoft Operating System and resemble their PC's, personally I grew up on the Palm with the Palm Pilot III and coming back to the Palm is certainly an experience which brings back some nostalgia. In most parts the Palm still operates how it used to, except for a nice colour screen. I have a Palm Tungsten T2 courtesy of Palm Inc in which to run SmartST Pro. There are better Tungsten's like the T3, but SmartST Pro will run quite nicely on a T2.
Main Features
The main features of SmartST Pro on the Palm are just like that of the Pocket PC and are dated late 2003 / early 2004.
Colourful 2D and 3D Maps
Voice Guidance
Safety Screen
A to B Routing
Toll Road Avoidance
As this is the first version available for the Palm OS, we really can't compare it to the original, but as the Pocket PC version is almost identical, we can compare it to this as it's ported across platform.
Maps
The maps supplied in SmartST Pro are 3D maps courtesy of TeleAtlas which include
Latest up to date 2004 maps with TeleAtlas data
The largest change that Navman have made is that they have decided to switch from NAVTEQ to TeleAtlas for their geodata (map support). As many of you have read in the forums there's quite a backlash from existing Navman users who are used to NAVTEQ maps. Why's this ?
Well quite simply, NAVTEQ's maps are always classed as being the rolls royce (or mercedes), their map coverage is pretty much second to none, they cover the country or a percentage there of, where as TeleAtlas covers population limits. So for instance in Ireland, Navman will cover a percentage of the country, where as TeleAtlas will cover a similar percentage, but not of the country, of areas where the population is. So as Ireland most of the population (largely) huddles around Dublin and Belfast, you'll be expected to get good road coverage around these areas with TeleAtlas, but little elsewhere.
So, why have Navman changed from what's considered a good geodata provider and gone for TeleAtlas ? Unfortunately I can't officially answer this, but a number of items can come into the equation, like most of the Pocket PC GPS companies using TeleAtlas, and TeleAtlas although their coverage isn't as good as NAVTEQ, their data is somewhat cheaper, and have advantages in other areas which NAVTEQ do not have. Either way, Navman have decided to switch from it's long term geodata provider (NAVTEQ) to TeleAtlas, and this has created quite a bit of a stir. The reason behind this, is TeleAtlas data isn't complete. They geocode data to boundaries and not countries, so some roads you may think are in Southampton, but they're not they're listed in under another town. This makes searching the databases difficult, and this has been the single most biggest complaint with TomTom is them using TeleAtlas.
When you look at the dedicated in-car systems, most of these companies like Blaupunkt, Panasonic etc offer multiple CD's. You can buy CD's with NAVTEQ maps, or CD's with TeleAtlas, and you have the ability to choose. This will eventually be the way the Pocket PC market will develop, but until then we're locked into the geodata provider that the GPS company chooses to go with, and NAVTEQ have switched to TeleAtlas.
What's in the box ?
Storage Space
One of the first things that again disappointed me with Navman's products is that no storage card was supplied. Navman automatically assume that you have a large enough storage card to support the map loading and if you don't, then it's an extra expense. Most products including TomTom for Palm OS, Garmin products all come with supplied storage cards, and this appears to be one thing Navman have omitted from their products to try and reduce the overall cost but realistically you will see two separate products competing for the same price range but the Navman one will not come with a data card.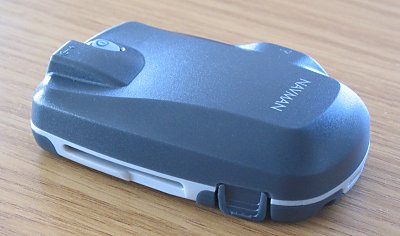 Hardware - GPS Receiver
The Palm OS version comes supplied with what was the original Navman 4400 GPS Receiver (now 4460).
The Bluetooth GPS supports 3xAAA Batteries as it's power source and Navman claim in their specs to support around 30 hours of continuous usage, although in our tests we found this to be around 15 hours.
When you take the Bluetooth GPS Receiver out of the box, you do wonder how to get into it. As you'll see from the photo above, there's a push clip either side of the Navman logo. If you hold both clips in and wiggle the base, the base will come off and you'll then have access to the battery case. This takes a bit of perfecting as it feels like the battery compartment won't come off. Wiggle it and it will.
One thing that did strike me is that all of the casing really does feel and look plastically. Once all put together the GPS really feels as solid as a rock.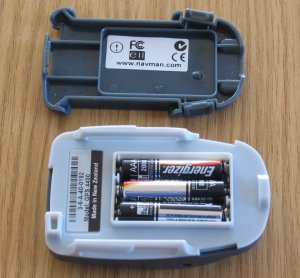 One thing that's starting to concern us with the new Bluetooth GPS Receivers, and many on the internet is that most of them do use Lithium-Ion batteries, and these have a life span charge of 400 charges (eg 400 days) if you're using it on a daily basis. After this, your battery is near to useless unless you want to leave it plugged in permanently in-car. Now most of the manufacturers are taking a line that in a year and a half you probably would have ditched the current model and traded up to the newer, better model, but that's just simply not the case all of the time. You can change the batteries yourself, but getting hold of batteries may be an issue. Why have a battery that's useless after 400 charges ?
This is something Navman asked themselves. These aren't exactly cheap at £200+, so it's good to see Navman taking the bull by the horns and creating a GPS receiver which not only is great, but won't be as dead as a dodo in 400 days! Well done Navman!
The one thing I do have a gripe with is, that if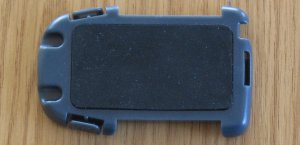 people want to use batteries in the Bluetooth GPS, then they're probably going to use rechargeable Ni-Mh batteries, and because Navman have gone for unadulterated raw power, you have to have 3 batteries. This means that whenever you charge 4, you've got one that you don't use, most chargers will only charge in pairs of 2 or 4 batteries.
If you prefer not to use the windscreen mount that comes with the package, then you can just rest the GPS Receiver on the dashboard.
Navman have stuck a piece of soft rubber to the base of the battery compartment. This allows you to place the GPS Receiver onto the dashboard and not have it slip around too much, and also keep your dashboard scratch free!
Windscreen Mount

Navman have supplied a windscreen mount. It comes in two parts, the left part (the suction cup mechanism) and the right hand part (the draw). The 4460 then slides into this via rails and allows you to hang it off your windscreen. The suction cup and the draw need to be screwed together with two supplied screws that come in the Navman 4460 package.
This photo is purposely upside down so you can see how the two parts join together. We didn't test the windscreen mount, the rubber pad at the base of the 4460 is good enough to stop it slipping around the dashboard, and I think most people will prefer to have it on the dashboard rather than mounted via the windscreen.
Battery Life
Putting a brand new set of Duracell Plus batteries in and leaving it powered and connected via Bluetooth to an iPAQ 2210, we received a whopping 15 hours usage out of the Navman Bluetooth GPS. Although this comes in at half the time that Navman quote, I suspect by putting a freshly charged set of Ni-Mh batteries in will take you close to the 30 hours quoted. Still 15 hours is very respectable if you compare this with the Emtac's, Sockets and TomTom Bluetooth GPS which all come in at around 5-6 hours usage. When the battery power is too low, the blue light that flashes beneath the power button will start flashing red.

External Antenna
The Navman Bluetooth GPS Receivers has a built in antenna. You should be able to use it in nearly all situations, but if you are experiencing signal difficulties, or you have a vehicle with a heat reflective windscreen, or even one with a heater coil in the front windscreen, this can dampen radio signals in general and also GPS signals.
With that in mind, Navman as with their 3450 sleeve, have also chosen to include an MCX socket on the Bluetooth Receiver. This means that you can purchase an optional MCX antenna and place this on the roof of the car and run the cable inside and to the Bluetooth Receiver giving you the best of both worlds. You do want to try and stay clear of this on a BT GPS, as the main advantage is a cableless setup, and if you're thinking of powering it by the car accessory socket rather than batteries, and also using an external patch antenna, then is Bluetooth really for you ?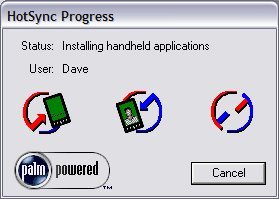 Software Installation
The software installation was a little different than I had expected, mainly due to the installation of maps and activating which does differ from the Pocket PC version and had me perplexed for a short while until I read the manual.
Following the on-screen prompts to install the Palm OS version was simple and once I followed these to the letter they did install correctly.
Once the installation had completed of the core SmartST Software files, pressing the HotSync button on the Palm cradle then sync'ed the program across to the Palm T2 without a problem.
Checking the HotSync logs below you will notice the highlighted text where the GLSLib.prc, MSIHelper.prc and SmartSt.PRC files have been successfully transferred to the Palm OS internal memory after install.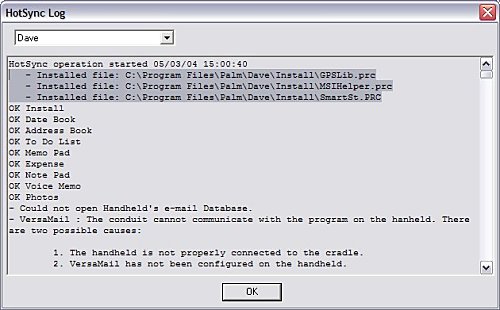 Map Installation
Installing the maps via the HotSync cradle (like you would on the Pocket PC) couldn't be done in this fashion, hence why a card reader is included. So what you have to do is plug the USB card reader into your PC and then install the necessary drivers for this, once completed you can then take your SD card that you would have in a Palm and insert it into the card reader and continue the installation of maps. It automatically detects the SD card and allows you to select the maps that you want to install. The spare SD card I had available (as it doesn't come with one) was a 128mb SD card, and as you will see from the screen shot below I was just able to fit the entire UK onto a 128mb card. If you wanted to leave out Ireland and Scotland for mainland UK users then this will come in at 98.1mb. If you're looking to load more than the UK then a 256mb SD card (for Palm) or a 256mb Memory Stick if you are using a Sony Clie would be advantageous.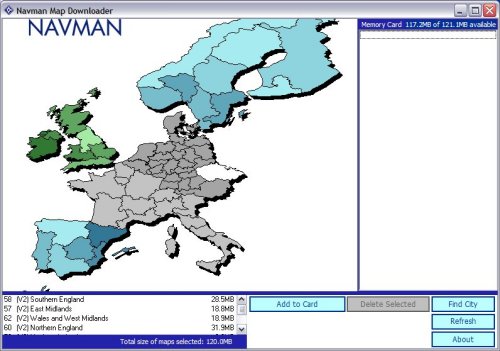 Activation
Like with the Pocket PC and iCN620/630 versions you do still have to activate the SmartST software. The reason for this is that you are only licensed to install this software to one device and to thwart software piracy and pirates (donning the black eye patch) Navman are trying to make sure you adhere to this and activating a device is the best way to achieve this. It does mean that if you upgrade your Palm device in the future that you may not be able to activate the software and you will need to contact Navman. In the past Navman have usually give 2 to 3 grace activations as they are aware people do change devices on a somewhat regular basis (at least once or twice a year) and this should help in activation for legitimate users.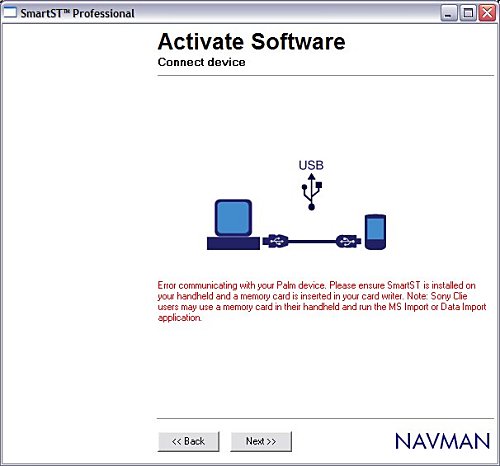 Activation usually is fairly painless but as you will see from the above image even with my firewall configured correctly I couldn't get a connection out. Clicking BACK then NEXT 4 or 5 times eventually allowed the connection to work. This was probably more of a blip at Navman's Activation Server so you may need to persevere.
SmartST Pro Software
SmartST Pro on the Palm OS is a little different in screen size as you would see on a Pocket PC. The Palm T2 screen is actually square rather than oblong (portrait).
First of all when you run up the software each time you will be greeted with the Navman loading screen followed shortly after by the Legal Notice screen which basically tells you, that you shouldn't be operating it whilst driving.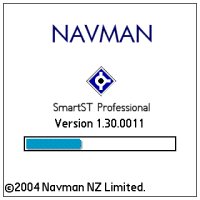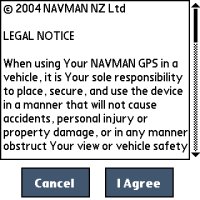 Once you Agree to the Legal Notice screen you will be greeted by the menu structure. We weren't able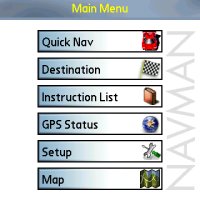 to capture the sub menu structures due to what appeared to be a problem with SmartST Pro conflicting with our screen shot software complaining about lack of memory even though we had a huge amount available. From the main menu you have access to all areas of SmartST Pro. If you go into the Setup screen you will be able to set things like:-
About screen
GPS Configuration
Display Guidance
Maps
POI
Routing
It should be said that the software like the Navman 4460 Pocket PC software is not locked to any GPS Receiver. I tested this with a number of different Bluetooth GPS Receivers, and you do have the option of selecting Serial and Bluetooth and the ability to create a GPS log file for troubleshooting that can be sent to Navman for diagnostic.
Under Display you can set things like:-
Day/Night Colour Scheme display
Show Tutorial on Startup
Ability to Fast Pan maps
Ability to change the Default 3D angle
Guidance Setup menu allows you to set:-
Distance Units (Km/Miles)
Voice Instructions (Guidance)
Voice Scheme (different spoken languages)
Volume
Maps Setup menu basically shows you which maps are installed and you can select/deselect if you do have a lot of maps installed and you want SmartST Pro to run quicker.
The POI Setup menu allows you to select whether POI's are displayed on the map and the ability to disable or enable certain types of POI's which include:-
Accommodation
Amenities
Automotive Facilities
Buildings and Monuments
Entertainment
Financial Services
Food and Drink
Institutions
Medical Services
Natural Attractions
Shopping
Sports Facilities
Transport
Finally the Routing Setup screen gives the ability to choose:-
Route Type (Quickest or Shortest)
Avoid Toll Roads
Avoid Urban Areas
Route Demonstrator
Automatic Re-Routing
Map Screen
Once you have configured all of the settings to your preference, you can then goto the MAP screen and zoom in and out and pan around the screen.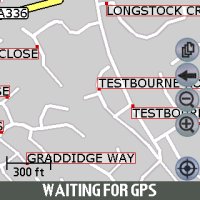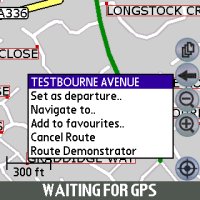 Tapping and holding a particular road will then create the popup window you see in the second image above which shows the Road Name and also allows you to choose this as your departure, destination, add it to favourites, cancel route (if one is set) and route demonstrator. Navman don't allow you to zoom out entirely to a country view so you will be limited in how far you can zoom out and if you want to look at another area of the country you may have to resort to panning around the screen alot until you find the area you are familiar with or try and search for the place in the destination menu.
3D View
Navman like on the Pocket PC version have included a 3D view, this can be seen in the two screen shots below. You can customise this but can only do this from within the setup menu structure.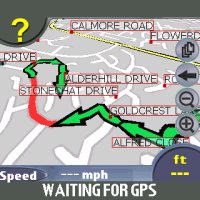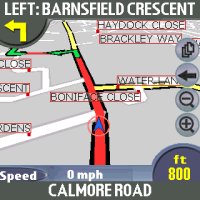 I found having it set around 40 degrees tend to give me the best look for the small size Palm Tungsten T2 screen. Depending on the speed you are traveling and also whether you are close to a turn you may see it zoom in like the above two screens, or you may see it zoomed out like. A comparison is below.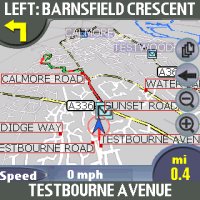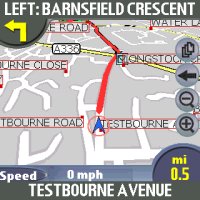 Safety Screen
Most applications now employ what is called a Safety Screen. It's a screen that is either selectable or is selected automatically depending on speed. Navman's is user selectable but gives you minimal information (without map) and still provides Voice Instructions and turn by turn information.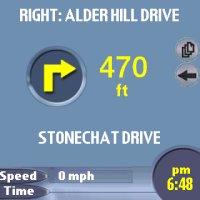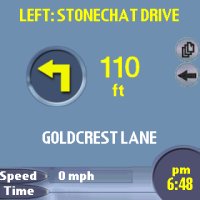 Speaker
The integrated speaker on the Palm T2 I was reviewing this under was quite low and I found that this was lower than the average Pocket PC which meant that you didn't hear the volume that well when on motorways. It was audible but you had to strain yourself to listen.
Data (Searching for Addresses)
Unfortunately this is where TeleAtlas data really falls down and we have seen this before under TomTom Navigator 1 / 2 / 3 and recently in Navman's iCN630 V2 and Pocket PC Versions.
Searching for multiple roads would come back with no entry. This happens if you try to search using Country, then City, then road. If you search by just using Country then Road then all be fine. Several roads in the Southampton area that could not be found when searching for them within Southampton are:-
Barnes Road
Somerset Avenue
Bitterne Road
Bursledon Road
Thomas Lewis Way
The Avenue
Mountbatten Way
This isn't a major problem, you just need to be made aware that you will sometimes have to search differently on some road names to get a result. You will also find that if you do use the City field you may see several selections. Choose the one which shows City, Country rather than City, County, Country and this will also work.
Southampton, Hampshire, England, United Kingdom
Southampton, England, United Kingdom
Poole, Dorset, England, United Kingdom
Poole, England, United Kingdom
Route Avoidance
In the Palm OS version there is now way of setting an area of the map to avoid unlike the Navman iCN630. There are Route Avoidance settings like:-
Avoid Toll Roads
Avoid Urban Areas
But this is all that is available within the Palm OS Version which is a shame. Hopefully this will come in a later version of SmartST Pro.
There is also no ability to manually request a re-route on screen so if you don't like the route taken you will have to drive away from this for it to generate a new route.
Route Algorithm
As with the iCN630 V2 version we have recently reviewed, there are issues with the routing algorithms. Planning routes from various locations we found rather than staying on a motorway, the Palm OS version would veer off and go through a major town which is neither the shortest, or quickest or most direct route to destination. It will still get you to your destination but you may end up being hit by more traffic than anticipated when it routes you through town centres.
Technical Specifications
| | |
| --- | --- |
| Cold TTFF | 45 secs |
| Warm TTFF | 38 secs |
| Hot TTFF | 8 secs |
| Accuracy | 5 meters (typically 95% of the time) |
| Interface | NMEA 0183 Out (Bluetooth) |
| Physical Size | 3.7 x 2.4 x 1.0 in (95mm x 62mm x 26mm) |
| Weight | 7.9 oz / 223g (no batteries, without base) |
| Ext Power Source | 5.0 V DC to the HP iPAQ™ via Navman vehicle power cable |
| Battery Life | 30 hours quoted |
| Map Data | TeleAtlas support for Western European Countries |
Navman SmartST Pro for Palm OS Advantages
Navman SmartST Pro for Palm OS Disadvantages
Routing is fast, but not as fast as other systems like the Pocket PC Version due to the Palm OS Processor used

Routing Algorithms are quite some way from perfection

Maps supplied by TeleAtlas
Problems Encountered
The Palm OS version is nice and compact. It covers the same sort of features as seen in the Pocket PC version and I do still like the Palm as my first real PDA's were Palm's. The main draw backs certainly on Palm's like the T2 are the screen size. If you want a reasonable size screen then you really need to look at the Palm Tungsten T3. Battery life on the Palm's are better than the Pocket PC so Palm's are more suited to be run on battery and not have cables in car for a number of hours. Something that is being complained about by companies using NAVTEQ or TeleAtlas is the lack of the M6 Toll Road. Something has dangerously gone wrong with both geodata providers and the Palm OS version doesn't support the M6 Toll Road.
Summary
Navman have ported their new SmartST Pro V2 from the Pocket PC platform to the Palm quite well, and you will find all the same features here that you would expect on the Pocket PC so where as Palm users had to migrate to a Pocket PC to use Navigation products, this is seriously not becoming the case anymore providing you do have the latest style of Palm running Palm OS5. I was quite disappointed to see that both the Palm OS 5 version and Pocket PC V2 being released at the same time to only find Post Code support not available in the Palm OS version of the application. Strictly speaking it's not V2, but seeing that they are both using TeleAtlas maps, and that both applications were released very close to each other, you would think that Post Code support would have been in the Palm OS version, sadly not!
The Recommended Retail Price at time of writing review was £249 including Bluetooth Receiver or £139 without.
Overall a good package for the Palm OS but lacking Post Code support!