iPhone OS 3.0 - Turn-By-Turn Nav Gets The Green Light

Apple previewed the next Operating System update for iPhone yesterday. Amongst a raft of new features (new to the iPhone at least) comes the long awaited announcement that Turn By Turn Navigation applications will be permitted in the forthcoming update.

A navigation application has been long in the coming on the iPhone platform. Demand has been there right from the start, even before GPS featured in the specification but Apple forbid turn by turn applications. OS 3.0 changes all that with thousands of new API's for developers and the ability to access CoreLocation to make Turn By Turn Navigation applications.

The new API's include full access to pinch and zoom and other iPhone gestures. Developers can also now use Google Maps inside applications (not Turn By Turn though) via a new Map API.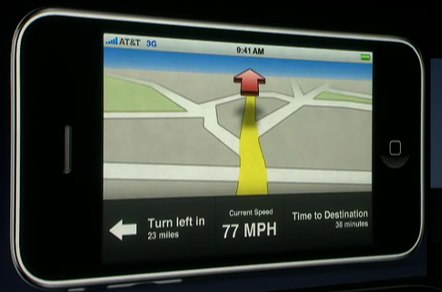 Other highlights are the arrival of cut'n'paste, MMS, hardware accessory API's, wireless peer to peer connectivity, push notification (IM Apps), Spotlight Search and Stereo Bluetooth.

For non-iPhone users many of these may seem old hat and that's because they are. MMS has been available on phones for years but the key point here is that the iPhone has a massive fan base. IT's popular because it has an interface unlike any other device and for those who have one, OS 3.0 is going to bring a lot of new features to the platform.
http://www.apple.com/iphone/preview-iphone-os/
Comments
Posted by MaFt on Wed Mar 18, 2009 3:51 pm

...and about chuffin' time too!!

---
Posted by mrmoo on Wed Mar 18, 2009 8:03 pm

Iphone 3.0-my god its about time, Mr TomTom and others its now a race to see who will clean up in the sat nav arena. it would be nice for a wireless receiver for the ipod touch as well

---
Posted by PaulB2005 on Fri Mar 20, 2009 9:00 am

A review of the Beta here.

Edit: Wrong URL

---
Posted by SpikeyMikey on Fri Mar 20, 2009 10:42 am

Very informative, thanks Paul.

It's a shame the video has been pulled at the end though.

---

Mike
TT GO6000 (Europe); iPhone and iPad Pro with iOS TT GO & MyDrive + CamerAlert