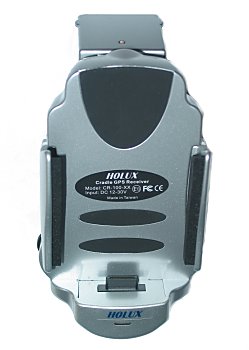 Review by Dave Burrows
Price £114.99
Introduction
I have been talking a lot with Holux recently and something I have had to keep 'under my hat' for quite some time is a new car cradle they have been designing, and I'm glad I can now show it off in all it's glory!
The Holux CR-100 is a 4-in-1 device. It's
A Car Cradle
A Powered Car Cradle
A GPS Receiver
A Loud Powered Speaker
Several companies recently have been making similar mounts, but one thing that always strikes me is many of these mounts always feel cheap (hollow plastic). My friendly neighbourhood Royal Mail Van arrived bright and early one Saturday morning whilst it was sheeting down with rain, and I knew exactly what the package was he had under his arms.
What I wasn't ready for is how small the device was in the average sized box. The CR-100 is tiny, and it's built as solid as a rock but isn't heavy. That contradicts virtually all laws of physics, but when it saw it's first light coming out of the box, I could see that this cradle means business and Holux have done a wonderful job here in the design.
Design
Holux for a long time have been asking me what I would like to see in my ideal car cradle. I get many companies asking me for advice, and Holux are no exception here, they value my input and my key features were:-
small and lightweight powered cradle
loud speaker
quiet ratchet arms
Built-in GPS Antenna
And you can see they've been listening to every word I have said when you pick this up in your hands!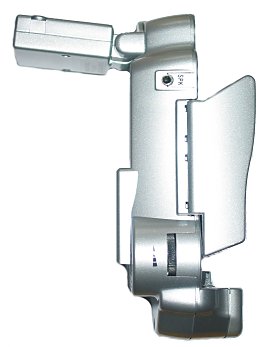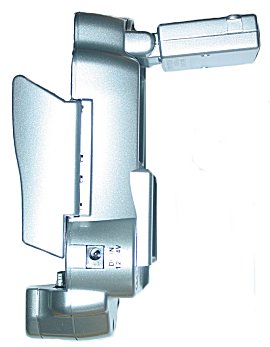 Ratchet Arms
As most of you will know I'm a fan of the original Arkon mounts, the ones with the very large ratchet noise when you close the arms together to grip the PDA. Over time these ratchets fail and you can't squeeze the arms together, but one thing I really love about the Holux is the ratchet is so quiet you can't hear it, AND the ratchet default option is to grip the PDA, so you have to pry open the arms to place your PDA into the cradle. This I like!
Connector Changing
Holux also have a changeable base connector which can be unscrewed and replaced with a different connector so you will not have to change the cable when you buy a different PDA with a different style connector.
GPS Antenna
Holux have also included their standard GPS patch antenna into a omni directional flip up antenna, so no matter which PDA you have, you can plug in a GPS antenna (ingenious!). The Holux CR-100 comes complete with a SiRF IIe/LP chipset support WAAS/EGNOS (no XTrac software is loaded to the chip unlike the new GR-231 we reviewed which does support XTrac 2.0.2). The antenna not only flips up horizontally, but can be turned 90 degrees left and 90 degrees right, so 180 degrees in all making sure that you will always be able to pick up a GPS signal no matter which type of vehicle you drive! You can see a round semi-circle below the patch antenna in the photos below. This is a pivot point which the patch antenna is fixed to, so this will allow the turn of 180 degrees.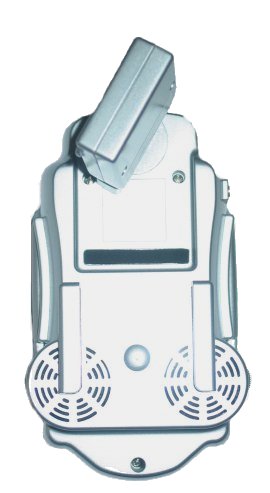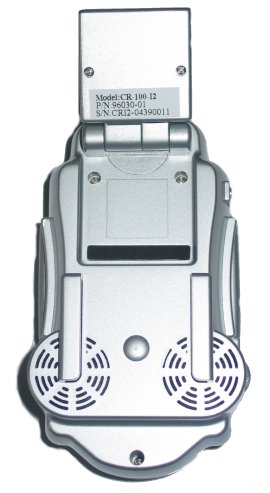 One thing that isn't obvious and that I should mention is if you have a PDA that supports landscape view, then you can easily mount the CR-100 in a landscape format, let the ratchet arms grip the PDA tight and still angle the patch antenna to give it optimal view of the sky!
Speaker
Holux have done something different here with the speaker and not included one but two! On the left hand side of the first speaker (top right photo) you will see a small cog wheel which is a volume control and allows you to adjust the volume output from the speaker.
Cables
The cables supplied with the Car Cradle are a cigarette (accessory) plug which plugs into the right hand side of the Holux CR-100, and an audio cable that plugs from your headphone socket on your PDA to the left hand side Speaker socket on the cradle. Both of these cables are coiled (see below).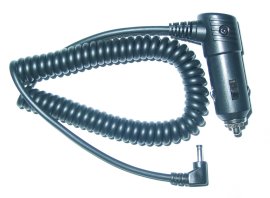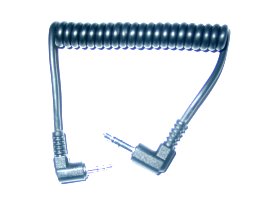 Mounting Option
The Holux CR-100 comes with a short 7" long flex neck suction mount. This slides onto the back of the CR-100 and care and detail has also been taken to the suction lock switch. Rather than a switch that pushes down towards the windscreen, it's a twist and lock switch that appears to give a lot more suction when locked tight. The flex neck arm also isn't the standard you would see which is a piece of soft metal encased in a corrugated plastic tube, it's a soft metal design to allow for bending, but has a flat shiny plastic finish that looks a lot more professional.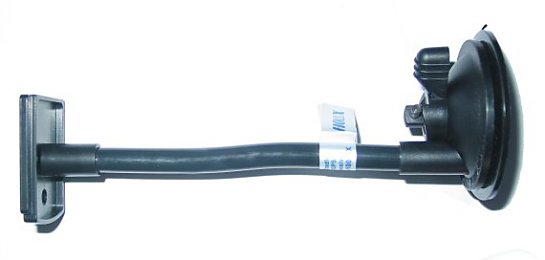 In Use
The Holux CR-100 fits extremely well on the dashboard. The flex neck arm supplied should be more than enough to bring the PDA close to you if you have a long sloping windscreen, and the audio is loud enough to hear in motorway driving (much louder than a normal PDA). You will notice an LED below the word Holux on the CR-100 and this lights up when ignition power is on, so you know for sure that power is to the cradle and also there is an LED on the flip-up antenna itself, enabling you to manually check to see if the antenna has a 3D fix or not.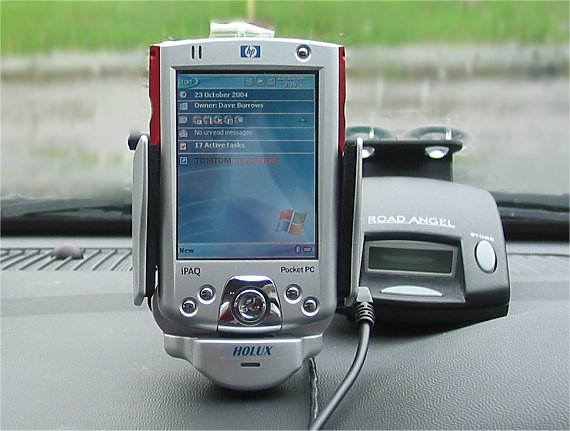 The CR-100 when on the dashboard can be rocked slightly side to side, and this was initially a concern for me but once I started driving with the CR-100 it stayed rock solid on the dashboard and I observed no screen wobble except for at high motorway speeds on rough concrete slabs rather than tarmac when you might see a little movement.
Conclusion
The Holux CR-100 works extremely well, audio is loud and the cradle not only keeps your PPC safe on the dashboard but it also gives you a GPS Receiver all in with the price of £114.99!