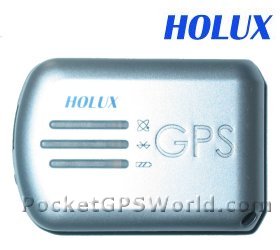 Review by Dave Burrows
Price £119 inc VAT
Introduction
Holux is a company that is renowned for building good quality GPS Receivers, and for many of you that attended the Stratford-Upon-Avon GPS Meet-up will have also had a chance to meet with Graham and Julie from Holux UK.
Holux have just released their new Bluetooth GPS Receiver. Based upon the technology built into the GR-230 that we reviewed here, Holux have re-engineered this and brought out what appears to be a slightly larger version of the GR-230 called the GR-231. However, when you measure the GPS it is identical in size to the GR-230, although it has more of a rectangular look whereas the GR-230 had more of a rounded look.
As you may recall if you have read the GR-230 review, the Holux GR-230 was based on the SiRF IIe/LP chipset (without XTrac support). XTrac has come on leaps and bounds since version 1, and SiRF have released XTrac 2.02 and the new GR-231 now incorporates this software support loaded on top of the SiRF IIe/LP chipset.
In The Box
The sample we have received is a pre-production unit, so unfortunately I didn't receive anything other than the GPS and battery. However, Holux do say that the following items will be included in the production version when it goes on sale:-
Holux GR-231 GPS Receiver
In-Car Charger Cable
3-pin Mains Charger
Manual
Driver CD
The Receiver
The GR-231 has a good specification chart including support for NMEA (9600 preferred), it sports a SiRF Star II chipset with embedded ARM7TDMI CPU, 12 parallel satellite-tracking channels for fast acquisition, high speed signal acquisition using 1920 time/frequency search channels, Low Power mode, XTrac 2.0.2 and more! The GR-231 also comes with the standard SPP Serial Port Profile which Bluetooth uses to connect to a Pocket PC or PC to exchange GPS data.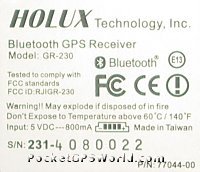 As we received a pre-production sample of the Holux GR-231, the compliance sticker still shows it as being a GR-230.
From a technical perspective there is very little difference between the two in hardware terms, the main difference that you and I will see is in the XTrac v2.0.2 software loaded onto the chip.
The charging cable from the GR-230 is 100% compatible with the GR-231 including the USB cable that allows the GPS Receiver to work with PC's that may not be Bluetooth enabled. Holux decided to keep these as standard which makes sense, that way there's less confusion for people wanting to buy replacement parts.
Battery
The battery supplied with the GPS Receiver is a 3.7v Lithium-Ion battery.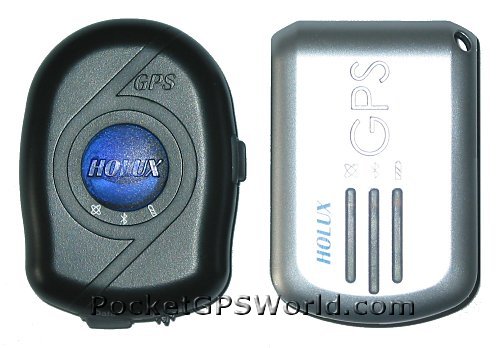 Power / Data
The power/data socket (mini-USB) looks identically placed to the GR-230, however there is no rubber protection flap to keep water from entering the socket. The power button is a touch sensitive recessed software button. By software I mean it's not just a simple on/off click switch, you have to hold it in for several seconds until the amber light comes on and then let go. Likewise to power it off you have to do the same.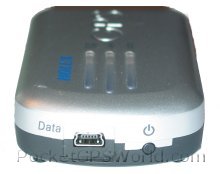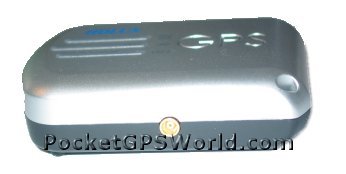 On the side you will also see an MCX antenna socket and the right hand corner is a hole to connect a lan yard, or bungee chord so you can tether it to your body.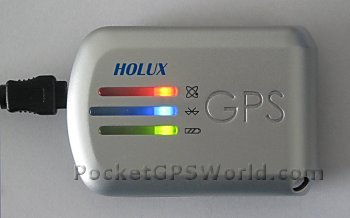 LED's / Lights
As with most Bluetooth GPS Receivers, there's three lights (or LED's) on the GPS.
The top LED is the GPS Fix light that lights up orange.
The middle LED (which lights up blue and flashes) is the Bluetooth connectivity light.
The bottom one (which lights up green on charge) is the charger/battery light.
The LED doesn't penetrate all the way across the plastic visor strip, just on the right hand side, but when in darkened conditions, or viewed with the power button/charge connector facing you, it does look like the whole visor is lit up for each LED.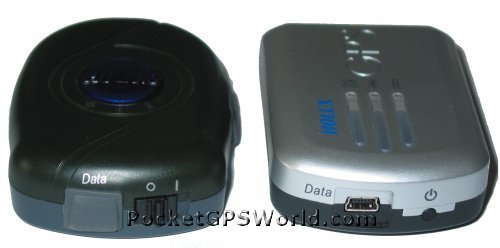 Performance
Performance wise I'm impressed. The GR-231 is a great GPS and not only looks attractive in that silver finish, but like the GR-230 looks unlike any other GPS. Although the GR-231 like all Bluetooth GPS's are made of a plastic outer shell, when you pick up the GR-231 and place it onto a desk it really feels well made and weighty!
On regular journeys it acquired around 7-9 satellites which is average, TTFF's came in at under a minute, but the main difference was XTrac which enabled me to get signals where I couldn't usually receive signals. Although the GR-231 supports XTrac 2.02, it didn't appear to have any lag, not even the 70 mph down to 0 mph which was a bonus.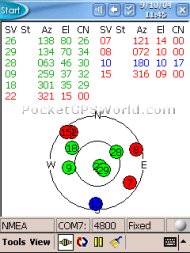 Above you will see two screenshots. The first is from another standard mode GPS, and the second screenshot shows the GR-231 in XT2 mode. It already has 2 sats more and it's acquiring a sixth sat over the standard 3 sats that would be visible in this hard to reach place.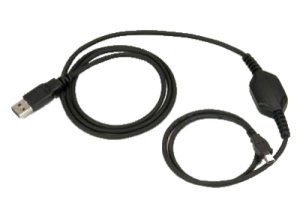 Optional Data Cable
Holux were the first with the GR-230 to make the GPS available in Bluetooth and Serial Cable fashion where you could effectively use the GPS in both modes and at the same time.
The GR-231 carries on with this feature and allows you with an optional data cable to connect it directly to your USB socket on your PC.
This like the charger plugs into the Data port on the GPS Receiver (which has a mini-USB connector), and the other end of the cable has a USB plug.
Technical Specification
| | |
| --- | --- |
| General Features | |
| Tracks up to | 12 satellites |
| Receiver: | L1, C/A code |
| Snap Start: | <3 sec(at < 25 minutes off period) |
| Update rate: | 1 HZ |
| Antenna Type: | Built in Patch Antenna |
| Minimum signal tracked: | -175dBW |
| Dimension: | 77.9 x 56.9 x 22.8 mm |
| Weight: | < 70g |
| Power Button: | Electronic On/off push button |
| Battery | Lithium-ion battery lasts for more than 9 hours of use |
| Operation Temperature: | -10C to + 60C |
| Store Temperature: | -20C to + 85C |
| Operation Humidity: | 5% to 95% No condensing |
| | |
| Non DGPS (Differential GPS) | |
| Position: | 5 - 25 m CEP without SA |
| Velocity: | 0.1m / sec |
| Time: | 1 usec sync GPS time |
| | |
| EGNOS/WAAS | Not Supported (due to XTrac being loaded) |
| | |
| Bluetooth Features | |
| Serial Port Profile: | Compatible with Bluetooth devices with Serial Port Profile (SPP) |
| Version: | Version 1.1 compliant |
| Class: | Class 2 operation (up to 10 meter range) |
| Frequency: | 2.400 to 2.480 GHz |
| Modulation: | FHSS / GFSK |
| RF channels: | 79 |
| Input Sensitivity: | -80dBm |
| Output Level: | 4dBm |
| | |
| Serial Features | |
| Output terminal: | Mini-USB (TTL Level) |
| NMEA Protocol Output: | V 2.2 |
| Baud Rate: | 38400 bps |
| Data Bit: | 8 |
| Parity: | N |
| Stop Bit: | 1 |
| Standard Output Format: | GGA, GSA, GSV, RMC |
| Standard Output Format: | GGL, VTG, SiRF Binary |
| | |
| Other Features | |
| Altitude: | 18,000 m ( 60,000 feet ) max |
| Velocity: | 515 m/sec ( 700 knots ) max |
| Acceleration: | 4G, max |
| Jerk: | 20 m/sec, max |
| LEDS: | Bluetooth , Navigation Update and Battery and changer status Indication |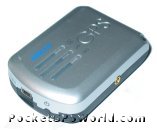 Conclusion
The Holux GR-231 is not only an attractive looking Bluetooth GPS Receiver, but continues on with the features of the GR-230 and adds XTrac 2.0.2 Software to the GPS to give better sensitivity. Although it's about the same size as most Bluetooth GPS's, it's still fairly compact and can easily be placed in a shirt or trouser pocket which is the main thing when you are out and about.
I have been using the GR-231 in a number of situations both with Pocket PC and Mobile Phones and the I really haven't seen any problems with the GR-231. TTFF's are quick, and it comes with a 3.7v Lithium-Ion battery. I am not a big fan of software based power buttons, it is an extra feature that I personally find a little irritating from time to times, and I'm always cautious about whether I've held the button in for long enough, but the GR-231 compared to say the software power button on the TomTom Bluetooth GPS, is much more improved.
The GR-231 although slightly larger than some Bluetooth GPS's like the Fortuna Clip-On for instance, does feel weighty and make the GPS feel as though it's been made better. All this for under £120, this really has to be a bargain!