TomTom Announce XL Live

TomTom have today confirmed the latest LIVE connected device, the XL LIVE.

Previously only available on the x40 range of PND's, the TomTom XL LIVE will launch at an RRP of £249.99 with the LIVE subscription costing £7.99 per month.

In addition, TomTom have finally resolved the issue of roaming data access to LIVE services. The XL LIVE now provides full access to the LIVE services in all countries where they are available for the same fee.

The XL uses the same form factor as the latest V4 versions and uses the sleek black colour scheme of the XL IQ Routes Edition. Map coverage of 42 European countries is provided.

Retail units will come with a three month trial of LIVE services after which owners will be offered the subscription if they wish to maintain access. Other subscription options include a 6-month pass at £47.99 or a 12-month option at £79.99.

As with the LIVE service on the x40 range, features include High Definition Traffic, Safety Alerts, Fuel Prices and Online Local Search with Google.

The TomTom XL LIVE will be available in stores in June 2009.

Existing subscribers to LIVE services on the x40 will receive a free upgrade to allow reception of LIVE services whilst roaming by the end of 2009 which is rather tardy for the early adopters and too late to permit reception for anyone venturing abroad this Summer.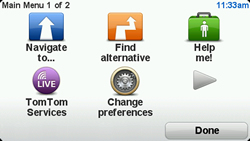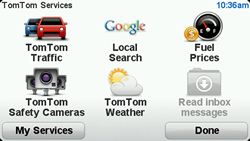 Comments
Posted by Matt865 on Wed May 20, 2009 7:57 am

News Team Wrote:
Existing subscribers to LIVE services on the x40 will receive a free upgrade to allow reception of LIVE services whilst roaming by the end of 2009 which is rather tardy for the early adopters and too late to permit reception for anyone venturing abroad this Summer.



Well ultimately that's good news, but why on earth should it take so long to enable it for x40 users if they've already got the capability to do it for other devices?

---
Posted by MrT on Wed May 20, 2009 8:02 am

Thanks for the announcement, I was going to buy the TMC mount for the 940 when it was back in stock but now I will hold off. I will use the dangly wire USB-TMC on my next visit to Europe - if it will get a signal.

---

Drivelux
Posted by Darren on Wed May 20, 2009 8:49 am

Matt865 Wrote:
Well ultimately that's good news, but why on earth should it take so long to enable it for x40 users if they've already got the capability to do it for other devices?


It does seem rather unfair that the early adopters who bought the premium device are being left without this upgrade for so long. It also remains to be seen if new x40 purchasers will get access sooner than that.

---

Darren Griffin - Editor
Posted by MrT on Wed May 20, 2009 9:51 am

Maybe it will only work on the trial service and that gives TT 3 months from June to get it working on the full service, although I would have thought it was the same platform

Maybe they do no want to promise it too soon in case it goes wrong and they are inundated with complaints.

Lets hope it does not need any changes to the subscription as I just paid for a years worth last weekend.

---

Drivelux
Posted by Darren on Wed May 20, 2009 10:05 am

I'm told that the delay is simply part of the staged introduction of the service. Each telco has agreed a schedule and as each device requires activation on the network to permit the roaming this has had to be planned and agreed.

---

Darren Griffin - Editor
Posted by mikealder on Wed May 20, 2009 12:13 pm

No mention of Text to Speech, will this be an option for USA versions but not European like the other models in the XL or XLS range? - Mike

---
Posted by Darren on Wed May 20, 2009 12:22 pm

Hmm, wouldn't TTS be a pre-requisite for a LIVE device though? How would it announce traffic incidents etc?

---

Darren Griffin - Editor
Posted by Andy_P on Wed May 20, 2009 12:44 pm

At a guess, I reckon it might just show it on-screen and beep, Darren.

---

"Settling in nicely" ;-)