Mio launch new entry and mid level sat-nav range


Article by: Darren Griffin
Date: 20 Aug 2009



Mio have announced today the launch of two new satnav model ranges, the entry level Navman F-series and the mid level M-Series.

Each range offers a 3.5inch and 4.3inch wide-screen option and all come with SiRFInstantFixII for faster satellite lock. In the F-series we have the F35 (3.5inch screen) and F45 (widescreen) and for the M-series we have M300 and M400.

The M-Series models add the ability to perform LocalSearch when connected to a PC using the MioMore desktop app.

The M400 includes NavPix and all devices come with spoken motorway exit instructions.
Navman M-series/F-series Product specifications:

Mio Navman M300
· 135g in weight
· 79 (H) x 93 (W) x 19 (D)
· Samsung 2450/400 MHz processor
· SiRFstarIII with InstantFixII GPS receiver
· Rechargeable integrated Li-ION battery, up to 3 hrs life
· 3.5" touch screen


Navman M300 Street-level regional maps
Navman M300 Europe Street-level Western European maps

Mio Navman M400
· 152g in weight
· 81 (H) x 127 (W) x 18.5 (D)
· Samsung 2450 / 400 MHz processor
· SiRFstarIII with InstantFixIIGPS receiver
· Rechargeable integrated Li-ION battery, up to 3 hrs life
· 4.3" touch widescreen

Navman M400 Street-level regional maps
Navman M400 Europe Street-level European maps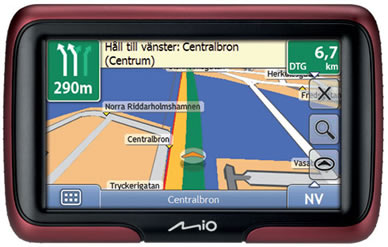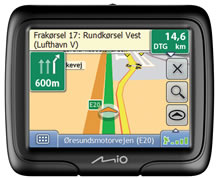 M400 and M300
Mio Navman F35
· 138g in weight:
· 77 (H) x 111.5 (W) x 20 (D)
· Samsung 2450/400 MHz processor
· SiRFstarIII with InstantFixII
· Rechargeable integrated Li-ION battery, up to 3 hrs life
· 3.5" touch screen

Navman F35 Street-level regional maps
Navman F35 Europe Street-level Western European maps

Mio Navman F45
· 155g in weight:
· 80 (H) x 137 (W) x 18.5 (D)
· Samsung 2450/400 MHz processor
· SiRFstarIII with InstantFixII
· Rechargeable integrated Li-ION battery, up to 3 hrs life
· 4.3" touch screen
· Tele Atlas map data 2009.02
Navman F45 Street-level regional maps
Navman F45 Europe Street-level Western European maps
Comments
Posted by alan_sh on Thu Aug 20, 2009 11:25 am

Is it me? I can't see a "read more" link.

Alan

---
Posted by hwalker1 on Fri Aug 28, 2009 10:18 am

Perhaps its as well!

---
Posted by GerryC on Fri Aug 28, 2009 10:36 am

Threads in the "News and Latest Information" area are usually copies from the front page stories. The thread is more for comments regarding the story there.

So, in this case -
Click here to read more...

---

Gerry
TomTom730T
Cameralert for Android
Brodit ProClip mount