BMW motorcycles offer customised Zumo660

Garmin have offered custom versions of their motorcycle GPS models in partnership with BMW for many years now, the last being based upon the capable but now rather dated StreetPilot 2820.

The latest incarnation is the BMW Motorrad Navigator IV GPS. Snappy name eh?

Based on Garmin's Zumo 660, the Navigator IV adds a custom mount that has four physical, glove-friendly buttons, pre-loaded BMW dealer POI data and unique Bluetooth functionality.

The standard Zumo 660 features are present including a bright 4.3" touch-screen display and the Bluetooth feature that allows the device to be paired to compatible Bluetooth helmets or headsets.

On top of that, the Navigator IV allows hands-free telephone functionality and the ability to listen to MP3's.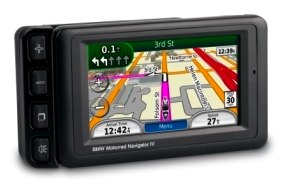 Comments
Be the first to comment. Click on Post Reply below.