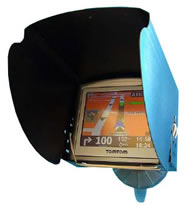 by Darren Griffin
The issue of glare appears to be one of those problems you either suffer or don't. There are those users who swear by some form of visor or shade for the satnav and there are others who see no need for them full stop! Well if you are the former read on, if you are the latter you can go make yourselves a cup of tea for a few minutes!

Screen technology has improved in recent years but there are still some situations in which glare can become a big issue and prevent you from seeing the display clearly. There have been a number of solutions to this problem, GlareStomper chose a material visor with the first versions relying on the removable fascias that early TomTom devices had whereas later models used adhesive and velcro strips. Drumma chose a different solution with custom moulded ABS plastic visors that simply slipped over the unit.

Drumma's visor was particularly well designed but the development and manufacturing costs were high and consequently they never sold in the numbers required to justify ongoing development.

Now Dutch company ZunZun have entered the market with another solution, a cardboard visor that can be folded to fit a range of devices, folds flat when not in use and most importantly is cheap to produce and cheap to ship.
The ZunZun Visor
ZunZun's current visor is compatible with the following devices:
| | |
| --- | --- |
| Manufacturer | |
| TomTom | x20, x30 |
| | ONE v3, ONE V4 |
| | ONE XL |
| Garmin | Nuvi 200, 250, 200W, 250W, 760T, 770T |
| Mio | 620 |
| | Moov 200, 330, 370 |
The visor/shade arrives flat ready for some simple preparation.

For my review I chose a GO 520, the instructions are very simple. To prepare first tear off the banner card instructions (in Dutch on our review sample but English is coming). ZunZun have a full guide for each model on their website in English here.

On the reverse side (the inside) each pre-scored line is lettered and it's simply a matter of bending at the indicated lines.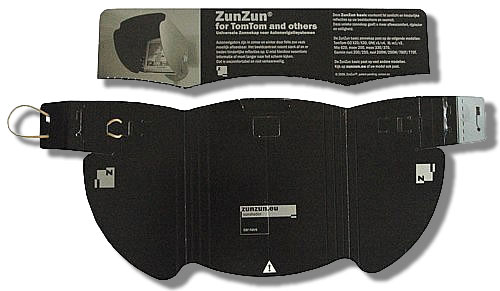 Tear off the instructions
Fold along the indicated pre-scored lines and feed through the elastic band and that is it!
Fold along pre-scored lines as directed in the on-line fitting guide for your device
and connect elastic band (supplied)
The finished article is attached to the satnav by sliding it over the unit and using the elastic bands to secure it at the bottom corners front and rear.
In Use
It is a little fiddly to attach but becomes simpler with practice. Just spread the sides of the visor apart against the tension of the elastic band and fit from the front. Once on, the visor feels fairly sturdy considering its cardboard construction and is secure.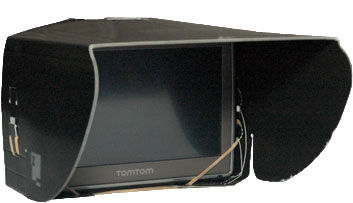 All done, ZunZun slips onto test 520 easily and folds flat when not in use
The visor does not impede the standard mount and offers a deep visor that will shade out the worst possible glare.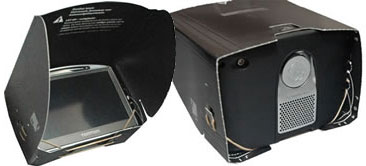 I tried valiantly to find some sunshine here in gloomy England and failed so its difficult to convey the difference the shade actually makes but below you can see the drivers eye view with shade on and off.

Once aspect I had not considered before was using a visor to reduce reflections from the unit when driving at night. Because my daily use system is located low down on the console it does not cause unwanted reflections in the windscreen. However, when testing devices I attach them using the supplied mounts.

Using a visor removes the reflection from the windscreen when driving at night, a useful benefit particularly as the long winter nights are fast approaching.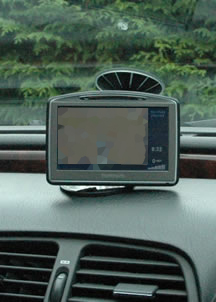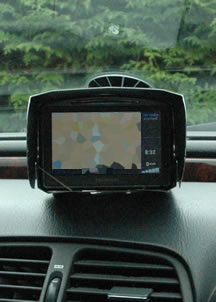 The visor may appear quite 'deep' but I don't find it so. If glare is an issue for you then this is a reasonable and economic solution. The cardboard whilst apparently flimsy does a good job and is rigid enough when affixed to the device. because of its design, when not in-use it can be folded flat and stored in the glove box or a cubby.


Compact when folded
Pricing
ZunZun sell their visors direct from their website's online shop at £3.99 per visor with discounts for large quantities. Because these can be easily printed they would make ideal corporate gifts emblazoned with your company logo.

Our thanks to ZunZun for the samples, now all I want is some sunshine!
---
Conclusion
ZunZun's approach is novel and works well. I liked them and if glare is an issue for you then these will resolve it. They also look much better than their construction would suggest and at £3.99 they represent excellent value.
---