Article by

At the end of September a small group of GPS fans assembled in North-West Houston, pretending to attend a yard sale that Lutz decided to hold.

Along they came, with an agenda at heart. Not to see what was for sale, but they heard of a new GPS Guru in the neighbourhood! So their main goal instead was to get a quick consultation about the available GPS gear and the best ways to fit it into their cars.

Unfortunately they were a bit vague about that, so ..... two hours later, when Lutz had finished lecturing about the fundamentals of trilateration and PRN constellations and was about to move on to signal degradation phenomenon's in the atmosphere - all the while standing in the baking sun on the hottest day of this summer - the first perils of sweat appeared on the faces of the crowd.

After some glasses of lemonade the group managed to get their questions answered.

The group were also able to test out some of the GPS gear that Lutz had on display including GPS receivers, car mounts, and of course a variety of GPS programs. As was to be expected, everyone had slightly different requirements to the GPS hardware and applications, and Lutz was able to suggest individual solutions for each of the participants, demonstrating the solutions in real life - fitting car mounts, showing application UI concepts, answering the eternal question "Is my house on that map ?" and adjusting expectations about map accuracy...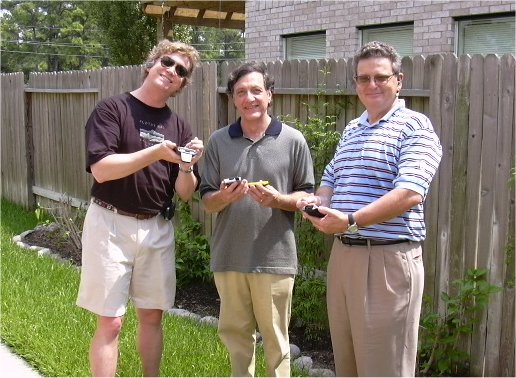 Photo: Rex, Alex, and Thomas at the first

"Greater Houston Pocket GPS World Touch-n-Try Meet up".

Hint: Try to find all the geek gear in the picture...


Eventually the little group happily escaped the lure, avoiding another two hours of lecture about topographical GPS programs, but generally agreeing that the visit was valuable, and that such a meet up should be repeated.

If you think that's a good idea, and if you are in acceptable travel distance from Klein, Texas, please answer the poll accordingly - so we can see how big of a restaurant with free beer we need to reserve. (Oh, just hearing from management that I should be careful with that beer thingie - we'll see about that when the poll comes in.)