Click here to go to the PocketGPSWorld Speed Camera Database
Navman Instructions
Please see the compatibility table for details of which units these instructions relate to.
Note that the F-range requires the purchase of a Connectiviy Kit before you can install the database.
Downloading the Pocket GPS Safety Camera Database
Download from Pocket GPS Safety Camera Database page.
Login to PocketGPSWorld.Com and goto the Safety Camera Download page.
Select SatNav System NAVMAN, choose Continue then choose the database version you wish to use.
For this guide we are using the UK - Consolidated by Type option.
Extracting the Database on the PC
Extract the ZIP file contents to a directory on your PC, e.g. C:\temp

In Windows XP right-click the .zip file and select "Extract Files Here..." or use a program such as WinZip or WinRar to extract the files

Installing Pocket GPS Safety Camera Database
1. Run Navman SmartST Desktop on your PC (note that your screen may differ to that shown below due to differences in software versions).

2. Connect your Navman Device.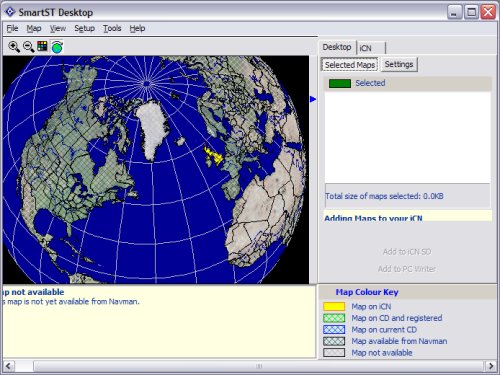 3. Click MAP | POI's to open the POI Editor. (or MAP | Points of nterest... in newer versions)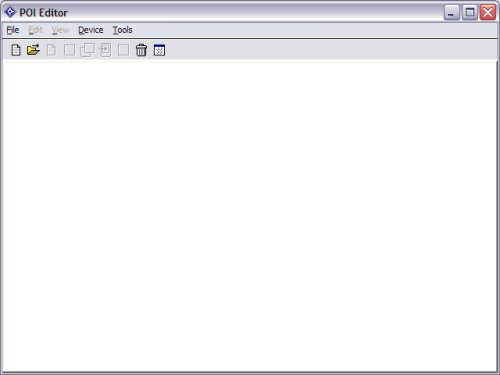 4. Click FILE | OPEN and point to the folder where you extracted the ASC files , e.g. C:\Temp\POCKETGPS_UK_GATSO.ASC

Note: Newer versions of the software, by default, ask for 'Files of type: CSV Files (*.csv)' You might have to put *.* or *.asc and press 'Open' in the File Name window in order to show the asc files.

5. You should now see the Speed Camera data in a screen below.

6. Click FILE | SAVE TO DEVICE (note that this will save ALL the entries to the device, not just the single line that is selected!)

7. Now select a name to appear onthe device (newer software only, older software see part 8) then tick ACTIVE and then VISUAL ALERT, IMPERIAL and set the warning distance (in feet when set to Imperial). Increase the POI Visibility and also point to the BMP file you extracted earlier from the ZIP file, e.g. C:\Temp\pocketgps_uk_gatso.bmp by clickin on '...' or 'Browse...'. In newer versions you can also select which sound file to play.

8. Now enter a name to appear within the Navman software (in newer versions this needs to be done in part 7).

This should have now downloaded the data to your iCN or V3 software and you should now see it in there and be notified of the latest Speed Cameras.

9. You will need to repeat this process, from part 4, for each camera type you wish to install onto your unit.
Summary
If you would like to make sure you have the latest Pocket GPS Safety Camera Database, please visit the Pocket GPS Safety Camera Database page, if you would like to discuss the database, or how Navman uses our database, please discuss it in the Safety Camera Forum.