HOWTO by AndyP
Introduction
TomTom are now installing a 'demo' version of their own "Safety Camera" database on new machines. There are a number of reasons to remove these files from your device, the major ones being that they can occupy up to 38% of the available Custom POI places that you should have for your use, and also that you may need to recover some much needed storage space - especially important on TomTom's with only a fixed internal memory size.
As we believe our camera database is vastly superior, we recommend that you remove these files.
This tutorial details where they are located and how to remove them using TomTom's "Home" utility. We are using Home v2.3 in these instructions; if you don't have it, or are still using an earlier version (which is NOT recommended), you can download it from HERE.
Important. Before you proceed please back up your device (we recommend using Windows Explorer rather than "Home" to do this vital task). Instructions are HERE.
Now dock the unit to the computer, and when the TomTom device seeks permission to connect to the computer simply tap the 'Yes' button. Once it connects, the TomTom Home application should start up. If it doesn't, simply start it from the Windows Start Menu.
Once Home has loaded, and recognised your machine, you should be presented with the main Home screen:
(click any of the images to view larger versions)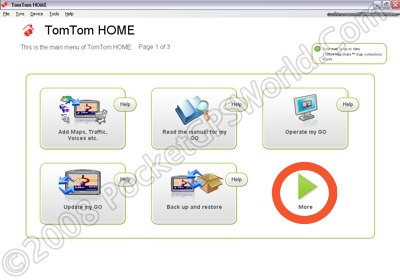 Click on the "More" arrow as indicated above to get to menu page 2, and then select "Remove items from my Go"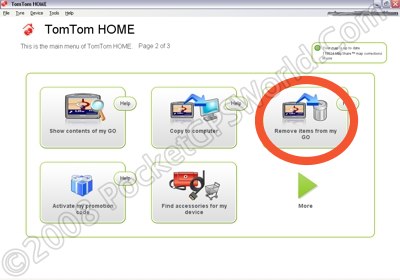 This will bring up a list of all the items installed on your TomTom as shown below: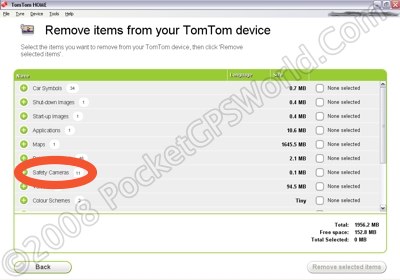 The TomTom Cameras (if installed) will show as above, usually as "Safety Cameras" but on some older machines they may still appear in the "Points of Interest" section.

To the left of the heading is a "+" sign which you can click on to show the individual camera files installed, scrolling down as necessary to see them all.
In this example, I have camera files for 10 Western Europe Countries and also some shared "Reported Safety Cameras" from a test download I made once.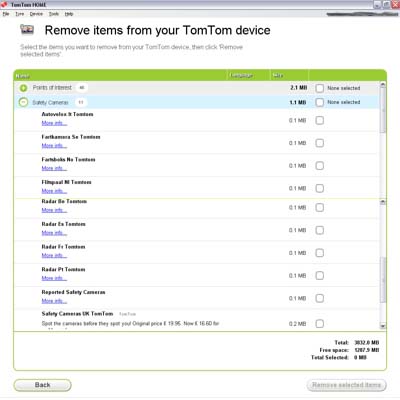 Notice that on these versions each country is covered by one file, but on older versions they used upto 38 individual files for the different camera types; and with only space for 100 POIs available in v6 software, this would have used up 38% of your space!
Removal of all these redundant files is simply a matter of ticking the individual boxes of those you don't want, or ticking the box at the top of the section which will select them all in one go (as shown below), and then clicking on "Remove selected items".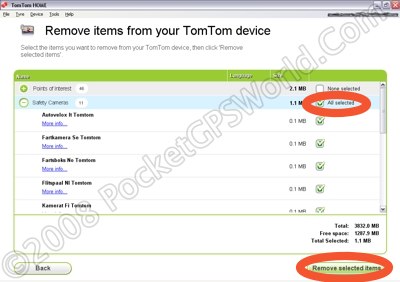 And that's it!
---