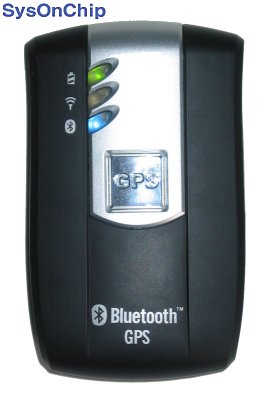 Review by Dave Burrows

Introduction
SysOnChip shouldn't need any introduction here. Back in August 2003 we reviewed the SysOnChip CF Plus GPS Receiver using the latest SiRFXTrac technology. In September, SysOnChip announced that they were producing the new Bluetooth GPS Receiver dubbed the SOC2S03. The SOC BT GPS comes standard with SiRF IIe/LP Chipset (not SiRFXTrac like the CF Plus GPS Receiver).

Straight out of the box, this is one impressive looking GPS. Look at the contour lines, the air-brushed silver alongside the shiny silver GPS square, and against the matt black finish. If anything looks good to the eye, the SOC BT GPS does!

What's in the box
In the retail box you should find the SysOnChip Bluetooth GPS Receiver, a car charger with an add-on splitter to enable charging of both the Bluetooth GPS Receiver and your Pocket PC. You should also receive a driver CD and a User manual. The SysOnChip Bluetooth GPS doesn't currently ship with a mains adapter, but there is an optional mains adapter that can be purchased, but this is a 2-pin European charger, so you will need to add a 2-pin to 3-pin converter to this. The option "Travel" charger is a 5V, 2A charger.

The version we received was an early production model, so apart from a 2-pin european mains charger, a CD and the receiver itself, we didn't receive a Quick Reference Manual or Test Program CD. We did receive a CD with a Postscript Data File (PDF) which showed what the printed manual as it would be.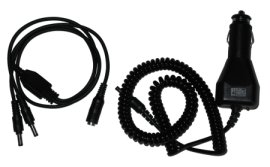 LED Lights
Like most Bluetooth GPS Receivers you'll see three LED's. The top LED you see is a power/battery status light which shows Green when healthy and Red when in need of a charge, the middle LED is the GPS Status light and flashes Orange when receiving a connection and the third and final LED is the bluetooth connection status light which blinks Blue. On the top edge of the GPS you have an on/off switch which is very stiff to slide, which means there's no chance of you switching on the BT GPS by accident when it's in your pocket.
| | | | |
| --- | --- | --- | --- |
| Battery Status LED | Red | ON | During charging battery with connection to a power charger. |
| | | OFF | Once battery is fully charged. |
| | Green | ON | Low battery indication. Charge battery immediately. |
| | | OFF | Normal status. Battery has adequate power supply. |
| GPS Status LED | Orange | Blinking | Position is fixed on the reception of GPS Signal (1 PPS Output). |
| Bluetooth Status LED | Blue | Blinking | No Bluetooth connection yet. Finding Bluetooth connection. |
| | | ON | Bluetooth connection is on and ready for data transmission. |

Battery and charging
The battery that is integrated inside the SOC BT GPS is a rechargeable Lithium Polymer battery with a rating of 910mAh. The charger socket on the SOC BT GPS will take any kind of PDA charger providing it keeps to the specification of 5Vdc and 2 Amps. SysOnChip rate the batteries use on a full charge as 7 hours 40 mins, and this is probably the most realistic manufacturer guideline I have seen so far. In the tests I performed, on a full charge the SOC BT GPS would last anything from 7 hours 10 minutes to 7 hours 40 minutes. For most, a single full charge should be enough on long journeys. If not, just plug in a charger cable and charge on the go. SysOnChip supply a 2-pin European mains plug with the SOC BT GPS, hopefully country specific chargers will be supplied to distributors in short order.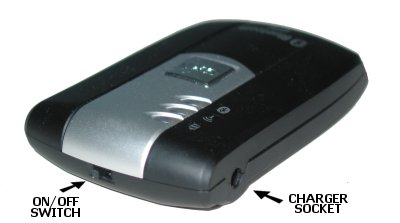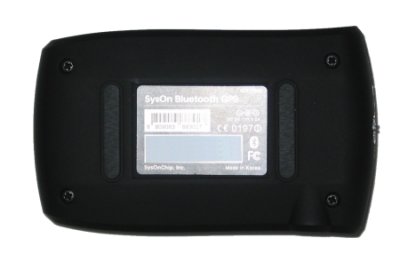 Pairing the GPS with Bluetooth
Much to my surprise, recently reviewing the latest Bluetooth GPS Receivers, most of them haven't required a passkey or to be paired, but as soon as I let the Bluetooth Manager hunt out the SOC BT GPS, immediately I was asked for a passkey to bind the GPS to the Pocket PC (WM2003). The passkey is straight forward, just enter 0000 and this will give you a bond between the two. You should see the SOC BT GPS in Bluetooth Manager.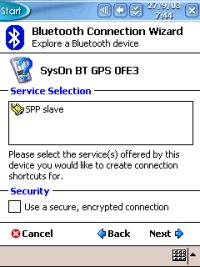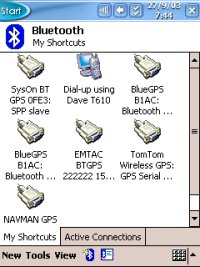 SysOnChip Bluetooth SOC2S03 GPS Specifications
| | |
| --- | --- |
| Physical Dimensions | 90mm (H) x 55mm (W) x 15mm (D) |
| | |
| Performance | |
| Update Rate: | 1 second |
| Channels: | 12 Channels all-in-view tracking |
| System Back Up: | Built-in Lithium-Polymer 910mAh rechargeable battery |
| | |
| Acquisition Time: | |
| Cold Start: | 45 seconds |
| Warm Start: | 38 seconds |
| Hot Start: | 8 seconds |
| | |
| Dynamic Conditions: | |
| Altitude: | <18,000 meter |
| Velocity: | <515 meter/second |
| Acceleration: | <4g |
| | |
| Interfaces | |
| Baud Rates Supported: | 4800, 9600, 19200, 38400 (Default) |
| NMEA: | NMEA 0183 v2.2 (GPGGA, GPGLL, GPGSA, GPGSV, GPRMC, GPVTG |
| Differential Correction: | Real-time Differential Correction input (RTCM SC-104 message types 1, 5, and 9) |
| SiRF: | SiRF Protocol |
| | |
 


Optional Accessories


SysOnChip have created the following accessories for the SOC BT GPS
External Patch Antenna
In-car charger
Problems Encountered
Usually when reviewing products there is always something that gives you a problem, but I was pleasantly surprised with the SysOnChip BT GPS as I couldn't find anything. If I really had to be picky then I could say the power button is a little stiff to operate, but I see this as a plus so that it doesn't keep turning itself on. I think it is worth mentioning that the patch antenna on our pre-production sample did stop functioning, but pre-production models are usually hand-made and not built to the same degree of quality that a production model would be built to, since SysOnChip have sent us a production model, we have not experienced a problem.
GPS Performance - Time To First Fix (TTFF)
Having used an Emtac/Socket BT GPS for the past couple of months in-car, I've been extremely tuned into using this from a signal point of view, and although most Bluetooth GPS Receivers are close, they still don't quite match up to the Emtac/Socket. I was pleasantly surprised by the SOC BT GPS, TTFF times were pretty fast, it didn't experience any signal loss under light to medium foliage, and when under heavy foliage re-acquisition time was sub 1 second making this a desirable Bluetooth GPS Receiver. Not to mention it's looks! Cold TTFF's averaged at 61.8 seconds, warm TTFF's at 37 seconds and Hot TTFF's at 4 seconds which are all very respectable! Please check out our TTFF Comparisons page for more information on TTFF's.
Size Comparison
If you take a look at the following photo which includes some of the newer more popular Bluetooth GPS Receivers, you will see that the SysOnChip BT GPS is around the size of the Emtac/Socket BT GPS (directly to it's left).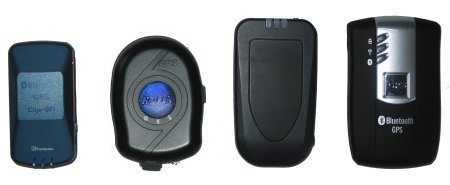 Summary
The SysOnChip Bluetooth GPS Receiver I think will be a choice for many. The GPS looks nice with it's black and silver two-tone look, it's size is just right for placing it in your shirt pocket, and performance wise the SysOnChip Bluetooth GPS Receiver holds it's own. It is a shame that the mains charger is an optional accessory, but you can use any 5volt 2amp charger to power/charge the GPS whilst at your desk.