Review by Darren Griffin
Zycast SG-278 SiRFStarIII Bluetooth Receiver
SiRFStarIII receivers are common place now and there is a huge range of manufacturers and models too choose from. With the performance being very similar the differentiator now is price and design.
Zycast are a relatively unknown player in the GPS arena, at least here in Europe but the SG-278 is an excellent advert for them and whilst it doesn't offer anything startling in terms of design it does tick all the boxes and is available for £54.99 inc of VAT from the UK Supplier, GPSForLess who have kindly supplied a unit for review.
SiRFStarIII Chipset
We have covered the technical aspects of SiRFStarIII (SSIII) in detail many times in the past but I wouldn't consider buying anything else. Even now some 18months after the first SSIII equipped receivers began filtering through it hasn't been eclipsed. There have been some developments that have improved battery life but when a device can last 8hrs already between charges it is more than enough for most purposes.
The performance improvement over older chipset designs is massive and makes a GPS system very much more usable as a result. The time to first fix (TTFF) and high sensitivity of this chipset makes use practical in areas such as inner cities, when worn around your neck on a lanyard with a smart phone solution.
What's In The Box?
Our review sample arrived in an anonymous white cardboard box. Inside where the GPS with battery pre-installed, an auto switching 100-240v mains adapter (with US blade format pins and no adapter?), a cigarette lighter adapter and a USB cable. Both the mains and car chargers have USB sockets and so the single cable can be used to connect the GPS to the mains or car chargers.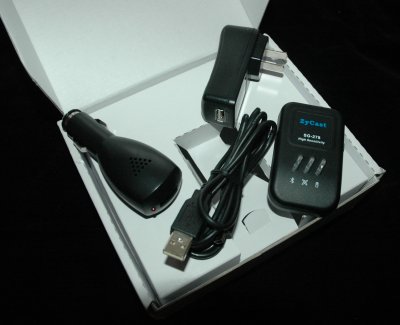 Box Contents
The Zycast SG-278 receiver itself relatively small. There are smaller devices but for most purposes a device that measures approximately 6cm x 3cm x 1cm can hardly be described as bulky!
On the top face are three LED status lights for Bluetooth, Satellite Status and Battery. There is a lanyard attachment at the top adjacent to a mini USB connector and on the left side is an MMCX external antenna socket. Finally on the right hand side is the hardware ON/OFF switch (this is important and we'll come back to this!).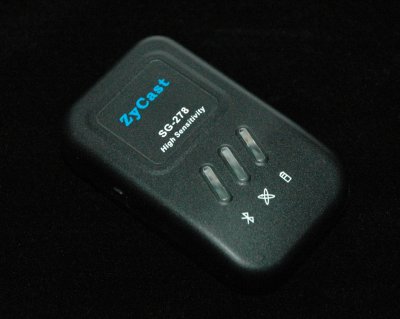 On the top are three large LEDs which indicate whether a GPS fix has been acquired, Bluetooth status and battery low.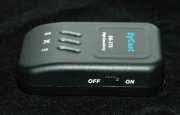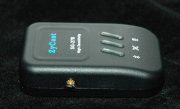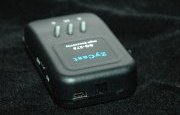 Right, left and top views showing Hardware Power Switch, External GPS
Antenna socket and Mini-USB Connector
In Use
Bonding was a typically painless experience, Zycast use the de facto 0000 passkey and within 20 seconds I has a fix from a cold start.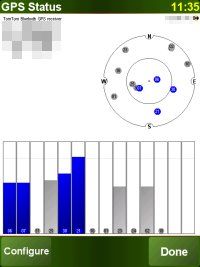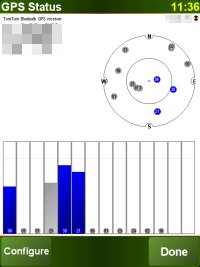 SG-278 (on left) and Globalsat BT338 (on Right) in Poor Signal Condition
The above screen shots show the SG-278's signal level on the left taken from my living room which is a typically poor location and a good basic test of a GPS receiver's sensitivity. Older non-SiRFStarIII receivers completely fail to achieve a lock at all in this location.
The signal level on the right is that reported by the GlobalSat BT338 from the same location, although it too has acquired a fix you can see that the signal levels for the satellites it cans see are markedly lower.
Battery Life
The SG-278 has a replaceable 1200mAh Lithium Ion battery. In testing I achieved well over 10hours of continuous use which was sufficient for a journey from Hampshire to Lancashire and most of the way back before I had to plug into the 12v charger. As mentioned earlier, this receiver has a hardware ON/OFF switch. For those users keen to install their Bluetooth GPS in a remote location in the vehicle, hidden under the rear parcel shelf for example this is an essential feature. Many current receivers have 'Soft' ON/OFF switches which makes them unsuitable but with the SG-278 if supplied with an ignition controlled power feed then it will switch ON/OFF with the ignition if its power switch is left ON.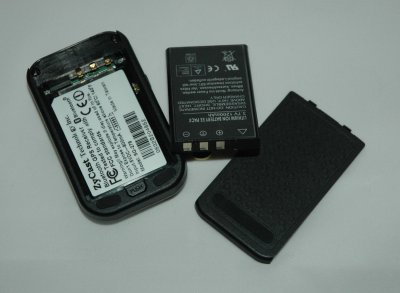 Bottom view with battery removed