Review by PocketGPSWorld user Paul Driver
If you are reading this review, you are probably already familiar with the iPAQ 6515, either you'll own one or perhaps you are thinking of getting hold of one. For the benefit for those that may not be though, I should explain that the 6515 is an 'all in one' device. As well as being a high end PDA, the unit also incorporates an inbuilt GPS receiver as well as a mobile phone - an XDA on steroids if you like.
The significance of the iPAQ's 6515 functionality in relation to this review is that unlike many PDA car mount systems, the Seidio G4500 also features an in-car microphone together with amplified loudspeaker. Altogether, this makes the unit not only a robust and sturdy mount for your PDA, but also a full blown hands-free car-kit for your cell phone.
First impressions

The unit is well packaged with no fewer than eight individual components. The general build quality seems good, but this unit at least is not supplied with any instructions, a packing error I presume. No worries I think to myself, putting it all together can't be too difficult.
What's in the box?

- Bendy 'gooseneck' suction mount
- Mounting shoe
- 360 degree swivel adapter
- Alternative vent mount
- Microphone and cable
- Earphones & mic
- Cigarette lighter adapter
- Amplified GPS ready cradle.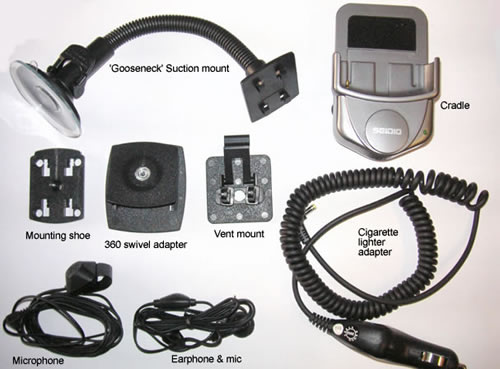 Putting it all together

As I unpack each component from their individual ziplock bags I'm overcome by a strange sense of excitement. Prior to this, my best attempt at an in-car mounting solution had been a large lump of BluTack stuck on my dashboard.
The idea was sound in principal but in extremes of temperature I had found it to be quite unsatisfactory! Too cold and BluTack loses it's adhesion, too warm and it starts to melt. You can imagine my sense of anticipation, I was really looking forward to getting this beauty on the road!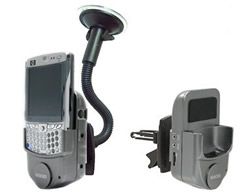 I put the vent mount to one side. That's definitely not for me. I want a suction mount and I am glad to see that the model supplied is well designed with a simple lever to apply the suction to the windscreen rather than the screw type which can be somewhat fiddley.
Next was the mounting shoe and 360 degree swivel adapter. Despite its grand title I don't think that idea of using the iPAQ 6515 upside-down would make sense to your average SatNav user.
The Swivel adapter is obviously a standard part, common to Seidio's other mounting systems which enables a PDA to be used in landscape mode.
Given that the screen on a 6515 is exactly square this 'feature' is somewhat lost, although it does serve very well for making slight adjustments to the viewing angle, the alternative to which is bending the 'gooseneck' by hand.
Before plumbing the unit into my car, the last thing to do is slip the cradle on to the swivel adapter and hey presto, it all fits together beautifully.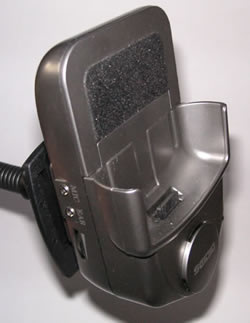 About the cradle

The cradle itself is elegantly styled and has a sort of pewter or gun metal finish. It would not look out of place in a very expensive car. My iPAQ fits in to it very snugly and there is no sense of any movement or rattling due to vibration.
The smooth but positive fit is not only down to good design, but also because of a felt pad inside the cradle which gently cushions the iPAQ whilst guarding against it scraping the plastic or becoming scratched itself.
Also inside the cradle is the data/power connectors just like the one on my iPAQ docking cradle. Additionally there is a phono connector which powers the amplified loudspeaker found on the front of the cradle, discretely hidden beneath the SEIDIO logo.
The loudspeaker is of a good quality and pretty loud. It is very much better than the rather tinny onboard iPAQ speaker and can be adjusted with the volume control found on left side of the cradle.
The only other thing to mention about the front of the unit is a small green LED which illuminates when the cradle is powered up.
Connections and controls

On the left of the cradle are two phono sockets, one is for the in-car microphone (MIC) and another for the also supplied earphones (EAR).
I did think the earphone option a little unnecessary, but some users might find this 'privacy option' preferable to their conversations being broadcast via the loudspeaker when carrying passengers.
Below the two sockets is the volume control as mentioned above.
The right hand side of the cradle is home to the power socket marked PWR, into which one plugs the Cigarette Lighter Adapter or simply 'the car charger' to simple folk like myself. The CLA seems pretty much standard although it carries carry a red warning sticker "This 12V charger cable is for Seidio mounts only".
The next socket is marked DC/OUT and due to the lack of instructions mentioned earlier I found myself referring to the Seidio website to try fathom out what I could or should plug in there. Once at the website I looked up product manuals and searched for G4500. Nothing. I guess they just haven't written it yet, which might also explain why there wasn't a copy in the box.
After looking at another manual I did find a reference to a DC/OUT socket: DC Out : An additional port for powering your Seidio FM Transmitter. Neat, I can also buy a transmitter into which I plug in my iPod and hear it through my car stereo. I should say that it is illegal to operate FM transmitters in the UK unless you are licensed by the authorities!
This type of mp3 transmitter however, has a very limited range and one simply tunes in the car stereo to its frequency. Despite the regulations they are becoming quite popular in the UK.
(Remark from PocketGPSWorld.Com: As discussed in the G2500 review this socket can supply any external device that requires 5 V . However, the socket is exactly the same size as the 12 V DC In socket, and there is a risk that you fry the mount by plugging the 12 V cable into the DC/Out socket. That's where the red warning sticker comes in handy)
Front

Left side

Right side
The last socket on the right of the cradle is marked GPS and is obviously for an external GPS antenna. The review model was fitted with a standard RJ11 socket which should fit a normal serial receiver. Other fittings are available to make the unit compatible with a number of other popular receivers. See the Seidio website for more details.
Being an iPAQ 6515 with inbuilt GPS one doesn't really 'need' an external antenna. That said, some pocketgps forum users complain that the iPAQ's internal GPS isn't up to scratch and that they have found great improvement when using the 6515 in conjunction with an external receiver. Click here to read more. I haven't tested this car mount or my iPAQ with an external receiver but I am familiar with the GPS 'lag' problems that other iPAQ owners report.
Unlike some owners however, I am not ready to dump my iPAQ because of this small drawback. I like my iPAQ! The convenience of an extremely portable, one thing to carry - one thing to charge, GPS enabled internet ready Pocket PC mobile phone media player (that's a mouthful), in my opinion, far outweighs the slight GPS performance issues. That said this Seidio car mount is really good kit and am tempted to buy an external receiver to compliment it.
Fitting out the car

As mentioned in my introduction, the great thing about this unit is that it also doubles as a cell phone hands-free car-kit. Fitting out the car didn't take long and the end result was very tidy indeed. Before describing this job, I should say that Seidio have designed this unit to be transferable from car to car. If you do anticipate using it between vehicles you would probabley choose not to transfer the in-car microphone. As described below the microphone's wiring can get a little messy and in any case the iPAQ's own microphone is pretty satisfactory.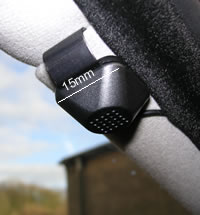 So, on with the fitting. All that was involved was to stick the suction mount to my windscreen, slip in my iPAQ, connect the power cable to the cigarette lighter and lastly connect the only component I haven't mentioned yet; the in-car microphone.
The microphone is just like one that you would get with a proper cell phone car-kit and is fitted with a metal clip to attach it somewhere in the interior of your vehicle.
To finish off I just had to tidy up the wires. The power cable was straight forward enough; hide in the door trim and tuck under the steering wheel. As for the microphone though!
Well to start with the microphone cable is approximately 2.5 metre long and that takes some hiding. I am really not sure why they give you so much wire, but guess that it is so that the unit can be fitted to all kinds of vehicles including Monster Trucks!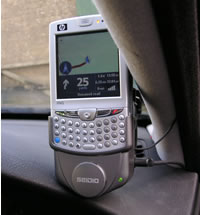 The first thing to do was find somewhere in the car, near to my head to clip the microphone. Luckily for me a seam in the fabric of roof lining offered a suitable attachment. From there it was just a matter of hiding the two metres of wire.
As it turned out, this wasn't that difficult afterall. I just ran it up and down a few times behind the fabric trim of the windscreen frame and managed to conceal it nicely. I was very pleased with myself once it was all finished.
Total fitting time (once I'd figured out where to hide the wires): about five minutes. Because the cradle is powered from the cigarette lighter I didn't need to get involved with anything even remotely technical.
I understand however that an optional hardware power cable is available so that the cradle can be hard wired into the car if one was so inclined or able. Those of you that possess soldering irons might even be able to modify the CLA.
Price

According to Seidio Europe the unit is priced at $137.95 although at the time of writing it had a SALE price of $107.95 - a substantial $30 discount! At December 2006 exchange rates that converts to about £61. A quick google search of UK online retailers did not yield any results, maybe they are not stocking this unit as yet, although a comparable XDA II model was available from TotalPDA for £92.82.
Conclusion

I want one! Because of the GPS lag problem I must admit that I had been tempted to stick my iPAQ on Ebay and get a TomTom GO 500 instead, but with the support for an external GPS receiver one can easily get around the iPAQ's failings and as I described earlier there really is a lot to be said for these 'all in one' devices.
Overall the car mount is well designed and of good build quality, I think that Seidio have done a good job. It's price is competitive and given that Hewlett Packard don't manufacture a car-kit for the 6515, it is one of only a few suitable mounting solutions on the market. For my money it certainly beats BluTack :-)