Review by Dave Burrows
Introduction
You may recall back in April 2004 we reviewed a pre-production BT-48 GPS Receiver from San Jose. The GPS Receiver is now in full production and San Jose have sent us a post-production sample. The GPS in itself has changed quite a bit, mainly the finishing and colour are much better. Although it doesn't look as colourful in terms of that silver, the finish is much better to the exterior and all my initial fears are gone.
This review now caters for the post-production model. If you want to still read the pre-production review to see what has changed, click here.
San Jose (or SA Nav as they are better known as) have brought out their first Bluetooth GPS to market. The new version is dubbed the BT-48. I'm amazed at how small these GPS's are becoming even when they are cram packed with wireless capabilities.
The BT-48 is a about 1cm smaller in length compared to the Fortuna Clip-On, coloured browny/grey and runs off of 3xAAA(rechargeable) batteries. One thing that SANAV have done is listened to what people are saying. Most people get aggravated having a flashing blue light, especially if they're using their GPS at night when driving, and SANAV have responded by not having a Bluetooth light on the GPS.
On the top face of the GPS you have a Power LED and a FIX LED. On the back side (top edge) you have a CHARGE LED a mini-USB data cable socket for charging the GPS (if using NiCad's or Ni-Mh batteries), and an ON/OFF switch. That's it, it can't be more simpler than that! Effectively you could look at this as being a Navman 4400 but smaller.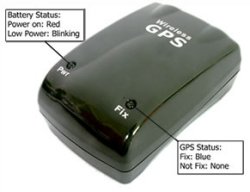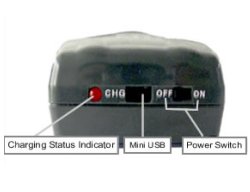 In The Box
SANav currently ship the BT-48 Wireless GPS with:-
SANAV Bluetooth GPS 48 Receiver
3xAAA batteries (we received 750mAh rechargables)
Car Charging lead with a Y-Adaptor to charge both BT GPS and Pocket PC (5vDC)
2-pin US Mains charging lead
Software CD
Manual
Performance
Running the BT-48 through our pre-defined tests, it stacked up quite well. Most may be surprised to know that it doesn't have the normal SiRF chipset, but San Jose's own chipset but does operate in NMEA mode.
I did notice in the early firmware that the BT-48 although it was on the dashboard with a clear view of the sky would sometimes lose satellite fix and drop below a 3D fix, but the re-acquisition was less than a second so this really wasn't a problem, but did set off the alarm in the software I was using to tell you that you had lost a fix. San Jose will have this rectified in the production units.
Bluetooth wise, San Jose say that the unit will talk up to 10 meters away from the host device (Pocket PC/Palm or PC) and will perform up to 6 hours worth on 3xAAA batteries. In our tests we achieved just short of 6 hours but it really does depend on which alkaline batteries you use and if you are using rechargeable batteries, which NiCad's or NiMh rated batteries you are using as this will have an effect on battery performance.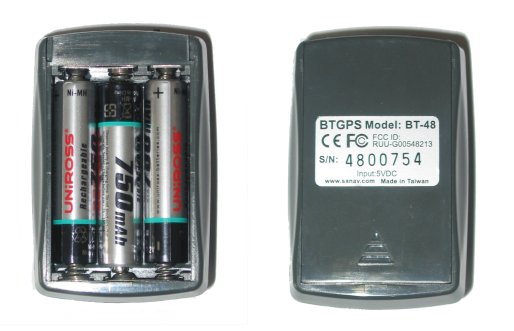 Features
Currently the smallest of its kind available on market
16 parallel channels
Position accuracy of 15m RMS without SA
Cold/Warm/Hot Start Time: 45/35/6 sec
Support Standard NMEA-0183 (v.2.3) at 4800 bps baud rate
Compatible with Bluetooth devices with Serial Port Profile (SPP)
Bluetooth data transmission rate up to 720 kbps with Adaptive Frequency Hopping (AFP) for
interference immunity
Bluetooth 1.1 certified (Class 2)
Extremely compact , sleek and lightweight design
Superior sensitivity for maximum efficiency
Two LEDs at the top of the device indicating GPS, Bluetooth & Battery status
3 AAA Ni-MH embedded rechargeable batteries lasting for 8hrs of use
| | |
| --- | --- |
| General | |
| Frequency | L1, 1575.42 MHz |
| C/A | 1.023 MHz chip rate |
| GPS Fix Data Renewal Rate | 1 sec |
| Channels | 16 Parallel Channels |
| DGPS Source | Default: None |
| Programmability | WAAS |
| Antenna Type | Built-in Antenna |
| | |
| Accuracy: (DGPS: None) | |
| Position | 15 meters RMS, without SA |
| Velocity | 0.1 meters/second, without SA |
| Speed Accuracy | 0.1 Km/h with signal level higher than -130dBm; speed faster than 40km/h |
| Bearing Accuracy | 0.2 deg with signal level higher than -130dBm; speed faster than 40km/h with course of 45 +/- 0.1o |
| Acquisition Sensitivity | -130dBm |
| Tracking Sensitivity | -138dBm (Fixed position) |
| Time Accuracy (95%) | 1ms (Fixed position) |
| Time | 1ms synchronized to GPS time |
| Datum | WGS-84 (or by demand) |
| Acquisition Rate | Open Sky and Stationary |
| Reacquisition | 2 sec average |
| Cold Start | <45 sec average |
| Warm Start | <35 sec average |
| Hot Start | <6 sec average |
| | |
| Interface: | |
| Connection | Communicate with Host Platform via Bluetooth (Class2) Serial Port Profile (4800 BPS) |
| Protocol | (Default) NMEA-0183 (V2.3) -- DTM, GGA, ZDA, GLL, VTG, RMC |
| | |
| Power: | |
| Source | 3 AAA 800mAh Rechargeable NiMH Battery |
| Operating Time | 6hr min. after fully charged; in continuous mode; programmable > 6hr |
| | |
| Physical Characteristics : | |
| Size | 42 (W) x 63 (L) x 27 (H) mm |
| Weight | 80g |
| | |
| Environmental Conditions: | |
| Operating Temperature | -20C to 60C |
| Storage Temperature | -30C to + 70C |
| Relative Humidity | 5% to 95%, non-condensing |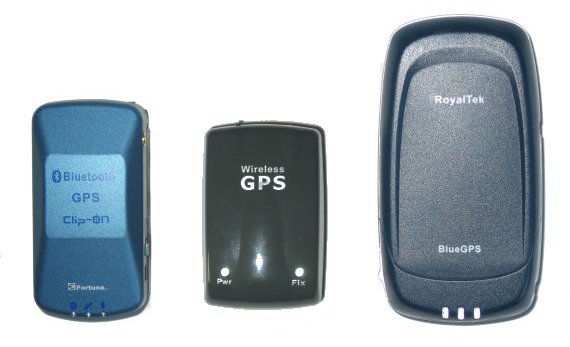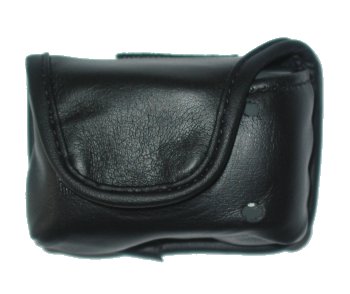 Accessories
San Jose are giving you both a Mains Charger (US) and also an in-car charger in the box.
The mains charger will only charge/power the BT GPS and has a proprietary plug that will fit into the BT GPS (similar in design to mini-USB).
The car charger also comes with the charger cable, but has a Y-splitter to a standard DC jack plug that will also let you charge a PDA (adaptor for your PDA is required), so if you have say an iPAQ, and you have the DC to iPAQ adaptor, then you could charge your iPAQ at the same time.
San Jose are also including a leather carry pouch for the BT-48 with a belt look on the rear, velcro front tab to close and secure the BT GPS, andalso two small holes in the pouch to show where the LED's are. All of this is included along with the windscreen suction mounting platform in the production package and with 3xAAA batteries, so you get pretty much everything you will need.
I should add at this point that the 3xAAA batteries supplied are re-chargeable also (750mAh) which is a great bonus.
Problems Encountered
On the pre-production unit we did find that the on/off switch was recessed into the case and if like me, you have no nails then this became a little difficult at times. The production model has this fixed, so there's no problem now with the on/off button.
Suction Mount
San Jose have also just announced the release of an accessory for the BT-48 which is a cradle which allows you to suction the BT-48 to a car windscreen.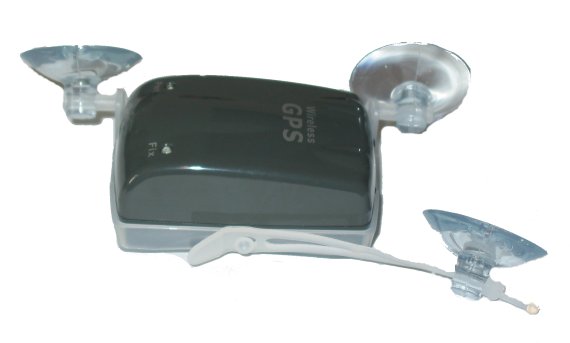 Conclusion
The BT-48 is a good little GPS. Being able to use 3xAAA batteries is great, especially for people out walking/hiking who need extended battery power and can easily pack a few extra batteries into their bag or pocket when out hiking, the downside is it doesn't use an even number of batteries, if you alkaline or rechargeable batteries, they tend to come in packs of four, and if you wanted to recharge batteries in a separate charger then you would have to charge an even number of batteries. GPS Boards, patch antennas and Bluetooth modules are becoming extremely small in size, and it's good to see a company using such small footprints in keeping the size of their product down.