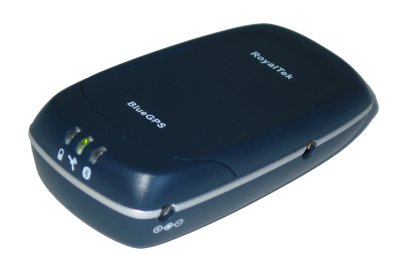 Introduction
Bluetooth GPS Receivers are becoming ever more popular for the Pocket PC, RoyalTek have several GPS Receivers available in the cable form, but this is their first Bluetooth GPS Receiver to hit the market. RoyalTek have taken the simple approach and named the new GPS BlueGPS! The BlueGPS is unique as it it's not just a GPS Receiver, but a data logger which will support more than 30,000 records for download, great for checking where you've been.

The BlueGPS comes with a built-in lithium-ion battery that supports up to 10 hours of use under optimum conditions and has an improved life cycle of 500 charges which is around 100 greater than previous Bluetooth GPS Receivers we have reviewed. Bearing in mind that 500 charges isn't the entire life span of the battery, it's just that after 500 charges, the battery performance will start to degrade somewhat.

What's in the box
You'll find the BlueGPS with an in-car charger cable to either power or charge the BlueGPS, a CD with applications for the Pocket PC, applications and drivers for Windows 98/ME and Windows 2000/XP. For the Pocket PC no drivers were needed. No mains adaptor is supplied with the BlueGPS, but there is an optional charger available from RoyalTek through their distributor's and retailers which will allow you to charge the GPS at home/work. If you're using this for primarily in-car use, then having an in-car charger cable is ideal for long trips where the battery may run out, but most people tend to use Bluetooth GPS Receivers for out walking, hiking, and cycling. In these conditions, you very rarely have access to a car, and this means that if when you get back to your guesthouse, hotel or home, you can't charge the BlueGPS because you don't have a charger for it. The charger socket is a small socket, and the regular Pocket PC chargers will not fit the socket, so if you need to use this outside of the car, you'll need to purchase the mains charger.

The BlueGPS isn't as small as some Bluetooth GPS Receivers like the Emtac/TomTom BT GPS, but it's not the largest either. As in the name, the Receiver is blue (although it does come in a silver colour too), it sports an external antenna socket (external patch antenna not supplied), a charger socket, and an on/off switch. Like with most Bluetooth GPS Receivers, you'll see 3 lights, Bluetooth Status LED, GPS Status LED, Battery Status LED. The BlueGPS doesn't come with a passkey, so there's no need to bond this to your Pocket PC. We've seen a move towards removing passkeys which although they're good for security, once you're talking to the device, nobody can steal your connection, so in most cases a passkey is of little use when using GPS. The external antenna socket is an MCX socket, so any MCX patch antennas should work in here if you need them.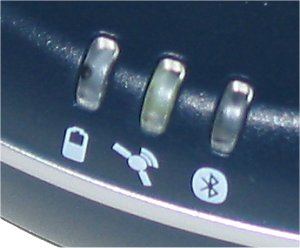 LED Lights
The three lights will have different meanings. The Bluetooth light will flash when Bluetooth is connected. The Signal light will stay green when powered on, and flash when position is fixed. The Charging/Power light will stay on Yellow for charging and flash red when power is low.

RoyalTek Blue GPS Application
The application that comes on the CD allows you to configure the BlueGPS to a variety of settings. It enables you to auto scan for the correct COM port (usually COM8 on most Pocket PC's). Once connected you can go to the Navigation tab and customise whether you want the BlueGPS to run in NMEA or SiRF mode, and whether to set GGA (Fix Data), GSV (Satellites In View), GGL (Geographic Position - Latitude/Longitude), RMC (Recommended Minimum Specific GPS/Transit Data), GSA (GPS DOP and Active Satellites), VTG (Track Made Good and Ground Speed). You can also set other features of the GPS by setting it to Degraded mode, elevation mask changing, DOP mask and enabling or disabling SBAS (WAAS/EGNOS).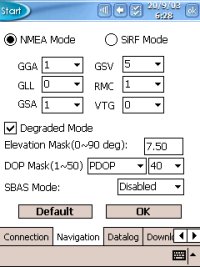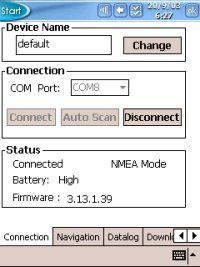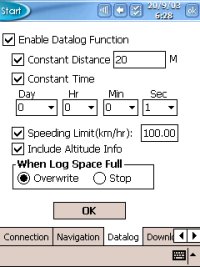 Data Log
Switching to the Data Logger tab allows you to enable/disable the data logger, setting the constant distance in meters and constant time, speed limits to be tripped, and whether to include altitude information within the logs. All of this information gets written to flash memory, and can be set to overwrite the oldest data when full or to stop logging when full.

Downloading the data is very easy, and can be done by selecting the Download tab, change the mode to Download and Delete, select a filename to save to and whether to process data after download. Switching to the Processing tab, will again give you the filename, which data to process, or the working time to process and allow you to convert the data to an NMEA file. When converting to NMEA, you'll be prompted for which features to select, e.g. RMC, GGA, GLL, VTG.
The great feature about data log playback is you set the COM port to act as a GPS, and play back the data, and execute a GPS application and see the data within your application to effectively replay a route in real time. The same features in the RoyalTek Blue GPS Application are available for both PC and Pocket PC versions of the program.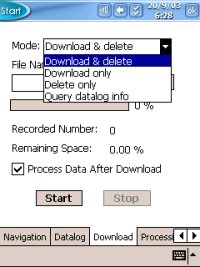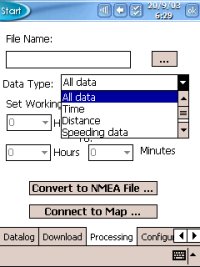 When using the Datalog playback facility, unfortunately you can't configure the COM port in which to use to talk out with back to your GPS application, this was preset to COM7, which may mean with some mapping programs you'll have difficulty getting the mapping program to see the COM port. Certainly TomTom Navigator 2 wouldn't see COM7 as it has it's own specific drivers configured. You could however set the Baud Rate and playback interval, and playing this back through WinFast Navigator I was able to play back the entire journey receiving the data. One thing I did notice on playback it was lacking GPGSV information, which meant although you could see the satellite fix, you couldn't get any other detail back about the strengths of each satellite signal. Other than that, the playback facility in the Datalogger was pretty good, and it's a great way of recording a whole journey to play back later.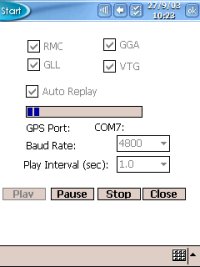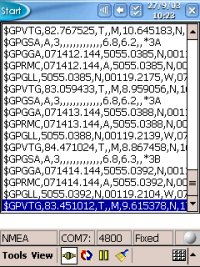 I know a lot of people will be asking why have a datalog facility ? You can use it to track where you've been, or your other half, or even an employee. A basic form of AVL (Automatic Vehicle Locator) after the event. You can also use it for heavy diagnostics. If you were having problems with the GPS Receiver at specific intervals of your journey, you can play these back later and examine the GPS Stream that's coming through to try and work out if it was a mapping problem or a weak satellite signal.

RBT3000 Specifications
| | |
| --- | --- |
| General | |
| Frequency | L1, 1575.42 MHz |
| C/A: | 1.023 Mhz chip rate |
| Channels: | 12 Channels all-in-view tracking |
| DGPS Source: | SBAS (WAAS/EGNOS) |
| System Back Up: | Built-in Lithium-ion rechargable battery |
| | |
| Antenna Type: | Built-in antenna (external antennal optional) |
| Accuracy: | DGPS: None |
| Position: | 10 meters RMS, 25 meters CEP, without SA |
| Velocity: | 0.1 meters/second, without SA |
| Time: | 1 microsecond synchronised to GPS time |
| | |
| Acquisition Time: | Open Sky, Stationary |
| Reacquisition: | 0.1 seconds, average |
| Cold Start: | <45 seconds, average |
| Warm Start: | <38 seconds, average |
| Hot Start: | <8 seconds, average |
| | |
| Dynamic Conditions: | |
| Altitude: | <18,000 meter |
| Velocity: | <515 meter/second |
| Acceleration: | <4g |
| | |
| Interface: | |
| Connection: | Communicate with Host Platform via Bluetooth (Class 3) Serial Port Profile |
| Protocol: | Default: NMEA-0183 (v2.20)-GGA, GLL, GSA, GSV, RMC, VTG |
| | |
| Power: | Built-in rechargeable battery and DC input charging protection circuit |
| Operation Time: | 10 hours (min) after full charge, in continuous operation mode with BT & GPS |
| | |
| Device Size: | 108.3mm (Long), 52.86mm (Width), 23.85mm (Height) |
| | |
| Data-logger: | Capacity for storing 30,000 records |
| | |
| Environmental: | |
| Operating Temperature: | -20 to +60 degrees Celcius |
| Relative Humidity: | 5% to 95%, non-condensing |
Optional Accessories
RoyalTek have created the following accessories for the BlueGPS
AC Adapter
Skidproof Pad
Backup Battery
Leather Case
Extended Antenna

GPS Performance - Time To First Fix (TTFF)
The BlueGPS came in pretty well within the TTFF range. Slowest TTFF from cold we experienced in our tests was 57 seconds with the fastest at 41 seconds, so it had no problem whatsoever performing on a cold startup. Warm fixes were around the 30 second mark, with hot fixes at around 9 seconds. Re-acquisition times were also extremely fast at under a second to re-acquire when coming out of heavy foliage. For TTFF Comparisons, please check out our TTFF Comparisons page.
Summary
I really didn't experience any problems with the receiver in the tests I put the BlueGPS through. The only thing was finding the receiver running out of battery power which is common with all Bluetooth GPS Receivers, you do have to get into the habit of charging it! I found myself always wanting to charge it with mains like I do with all of my other gadgets and as it didn't get charged because I didn't have a mains lead, I always forgot to put it on charge in-car. RoyalTek do have an AC Adapter you can purchase separately. I did find that the RBT3000 wasn't as good as other Bluetooth Receivers in the sense of canyoning and light to medium foliage, in light to medium avenues with trees either side overhanging the road I experienced a loss of signal, but the RBT3000 was very quick to re-acquire a fix within microseconds, so although it did become an issue now and again, it wasn't a major problem and well within acceptable levels. The RBT3000 (aka BlueGPS) is a good GPS Receiver, it is larger than the competition, a little more bulkier and you don't seem to get much more battery usage in the field compared to the competition. Battery performance we found to be a little less than quoted, on average on a full charge we were getting 7.5 to 8 hours out of the battery on the BlueGPS.