by Darren Griffin
RoadTour provide audio/visual guides for Satellite Navigation GPS devices. Taking advantage of the 'Rich POI' features now appearing on some platforms brings a unique audio commentary to the driving experience with fascinating information on UK heritage sites including castles, stately homes, historical sites and more with each commentary triggered as you pass nearby.
It's a unique product and one that I was hooked on after using it on a long journey to the South West of England. The information is concise with most commentaries lasting between 60 - 90 seconds but it certainly made the boring journey more interesting and much of the information was new and enlightening.
Installation
RoadTour's products are currently available for compatible Garmin Nuvi and Windows Mobile with the Windows Mobile product being standalone application that runs separately from any installed navigation application.
For this review we have been using a Garmin Nuvi 760. At purchase you can choose to downloaded from RoadTour via a link provided (400Mb download) in your purchase email or purchase on a CD or SD Card. Installation is a simple matter of copying files to a memory card installed on your device.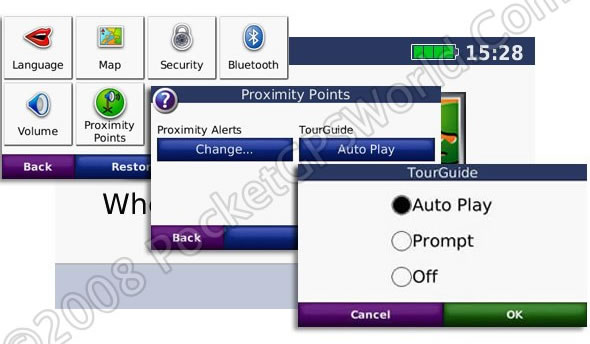 Once installed, the guides are activated via the Proximity Points Menu where a new option will now be visible 'TourGuide'. You can configure the audio commentaries to be played automatically when you drive within 4 -10 miles of a location or for a prompt to appear when a commentary is available.
Now all you need to do is drive!
In Use
As you approach a location that is in the RoadTour database an Information bar appears on the map display and the audio commentary commences. A pleasant female voice gives you the pertinent information with historical background and other interesting snippets on the location being covered.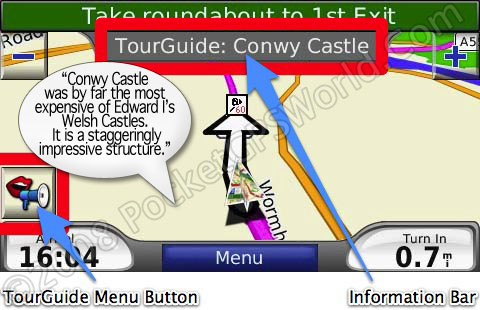 Click the speech bubble to hear a sample of the audio commentary.
(The speech bubble is used here to represent the audio commentary that you would normally hear, it is not visible on-screen.)
A button is also displayed on-screen during the commentary. Clicking this takes you to an information page (below left). Here you will find more information including the full address and telephone number.
Selecting the large GO! button will set that location as your destination.
Clicking 'MAP' will show you the location of the attraction on a map and clicking 'MORE' will take you to a more detailed information page with opening times and admission prices where applicable.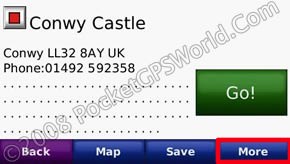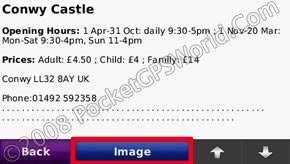 You can also view an image of the location with options to zoom in or display full screen, Conwy castle which is only a few miles from my birth place is shown below. I thought I knew all there was to know about the castle but still found the audio guide informative and interesting.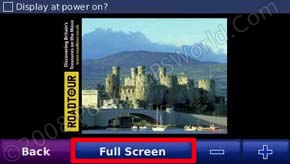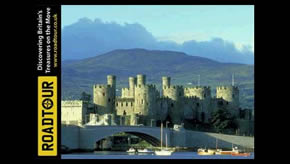 RoadTour's Heritage Guide contains over 600 locations including National Trust and English Heritage properties. The full list is available on their web site here.
Other RoadTour Guides
In addition to the core Heritage Guide, RoadTour also offer Harden's Restaurants Guide and Sawday's Pubs & Inns Guide. You can buy each guide individually or if you prefer, you can buy the Heritage Guide and Sawday's Guide a 'Full Trip' Guide bundle.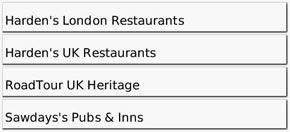 RoadTour's Full Guide Selection
Although not a concise guide to every pub & restaurant it has useful information and a review of each one that is covered with a guide to menu prices and range and ratings. The pub information is similarly useful and gives you a great idea of what to expect.
I've included an example from Harden's and Sawday's Guide below. I have been to both of these establishments previously and the findings are very close to my own impressions which is encouraging.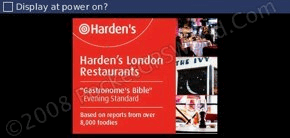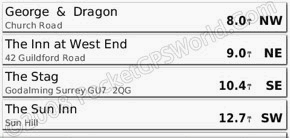 A sample from Harden's Restaurant Guide (left) and Sawday's Pubs & Inns Guide (right)





RoadTour on Windows Mobile