We last reviewed a Roadhawk product, their DC-1 Drive Recorder, in September 2011. In-car black box video camera systems have become increasingly popular in recent years, the increasing cost of motor insurance, crash for cash scams etc, make them a unique solution that can tip the balance back in favour of the motorist.
For anyone still unfamiliar with what a drive recorder (or in-car black box camera) is, the concept is simple. A windscreen mounted digital video camera continuously records whilst the ignition is on. Coupled with a GPS receiver in the unit, the data is recorded to an SD card in a continuous loop of one minute long 'events'. When the memory card fills up, the oldest data is overwritten. This gives you a record of all your journeys and, the larger the capacity of the memory card, the longer your drive history.
If an incident occurs during a journey you can press a button on the unit to save the file currently being recorded and prevent that from being overwritten. A G-Force sensor is also built-in that can be configured to automatically save events if the G-Force exceeds a set limit.
Software supplied with the device allows you to review the recorded video and, thanks to the GPS, the software overlays your
position on a map along with speed information.
It's a great solution and works well, so well that we gave Roadhawk's previous model, the DC-1, a 9/10 score. Now Roadhawk have improved the design with the Roadhawk HD, which now uses the same lens and 1080p sensor technology as the GoProHD action cameras and an improved GPS receiver with faster signal acquisition.
What's In the Box
In the box you get the following:
1 x Roadhawk HD Camera
1 x 12v Cigarette Lighter Power Cable
1 x Bag of cable fixing clips
1 x 8GB SD Card
1 x USB Card Reader
2 x Windscreen Mounts (for normal and steeply raked windscreens)
1 x External GPS Antenna
1 x User Manual
1 x Windows and Apple OS X Software on CD-ROM
Two notable changes from the DC-1. Roadhawk now include an external GPS antenna which may be useful for some installation scenarios where GPS reception is difficult. The desktop software is also now supports Apple OS X, as an Apple user myself this is a very welcome addition.
Installation
Installation is very straightforward. First fit the mount (which comes with 3M tape that's as strong as an Ox) in a central location, ideally behind the rear view mirror. It needs to be high up to ensure the best view. Whilst you're waiting for that to cure, route the power cable form the mount, along the edge of the windscreen and down the A pillar. On most cars you can tuck the cable under the headlining and behind the A pillar trim to keep it all tidy, but if not, the supplied adhesive cable clips can be utilised.
As the Roadhawk requires 12v power you can hard-wire the power feed to your vehicle if you prefer. The cigarette lighter plug does not provide any voltage conversion and can be cut off. But, unless you are a confident auto electrician, you would be advised to get this done professionally and it needs to be connected to an ignition controlled circuit and protected by a fuse.
In Use
Using the camera is as simple as it should be. So long as it is connected to an ignition controlled power source it will power ON with the ignition and start recording automatically. At power on a recorded voice confirms it is operating with 'Roadhawk power is on' and a small orange 'Record' LED on the rear of the unit illuminates. Successful reception of a GPS signal is indicated by a green 'GPS' LED and a similar vocal announcement.
Rear and side views
On the rear is the memory card slot (supports SDXC cards) and the Emergency button which saves the previous event file. On the left side is the Power and (Optional) External Mic sockets as well as the external GPS antenna socket.
On top is the slot for attaching to the windscreen mount as well as a standard camera tripod bush.
No interaction is required in normal day to day use. The unit will record whilst power is on with newer events overwriting older events as required. Cleverly the design includes a capacitor so that it can close any open files and shut down cleanly when power is removed.
The files are recorded in .MP4 format which can be opened and read by most computers without needing extra software. But to view the additional GPS data you will need to use the supplied software. This is an Adobe Air software package and is compatible with Windows Vista, Windows 7, Windows 8 and OSX 10.1 or newer.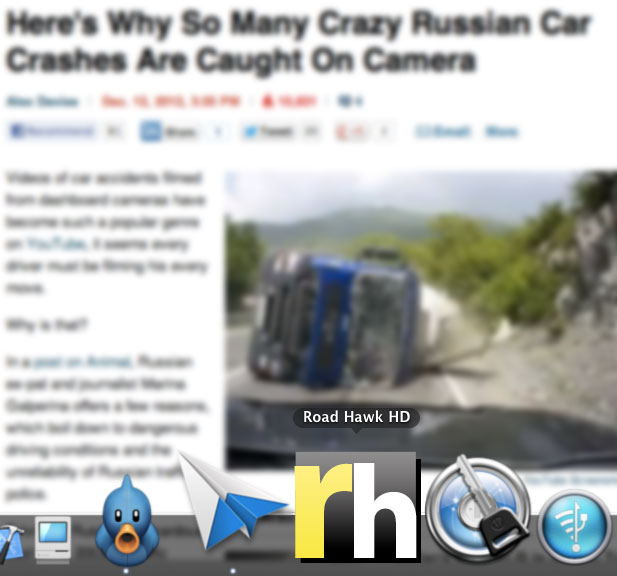 Software now OS X compatible
The software is fairly self-explanatory. The video data is replayed in the main window, your location is shown on Google Maps at the right and speed and G-Force data is displayed below. A file browser allows you to select files for review and the file names are in Day/Month/Year/24Hr Time format for easy identification.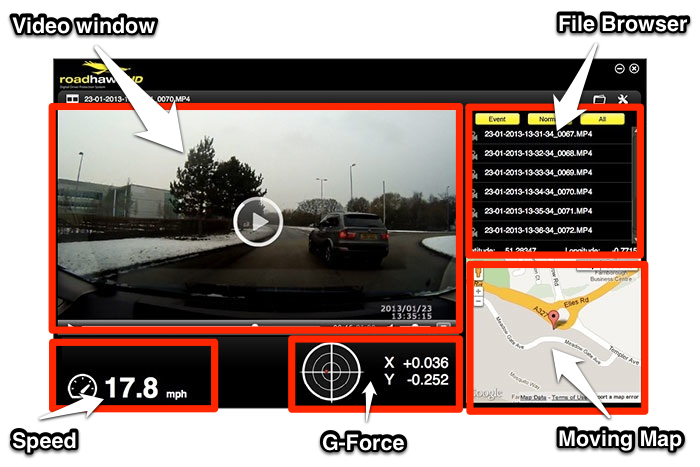 The video has a date and time overlay and can be played full screen if preferred. To change camera settings there is a configuration page. Any changes you make here need to be saved to the SD card for those changes to take effect.
Camera Settings
Amongst the settings that you can alter there are video quality settings e.g. Resolution (1080/720p) and Bit Rate. Reducing these will increase the amount of file storage available on the card. You can also adjust the sensitivity of the built-in microphone, or if preferred, disable it altogether.
Record Mode options allow you to switch between NORMAL where it records in a loop, EVENT where it only records when the G-Force sensor triggers a recording or EVENT+NORMAL where it does both. The sensitivity of the G-Force sensor can also be adjusted, ideal if your car has hard suspension and every bump in the road triggers an EVENT.
And, of course, as the files are standard .MP4 files, you can view them as raw video files without using the software at all.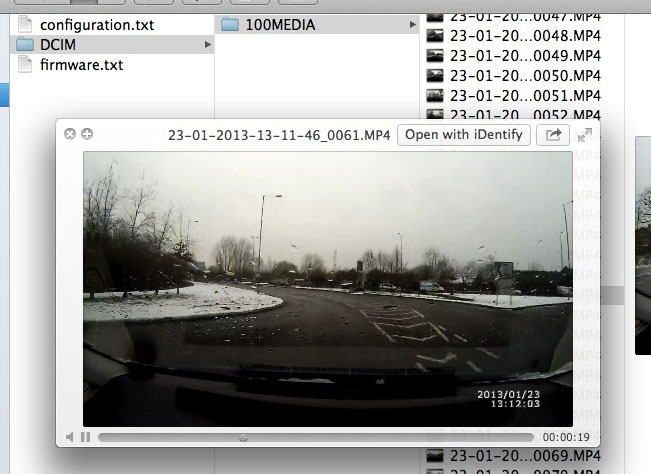 You can view the .MP4 video directly
Although our recent weather hasn't leant itself to extensive road testing, it is immediately apparent that the upgraded sensor and lens has resulted in much better video quality. Vehicle registration plates are easily read on the video and the imagery is much sharper and better defined when compared with that of the previous DC-1.
Conclusion
It's hard to fault the Roadhawk HD. It has all the features of the previous DC-1 but with HD video resolution at 720p and 1080p. The resulting video is crisp and sharp and the unit is a cinch to operate. The addition of cross platform support for Windows and Apple users is a welcome bonus.
At &pound269.95 RRP it isn't cheap but at only &pound70 more than the DC-1 it's pretty good value bearing in mind the high definition camera and external GPS antenna.
Some of you will already be considering a drive recorder. For those who aren't, a quick calculation of the value of your no-claims bonus, and any excess you may incur will make you wonder if one of these might earn it's keep all too quickly.
PocketGPSWorld Reader Offer
Use Discount Code PWRH10 at checkout for a 10% discount.
Sample video from the Roadhawk HD captured at 720p/60fps
Download (large file) here
---