Reviewed By

Matthew (MaFt) Morley
Review Date

20th December 2017

Manufacturer
RAC / Proofcam

RRP

£85 inc VAT

3
Entry-level dashcam ultimately let down by poor video quality
I've reviewed a couple of the Proofcam RAC-branded dashcams both the RAC 05 and the RAC 205. This time I've been sent the RAC 107 to review - and I'll be honest, I'm really struggling to understand their numbering/naming system! The RAC 107 is an entry level dashcam that records in full HD and has all the expected features like loop-recording, shock sensors, file locking, microphone etc. The main thing it lacks is GPS but then, as stated, it's an entry level dashcam.
In the box you get:
RAC 107 dashcam
Mini-USB power lead
8GB Micro SD card
Windscreen mount
Dashcam window sticker
Quick start guide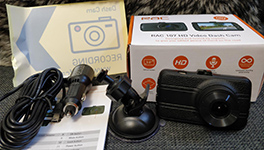 INSTALLATION
Installation is easy using the included mount and power lead although attaching the camera to the mount feels a bit flimsy, it does hold it in place well. If you push it right into the mount then it can be hard to remove. The mini-USB power lead is about 12ft long so there is plenty of scope to hide the wires away and feed it to the dashcam. Note though that the wire is fixed to the plug; this means if you have other items plugged into your car's 12V power supply then you will need a splitter to be able to plug the dashcam in. If this was a unit I was keeping then I would purchase a separate USB lead and plug it into my 4 port USB power adaptor that charges phones and my bluetooth receiver in the car.
The RAC 107 feels well made and has a metal and plastic construction so it's quite weighty too. The buttons on the side give an obvious 'click' when pressed. On the left side we have 'UP', 'MENU' and 'DOWN' and on the right we have 'OK', 'MODE', 'Lock' and 'Power'. Compared to the other two ProofCam / RAC dashcams I've used, the menu on the RAC 107 is much simpler and, therefore, easier to use.
The menu options are:
To be honest, these are all pretty self-explanatory so I don't think I need to expand on them. One thing worth noting is that they claim that 9 minutes of video takes up 1GB of space - so in theory you should fit about 72 minutes on the included 8GB card. In reality you can fit 43min 41 secs on the 8GB card whether it is set to 720 HD or 1080 FHD. This means that with the maximum 32GB card size you can only record up to 3 hours of footage on the RAC 107.
IN USE
In use the RAC 107 is easy to use - as soon as it gets power it starts recording. So for many cars this means it will start recording when you start the car. However, in my trusty 2006 Ford Focus the 12V power is always on so I do need to unplug it or press 'OK' to stop the recording. As soon as I plug it back in though it starts recording.
As with most dashcams the RAC 107 uses 'loop recording' where video files are saved in 1-3 minute blocks and once the card is full the older files are recorded over. Obviously if you have footage you want to save, such as from an accident you had or some dangerous driving you wanted to pass on to the police then you don't want these to be recorded over. For this you can 'lock' files so they don't get recorded over. There are a few ways you can do this; the first is automatic using the G-Sensor - if the RAC 107 detects a sudden shock (such as a bang to the car) then it will lock the current file. There are two ways to manually lock a file: by pressing the 'LOCK' button while driving or by locking the file when viewing in the built-in media viewer.
There is a major flaw with locked files though and that is once the card is full and overwriting older files you cannot lock any file. So on the included 8GB card you can only lock a file in the first 45 minutes before the card is full unless you manually delete files. This makes the feature almost unusable. In the event of a crash or accident it would be OK as your most recent footage would be stored without needing to lock it; however for those times when you want to lock a file to review it later then you would not be able to do this.
One very important thing worth mentioning is that HD merely refers to the number of pixels in the video and has no bearing on overall video quality. Sadly, the RAC 107 video is terrible - especially when comparing it to their previous models. Images are very grainy and pixelated and the compression seems far too high. The footage is not clear as you can see from these screenshots and sample video:
There was a car that pulled out on me dangerously and it was impossible to read the registration plate on the footage. The compression used on the RAC 107 renders the video almost unusable and as it's a basic model you can't even adjust the image quality.
The RAC 107 has a built in photo viewer and video viewer which you access by pressing the 'MODE' button: record > photo > viewer. It is easy to go through the footage using 'UP' or 'DOWN' and pressing 'OK' to play. You can easily delete files as well as lock/unlock them too.
CONCLUSION
Unfortunately, I can't recommend the RAC 107 - while I am fully aware that it is an entry level dashcam but the awful video quality simply cannot be justified with the £85 RRP. You would get better quality video from a 5 year old smartphone.
---