Reviewed By

Matthew (MaFt) Morley
Review Date

16th October 2018

Manufacturer
NextBase

RRP

£129.99 inc VAT

7
A good GPS-enabled DashCam let down slightly by buggy software

Introduction
Nextbase are possibly the biggest name in dashcams at the moment with a number of PocketGPSWorld.com users having them installed and I also see many references to them in Facebook community groups when people are looking for dashcams. So for this review we got our hands their current 412GW model to give our opinion on this GPS-enabled dashcam.
Specifications
Quad HD 1440p recording at 30fps and 1080p recording at 60fps
3" LED colour screen
Powered Click & Go mount for simple, instant connection
Night vision provides optimised footage in poor light
Super slimline design - dimensions 10.9 x 5 x 1.8
6-element glass lens provides 140-degree wide angle
12-24Vdc compatible for use in all vehicles
Inbuilt battery provides 30 minutes of backup in the event of an incident
Intelligent Parking Mode activated by movement
Smartphone App & Wi-Fi connectivity (Android & iOS)
Nextbase Replay 3 video playback software supplied (Windows & Mac)
GPS Logging: view your journey on Google Maps
Wide Dynamic Range (WDR) ensures clear recordings in bright and dark light
Supports up to 128GB MicroSD cards
Magnetic Click & Go mount
One-time installation
Automatic recording
Automatic file protection
Endorsed by AA
In the Box
Nextbase 412GW Pro Dash Cam
Click&Go GPS Powered Magnetic Mount
Self Adhesive Windscreen Mount
4m Cigarette Lighter Power Cable
1.2m USB Mini Cable
Quick Start Guide
Protected by Nextbase Dash Cams Window Sticker
Set-Up
Setting up the Nextbase 412GW was easy - simply attach the sucker to the windscreen, attach the power cable to the mount and simply slide the camera into the mount. The mount is very nicely designed with two simple, but well-conceived features: the power lead attaches to the mount so can stay attached without wear on the socket/lead and the camera glides in easily and is held in place with magnets. The magnets make it both secure but easy to remove when you need to. The supplied 4m power lead is a good length to feed around the door frame and windscreen although, as with many other in-car devices, the lead is fitted into its own 12V plug meaning that if you need to use a phone charger or satnav then you'll have to invest in a splitter for the power socket. Either that or buy a suitable mini-USB lead and power it from a multi-port USB car adaptor. It is also worth mentioning that if you want a slightly more permanent fixture then you can replace the sucker mount with the included 3M sticky pad to attach to your window instead.
DashCam Settings
There are various settings on the 412GW as you would expect - these are highlighted below - but it was nice to see after going through them all that their defaults are what I would have chosen anyway. Basically, as far as I'm concerned, it is set up to work just the way it is but users still have the option to tweak if needed.
There are different settings depending on what mode you are in (video, photo, playback/gallery) and pressing 'Menu' once will bring these up. A second press of 'Menu' takes you into the device settings. To change the settings you use the up/down arrows to select and then press 'OK' to view the settings.
Video settings consist of the following (defaults shown in bold)
Resolution: 1440P / 1080P 60FPS / 1080P / 720P

Exposure

Audio Recording: on/off

Number/License Plate: allows you to enter your car registration to display on the video

Video Length: 2min / 3min / 5min

Parking Mode: on/off - records 2min of video if the car moves or gets knocked

Rotate Display: allows you to mount the camera on your dashboard 'upside down'

Time & Date Stamp: on/off - print the time & date on the video

Speed Stamp: on/off - print the driving speed on the video

GPS Location Stamp: on/off - print the GPS co-ordinates on the video

Model Number Stamp: on/off

Dual Files: on/off - save a high- and low-resolution copy of the video - the lo-res is used for streaming to the phone for faster viewing

G-Sensor: High / Medium / Low / Off - how sensitive the camera is to shocks to trigger the automatic file protection

Main device settings include the usual affair such as formatting the SD card, settings the time/date, language, speed units etc.
Driving
Now the settings are all fine-tuned we can hit the road and record some footage. In use the 412GW is easy to get along with - the display is clear and the overlaid text (date, time, battery, mode etc) are easy to see too. There are 7 touch sensitive buttons on the dash cam: power, up/mic, down/display, protect/wifi, menu, record/ok and mode. The buttons aren't very easy to use as you need to touch a specific spot that isn't highlighted in any way until you actually touch it - then you get a bright blue LED behind it. It is also difficult to read the button text in the dark.
If you suddenly stop or there's a collision then the dash cam will automatically protect that file - this is signified by a flashing red padlock in the middle of the screen. However, you can also easily protect a file manually while driving by pressing the red shield button at the bottom left. You can also retrospectively protect or unprotect files very easily in the gallery mode by, again, simply tapping the red shield.
The manual states that "Protected files will never be deleted" however I found this not to be the case - and this is certainly something users should be aware of. From a lot of testing it appears that the memory card usage is split in two - half for regular video and half for protected video. If the regular haf gets full then the older files are removed as newer files are recorded. This also appears to be the case for the protected half - older 'protected' files are deleted and replaced with newer 'protected' files. I was protecting various different types of footage for this review (driving into sun, driving in heavy rain, twilight, night time etc) and when I came to copy these from the dash cam I only had the 12 most recent protected files from the last 2 days and not the 20 or so I was expecting from a couple of week's worth of saving files… Now, perhaps my use case isn't that as an average driver but I'm sure others would be caught out by this false sense of security. A larger memory card than the 16GB card provided would help alleviate the problem a bit but the fact is, protected files do actually get deleted. This, of course, could be fixed with a firmware update and if it is then I will update the review accordingly.
When you start recording it can take around 1 minute for the GPS location to be active and this is shown with the icon in the bottom corner.
When driving, the screen looks like this: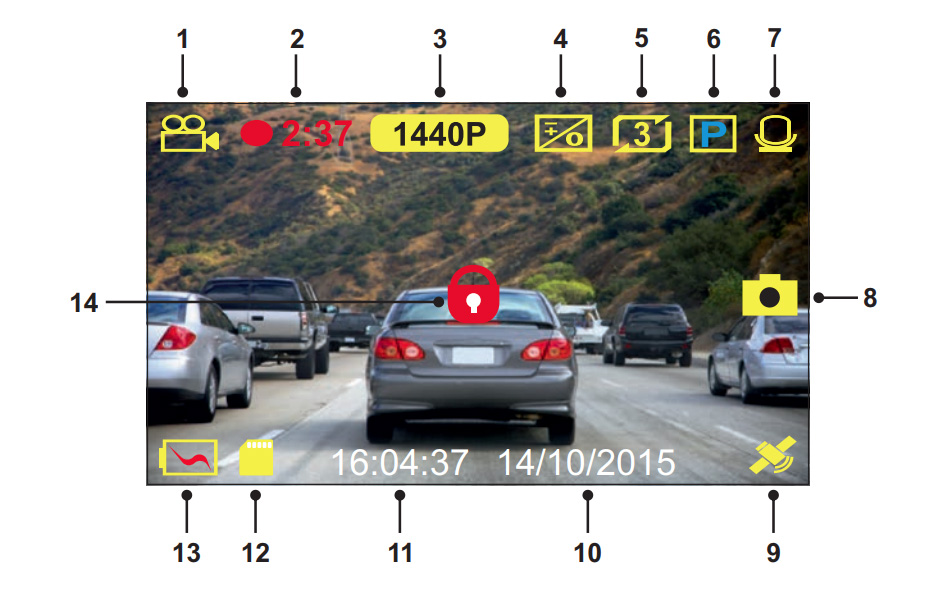 Mode: indicates the iN-CAR CAM is in Video mode.

Recording: appears on screen when recording is in progress.

Resolution: displays the current resolution.

Exposure: displays current Exposure level setting.

Video Length: displays the length of the individual recordings in minutes.

Parking Mode: appears on screen when Parking Mode has been turned on.

Microphone: displayed on screen when Audio Recording is active.

Screen Capture: appears on screen during screen capture.

GPS: The satellite icon will flash whilst the iN-CAR CAM locates satellites. Once a stable signal is received, the icon will stop flashing and remain on screen.

Date: current date.

Time: current time.

Memory Card: indicates whether a memory card is present.

Battery: indicates whether iN-CAR CAM is running on battery or external power.

Protected: shown on screen when a video file has been protected by activation of the G Sensor or by the pressing of the file protect button.
File Sizes and Recording Quality
The NEXTBASE 412GW dash cam comes with a 16GB Micro SD card which, in theory, can hold up to 2 hours of footage. Using the default settings (1440P resolution, Dual-Files turned on) you can fit around 72 minutes on 16GB which increases to 90 minutes with dual-files turned off. This means on the maximum 128GB that the dashcam can utilise you're looking at over 9 1/2 hours of full resolution, Dual-File footage - that's pretty impressive and should cover for most scenarios.
A 3 minute file takes up 586MB - that's half a gigabyte. As the dashcam includes it's own WiFi hotspot for viewing the videos on your phone, you can imagine that streaming that size of video file to your phone to view, edit or share could be a little time-consuming. This is where the Dual-Files come into play. The 3 min lo-res (800x480) copy is only 75mb - much easier to transmit to your smartphone and amend as required. I'll discuss this more in the Software section next.
The Dual-Files are are treated as a single file on the device so if you delete a video then both the hi-res and lor-res copies are removed, likewise for protecting the files. If you're desperate for a bit more storage on your memory card or never envisage using the WiFI smartphone link then you can always disable the Dual-Files in the dashcam settings.
The video quality across a range of lighting conditions is excellent and, while the 140o lens isn't the widest view on the market, it is more than enough to give a good view of the road. I've tested the 412GW in daylight, bright sunlight, twilight, rain, darkness and everywhere in between and the results have been consistently positive. If anything, the microphone seems a little quiet but it is certainly not 'bad' in any sense of the word.
You can see a sample of various driving conditions in the YouTube video below:
Software

There are different types of software that can be used with the 412GW - the desktop software and the mobile/smartphone software. Versions are available for the major flavours: Windows/Mac and Apple/Android - so whatever your perversion Nextbase have you covered.
The desktop software is called Replay 3 and we strongly recommend you download the latest version from the website (currently v3.10.0) as the version on the included disc (v3.4.1) had some pretty serious bugs in it...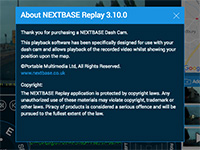 However, even with the latest version, I was unable to update the firmware on the DashCam - it detects there's an update, tells you to put it into update mode but then still can't update the firmware.
When you connect the DashCam it asks if you want to import the videos - this copies them to the computer but it doesn't remove them from the DashCam itself. If you want them stored on your computer then you need to either copy the files directly or click on 'save' from the list of files one by one. An option to copy to your computer would be beneficial for those users who want more control over their files.
As you play back the videos you see the location on a map in the corner (choice of Google or Open Street Map) along with a red line for the current route that is covered by that video. You can also click on any part of the redline to jump to that spot in the video which is handy if you know the rough location of an event you want to replay. As well as the map, you also see the recorded speed, heading, acceleration and various other facts and figures.
The software includes some useful video editing features including adding annotations (which pause the video for a few seconds and shows some text/arrows etc on the screen), joining multiple files together and trimming videos. You can also add a title screen to the video and it will tag on a NextBase logo at the end of the video too. You can then easily export the video to social media, save it to your computer or upload to NextBase's servers to share with your insurance company.
The smartphone software is 'Cam Viewer' by Nextbase UK and it connects to the dashcam via a private WiFi connection. Upon loading you are greeted with 3 simple instructions explaining how to connect your dashcam.
I hit a slight issue though as, after connecting, I was met with a near-constant 'please wait' while the top half of the screen was flickering away. The dashcam itself said it was connected but the app seemed to disagree. However, even though it says 'Dash Cam not connected' it does, occasionally, let me view the videos. From here you can view the videos or download them to your phone and then when you're back on your WiFi connection you can share them to social media or wherever else you want to share them to - your insurance company perhaps.
I did not have much luck with the Android app - I was unable to download a video as the connection kept being dropped. According to the app's FAQs you can also change the DashCam settings via the app too. However, as said, I could not get the app to work well enough to use on my OnePlus 5 running Android Oreo - even with the 'Smart WiFI Switcher' disabled (this detects the WiFi's internet connection and, if it isn't very good, then it will use mobile data instead. Obviously being connected to the DashCam via WiFi means the internet won't work so this setting being turned on could affect the connection).
Conclusion
In conclusion the NextBase 412GW is a good, reliable dashcam with a wide range of settings available and a sensible default set-up. Video quality is good across a range of lighting and weather conditions although the audio is a little quiet. The main issues have been with protected files being overwritten and buggy software - both the Android app and the desktop software.
---