Reviewed By

Matthew (MaFt) Morley
Review Date

22nd February 2018

Manufacturer
Garmin

RRP

£199.99 inc VAT

9
A small, powerful and feature-rich GPS-enabled DashCam
Introduction
Garmin have been going since 1989 and are one of the main stays in the world of GPS - whether that's for aircraft, road vehicles or fitness. In recent years they have been producing a number of dashcams and for the last few weeks I've been using their voice-controlled, GPS-enabled DashCam 65W to review.
In The Box
DashCam 65W

Mount

Spare Mount

Quick Start Guide

Power Lead

USB to Mini-USB Cable
Set-Up
Setting up the DashCam 65W is a breeze - I had it installed in my car in about 15 minutes (although I've routed power cables around my window a few times so I'm getting quite fast at this now). The DashCam 65W doesn't use the usual rubber sucker that most cameras and SatNavs use, instead it uses a magnet stuck to your windscreen. This does mean that you need to make sure you position it correctly first time so it's worth spending some time making sure you know exactly where you want it. Peel off the cover and push the camera onto the windscreen and leave it to set in place. Once it is stuck you can detach the camera from the mount with a firm pull - but the magnet is certainly strong enough and it's never dropped off once.
The camera is quite small measuring just 4.05cm x 5.65cm x 2.14cm so it is easy to carry in your pocket if you don't like leaving it in the car but also discrete enough if you do want to leave it in. Garmin release regular updates for the device and the built in speed camera alerts and the update process will be discussed in detail in the Software section later in the review.
My only problem, as with other devices like this, is that the micro-USB lead is fitted with it's own adaptor so you will need a splitter if you want to plug in more devices such as a phone charger or satnav.
In Use and Settings
When the DashCam 65W is turned on you get a warning telling you not to interact/touch the device while driving. Common sense really, but it does get annoying when it shows up every time you turn it on. The camera really is easy to operate and it starts recording as soon as it's powered up. There are also four buttons on the side (power/back, up, down, select/save) for navigating the menus which, again, are easy to use.
On the screen you have the following icons: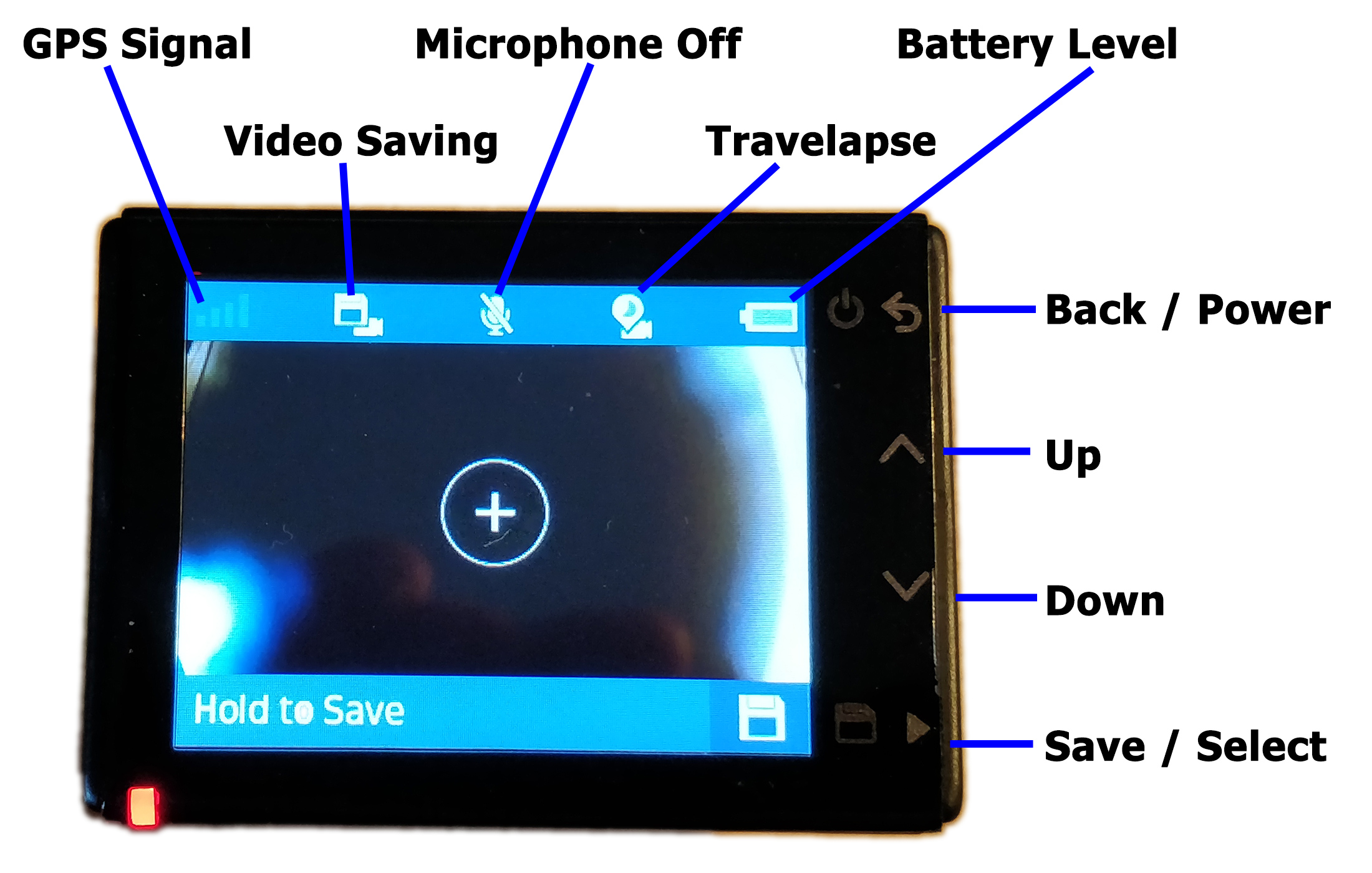 Tapping the save button saves a photo to the device while holding it for 2 seconds saves the current video. Pressing down on the main screen takes you through the menu options as follows:
Gallery

Travelapse

Voice Control

Settings
You could also press up from the main view to go to settings without needing to scroll past the other options.
Gallery
The gallery allows you to view the different videos and photos that are on your device and they are split up into videos you have marked to save, pictures, Travelaos and the other videos that haven't been marked as saved. You can play back the videos on the device along with sound and retrospectively save and unsave your videos as well as delete any footage you don't need. You can also share files but this will be covered in the Software section.
Travelapse
The Travelapse feature is essentially a time-lapse video of your journey that you can then share. Using Travelapse does not affect normal recording functions but does, obviously, use up space on your memory card. At the end of the YouTube video below there is a samples of the Travelapse footage.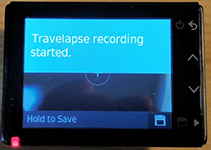 You can also view parked videos but this requires a 'parking mode cable accessory' so is not covered in this review.
Voice Control
In the Voice Control section the screen simply tells you that you can control the device by saying "OK Garmin" (although I keep getting mixed up with my Google Home and end up saying "Hey Garmin" which does also work). You can also disable the feature from here too.
Voice control gives you four available controls which are shown on the screen to make it easy to remember:
Save Video

Take a Picture

Stop Audio (or Start Audio if it's muted)

Start Travelapse (or Stop Travelapse if it's already running)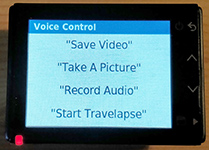 It works well even in a car with music although I have found that it can frequently pick up other sounds that it detects as "OK Garmin" - especially if you listen to podcasts or talk radio. There's an audible beep so it's often easy to have a quick look at the screen in case your friendly, local radio presenter just muted your microphone or saved a video you didn't need... An icon appears at the top of the screen if the audio is muted, the video is saving or Travelapse is recording so you can easily revert any accidental voice commands.
Settings and Driving
The settings are broken down into three main areas: Camera, Driver Assistance and System. In camera you can adjust the resolution (1080p or 720p), turn on/off event detection, turn audio on/off and choose what data you want displaying on the recorded video. You can have the date/time, location (co-ordinates) and speed shown on the recorded video or turn off individual ones if you want. The location and speed is also stored within the video file too so it can be played back alongside a map on the desktop software.
Driver Assistance gives you control of what helpful alerts you will receive when driving. These include 'Forward Collision' - you get a beep and a red screen to alert you to being too close to the vehicle in front. I found in use, however, that I was concentrating more on the car that just pulled in front of me so 90% of the time I didn't look at what alert the dashcam was giving me. I'm not sure how useful this feature is in real world use. You can choose to get an alert for when the car in front pulls away - useful for when you're in traffic and are daydreaming, which of course none of us would ever do.
Lane Departure warnings work quite well although are a bit hit and miss - flagging up when you're meant to be changing lane but then sometimes not alerting if you do accidentally drift. It's a good idea, but could do with some improvement.
The 65W also has speed camera warnings from Cyclops and free updates are included. You can update these on the dashcam directly (if connected to your phone - see later) or they can be updated when connected to the computer. The database is fairly good for fixed cameras and most of my local mobile 'zones' are covered. However, as I've mentioned before with Cyclops the main problem is temporary roadworks cameras. I don't know their update process but I was being alerted to 50mph average speed cameras just the other day that were removed shortly after Christmas (cue persistent overspeed beeps) and also not being alerted to cameras that have been active for the last month. Aside from this, the integration into the 65W works well with different icons for the different cameras (fixed, mobile, average) as well as showing the camera's speed and your current speed. You get a warning beep which is loud enough to hear over normal levels but you may miss it if you like your music loud.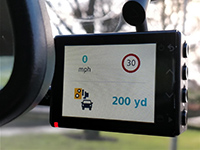 As with other Garmin units, you're not restricted to just using their Cyclops camera database and I was easily able to add the CamerAlert database from PocketGPSWorld to the device and get the warnings. It's the same process as any other Garmin product - just use the POI Loader software and install it. You could also use it for other warnings like schools or low bridges. Obviously it can't be used for navigation but you get the usual warnings with the speed of the camera and your current speed along with overspeed warnings or just proximity alerts if it's not a speed camera.
Garmin didn't need to include the option for installing your own speed camera data especially when they offer free updates to their own system but the fact that they do allow it shows that, as a company, they understand their customers and that some of them might want to do things differently.
File Sizes and Recording Quality
The DashCam 65W comes with an 8GB microSD card which is adequate for most day to day trips. Up to 64GB cards are supported and I would recommend purchasing a larger card if you do a lot of driving as it means more footage will be available if you need to review something at a later date that you didn't manually (or automatically) save.
One minute of footage is around 80MB in size with the 'saved' clips being 3 minutes and 240MB. So the included 8GB card will fit around 100 minutes of footage before it overwrites the older video.
The video is good quality and there's no obvious signs of compression like I've seen on some other dashcams. The built in microphone also does a good job of picking up the sounds too without any noticeable distortion. The only issue is when the 65W thinks you've said "OK Garmin" and then "Stop Audio" and you forget to turn it back on…
The 65W uses a 180° lens which does give a nice, wide field of view but as with other wide-angle lenses, it means that objects directly in front of you seem further away on the video and it can sometimes make it harder to read registrations and the vehicle in front pulls away.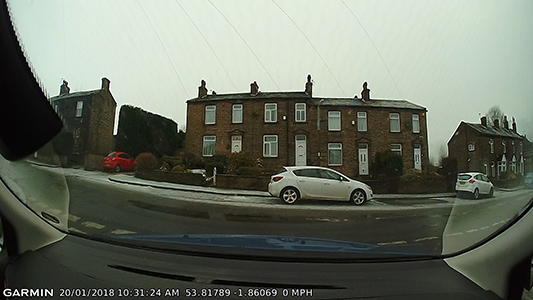 The camera also works well in a mixture of lighting conditions - night time, twilight, daylight, bright sun. You can see some sample footage in the YouTube video below as well as hear the speed camera warning beeps.
Software
There are two ways you can connect to the DashCam 65W and review the footage - either via the mobile/smartphone app (Android and iOS) or on a computer (Windows and Mac OSX). Both have their pros and cons but the fact that you can use the 65W without even owning a PC is a great additional feature.
The mobile software is called VIRB and is a free download. It uses a direct WiFi connection to the 65W and on my Android phone this was a little bit fiddly. In theory it was simple: go to Gallery and select 'Share Gallery', look for the dashcam in the list of available WiFI hotspots, connect to it. However, in practise, my phone detected there was no internet through this WiFI hotspot and reverted to using mobile data. This messed up the connection occasionally until I realised what was happening and disabled the option. Once connected, you can update the DashCam's firmware and view video, photo and travelapse footage. You can also share the footage either in it's full length or do some basic editing to adjust the start and end points. The editing and sharing is very easy to use although it can be a little bit slow to view the video from the DashCam to the phone. Also, exporting the video doesn't seem to include the audio - I'm not sure if this is a bug or intended.
The desktop software is more advanced than the smartphone app and does allow a lot more. It does also mean more effort is involved so if you just need to quickly review footage then the VIRB app will suffice.
The desktop software for viewing your footage is called Garmin Dash Cam Player and allows you to organise, browse and sort your video footage. When you connect the DashCam and load up Dash Cam Player it imports all the saved video to your computer. This can take a while but it does mean you have the files stored safely on your PC or Mac. Once done you can review the footage and also view the video's location on a map.
The software is for cataloguing the footage from the DashCam and it keeps a note of the filename as well as the date it was recorded. Over the weeks and months you will take up a lot of space and have a very long list of available files. Luckily it's easy to filter by date in order to pull out selected footage and any footage that was marked as an 'event' (i.e. a sudden impact) is flagged up with a red exclamation mark and it's easy to see where in the video the event occured. You can delete the video files from the computer through the software and you can also trim footage within the software as needed.
The only issue with the Dash Cam Player software is that the Travelapse footage doesn't get transferred over so if you have recorded Travelapse (either on purpose or by accidentally triggering the voice commands) then these will stay on your memory card and take up space even when you think all the files have been transferred.
Other desktop software includes POI Loader for loading your own points of interest (speed cameras, schools etc) and Garmin Express for the firmware and speed camera updates.
Conclusion
Overall, I really like the Garmin DashCam 65W - it's one of those devices that just works, and works well. While the buttons can be a bit fiddly to handle in a right-hand drive car this is negated by the voice command that does the main tasks you need when driving. It's discrete and compact and easy enough to carry in a pocket or keep in the car. While the mobile app and WiFi can be a little fiddly at times, this doesn't take away from it's main function. The fixed power lead is annoying but easy to remedy with a standard Micro-USB cable. The options and settings are simple yet plentiful and the video quality is very good. You get around 20-30min of use on battery which is enough for updating and reviewing footage at home. The software has good features too. I highly recommend the Garmin DashCam 65W and it will be a great shame to have to return it!
---