Review by Darren Griffin

With the long awaited arrival of Satnav on the iPhone there is now more demand than ever for a good in-car cradle solution.
We've used a few and by far the biggest bug bear of all of them has been the need to remove any case or wrap you use to protect your iPhone before they can be accommodated in a cradle.
Having to do so every time you get in and out of the car soon renders the cradle unused.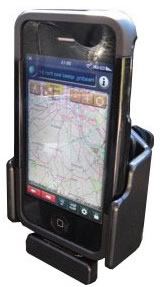 However, times are a changing. Thanks to suppliers ProClipUSA and the wizards at Brodit, we now have a solution that resolves this thorny issue.
Brodit have engineered a simple but effective solution with a cradle that is adjustable.
Using four small thumbscrews on the rear of the unit you can easily alter its width and thus adjust it to firmly grip your iPhone whilst it remains in its case.
Perfect! I tested the cradle with a selection of iPhone cases and once the cradle width was adjusted to suit, all fitted perfectly. A deep vertical groove in the side 'arms' of the cradle is sufficient to hold the iPhone securely and a rear mounted swivel allows it to be used in both portrait and landscape orientations.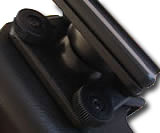 Another great feature which is equally important for car use is the sync connector. Brodit have chosen to fit a pass-thru connector that allows any standard iPhone sync cable to be connected to the bottom of the cradle itself, a neat solution that allows 100% compatibility with any charge or sync cables you already have.
Using this solution I was able to hook my iPhone 3G up to the cable that is provided with my Alpine iDA-X100 iPod head-unit. This allowed me to keep the iPhone charged, play iTunes music through the head-unit and switch to SatNav/GPS.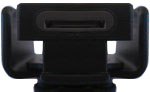 To install in a car you will need a ProClip. These are vehicle specific brackets that mount with no holes to your dashboard. They offer a secure mount for the cradle which is screwed to the ProClip and can be removed without any damage when you change cars.
The adjustability makes this solution suitable for 1st Gen iPhone, 3G, 3G S and Touch. If you upgrade your device you can buy another cradle and attach it to the existing ProClip, or upgrade your car and buy a new ProClip, brilliant.
I have no hesitation in recommending this cradle, now all I need is the SatNav app to run on my iPhone!
Our review unit was provided by ProClipUSA