By Darren Griffin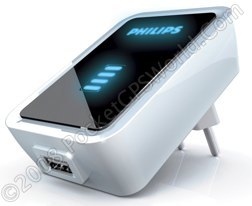 The fact that you are reading our web-site suggests you will have at least one portable electronic 'gadget' in the household and the likelihood is you will have several. If you are anything like me you might even have a collection of anonymous black 'wall wart' chargers!
Because many devices have their own chargers (mobile phones are particularly bad in this regard) just trying to locate the correct one can be a mighty task. Going on holiday means an alarming collection of chargers, charge leads and international adapters to suit and that's if I have been lucky enough to locate them all in the first place!
So when Philips contacted me and asked if I'd like to test the Power2Charge SCM7880, one of their new Power4Life product range of chargers I was keen to see if these could be the solution to the problem.
Design
Firstly the device is white, so the charger instantly stands out amongst a sea of black chargers, bonus points for that!
The implementation itself is simple, a universal multi-country USB wall charger bundled with its own internal 1000mAh Li-Ion re-chargeable battery pack. The interchangeable plug can be switched from US to UK or EU pin types providing the international compatibility.
Unlike your average charger, Philips have given some thought to the aesthetics. It has a clean look with a very modern tinted black top cover that conceals the charge state LEDs. Even neater is the method of connecting the UK/EU adapter plugs. Built into the unit is a two blade US type plug that stows in the body of the charger. The UK/EU adapters clip onto the US blades so with one charger and two adapters you have a solution that will work most countries world-wide. As far as I know Australia is the only major one not covered, they have their own unique angled two blade socket. Why I don't know, if Dubai can use the UK 3-Pin plug then why can't Australia who are part of the Commonwealth after all!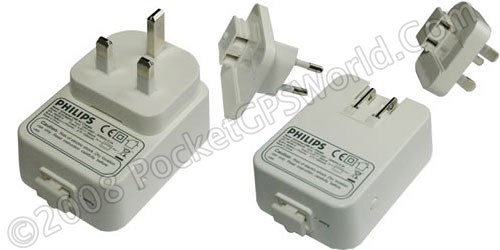 The interchangeable plugs are easily swapped and built-in is a US type plug that flips up for use.
Not only will it power/charge any device that can be powered from a USB port whilst it is plugged into the mains, it will also power a device or recharge it from its internal battery when away from mains electricity.
Charge Indicator

Interchangeable power plug
Battery check button
Reset
USB port
Power indicator
The face of the charger has a battery meter that indicates the charge state of the internal battery and there is a test button on the side that allows you to check the charge level at any time. When connected to mains electricity the Philips logo flashes to indicate charging.
In The Box
Included in the box is: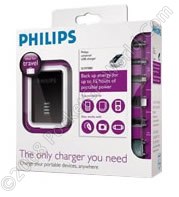 The charger

UK plug
EU plug
Travel bag
Retractable power cable which connects to 6 power adapter tips for the following devices:

Sony Ericsson
Motorola
Samsung
Nokia x 2 (Small and Large)
Mini-USB

There is also a small holder for you to store all the connector tips. Of course you are not restricted to charging just those devices. You can charge anything that is compatible with USB so if you have an iPod, iPhone, PSP etc they can all be charged if you have a suitable power to USB cable.
In Use
Open the box, connect the UK plug and pop it into a socket and it will begin charging. From empty it takes 2hrs to fully charge the internal battery but if you want to charge a connected device at the same time you can do so at the expense of a longer recharge time for the internal battery.
Whilst charging, the battery level LEDs will flash in sequence to indicate the battery is being charged. When all the LEDs are lit the battery is fully charged.
If you're popping out for the day you can drop the battery pack/charger into your bag and take it with you as an emergency backup.

For me the charger proved a very useful accessory, on holiday I managed to pare down my power essentials list to the charger, the supplied retractable cable with the mini USB tip, a retractable cable for my iPod/iPhone along with my PSP and DS USB cables.
That was enough to enable me to charge an iPod, iPod Touch, iPhone, PSP, DS, two TomToms, a Satmap, a GPS Watch and two dataloggers.
Specification
| | |
| --- | --- |
| Power Input | 100 - 240V |
| Power Output | 5.6V |
| Battery Capacity | 1000mAh |
| Battery Type | LiPo |
---

Conclusion
It's a simple solution that has been very well implemented. Whilst I already had a universal USB charger, the inclusion of an internal rechargeable battery pack in this unit makes the Philips version much more useful.
When fully charged and stripped of its UK/EU plug connector it takes up very little room and can be carried with you to provide emergency backup for your phone or to top up a portable video game handheld (there is nothing worse than a bored child and a Nintendo DS with a flat battery!) and it allowed me to use my iPhone to browse the web, check email etc via WLAN whilst sat by the pool without fear of a flat battery. One nice feature is it comes fully charged out of the box, great if this is a last minute purchase at the airport or on holiday.
The only downside is the small battery, at 1000mAh it may not have enough capacity to fully recharge some of your gadgets, fine for a top up but not for an empty to full charge. There are other models in the range including some without the internal battery and one with a much larger 8000mAh pack (the SCE7640) designed for laptops and larger gadgets although it's a rather more expensive £113.00.
At £39.99, the SCM7880 model represents good value for money and it earns a PocketGPSWorld recommendation.
Review unit supplied by

---