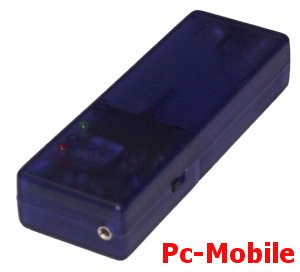 Review by Dave Burrows
Introduction
PC-Mobile should need no introduction, but for anyone that's new to the site and hasn't been following what we do for the past couple of years, PC-Mobile manufacture and sell cables for Garmin and Magellan GPS Receivers to enable you to connect these to a PDA like a HP iPAQ or Dell Axim. PC-Mobile were one of the first to come out with a comprehensive range of PDA to Garmin and PDA to Magellan cable sets which we reviewed and also the PC-Mobile Splitter cable, and now they've created another first and that's a Bluetooth Adaptor for your Garmin or Magellan handheld making it a Bluetooth GPS!
I have been talking quietly behind closed doors with Ronald at PC-Mobile for what must be about a year in terms of creating a Bluetooth GPS Adaptor for Garmin and Magellan handheld GPS Receivers, I thought it would be big. Lots of people prefer to use Pocket PC's with a GPS Receiver for richer style maps using Memory Map, Fugawi or MapTech, but they prefer to be able to take their handheld GPS Receiver with them due to the ruggedness and because the unit is waterproof, but costs for a BT Adaptor circuit and modules were at the time too expensive to make it a reality that you could purchase one at a reasonable price. Costs have been dropping over the past year like everything in the tech world, and it's now possible to create one and that's exactly what PC-Mobile have done!
What's more, the Bluetooth Adaptor BTA01 is also at a reasonable price of $50. Now I can already hear a minority of you moan and groan and say that $50 isn't a reasonable price, but if you compare it to purchasing a new Bluetooth GPS Receiver which you are going to pay in the region of £120. The cheapest in the US I have seen is $110, so this makes the PC-Mobile Bluetooth Adaptor a bargain in not having to purchase yet another GPS Receiver and to re-use your waterproof Garmin or Magellan handheld out in the field and equip it with Bluetooth.
The Adaptor
The adaptor is narrow and long and width wise fits two AA batteries and width wise is about the equivalent of 2xAA batteries and a little longer than 2xAA Batteries to take into account the circuit board. The whole unit is transparent blue and requires 2xAA Alkaline batteries to power the Adaptor. It's best to use Alkaline over NiCad or NiMh because of the voltage difference, but like with most products that require Alkaline batteries, there's no harm in trying rechargeables, you'll just find they won't perform as well as Alkaline's. NiMh batteries will give more power than NiCad's but less than Alkaline.
Inside Photos
One thing I was dying to do was to crack the case open and take a look at the circuit board. Below you will find several inside photos of the BTA01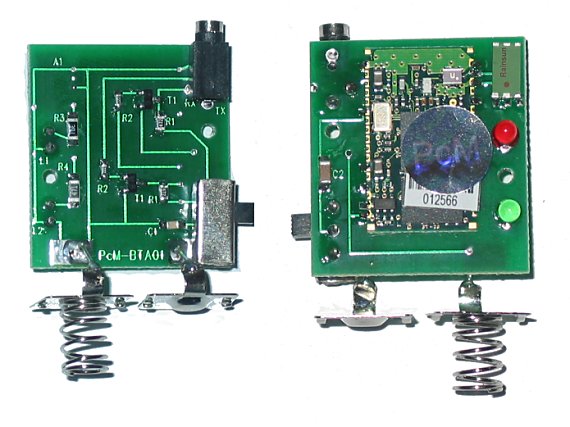 Dimensions
The dimensions of the Bluetooth Adaptor are 97 x 33.5 x 18.5 mm.
LED's
There are two LED's on the box, green and red. Green indicates connection/disconnection and Red indicates data is being transmitted.
Bluetooth Distance
In my tests I managed to get around 20 feet usage out of the Bluetooth Adaptor, that's placing the Bluetooth Adaptor and walking 20 feet away from it. Anything longer than this and the Bluetooth connection dropped, however bearing in mind that the whole point is to make your handheld GPS Receiver Bluetooth enabled so you don't have to use any cables, you probably won't be more than 1 or 2 feet away from it, so 20 feet should be more than enough.
Cable Length
The cable length for the cable that plugs into the GPS Receiver and connects to the BTA01 is approx 1m in length which should be more than enough cable whilst not providing too much.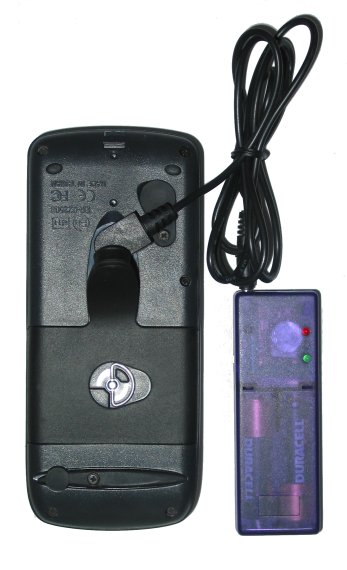 Battery Performance
I haven't been able to perform exhaustive battery tests yet on the BTA01, but in PC-Mobile's tests, they claim that a good pair of Alkaline batteries will power the BTA01 for up to 70 hours (Duracell) and around 30+ hours with 200mAh NiMh batteries. That's more than most of the handheld GPS Receivers will last for!
Connecting to the BTA01
Connecting to the BTA01 is as easy as connecting to any other Bluetooth GPS Receiver. Just create a new Bluetooth connection by using the Explore a Bluetooth device, tap No device selected and the Bluetooth Browser will eventually show all the previous Bluetooth devices you have connected to and also the new one which is highlighted in the third screenshot below (BTA01).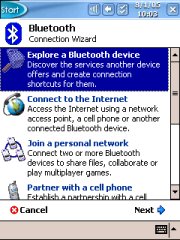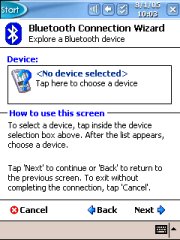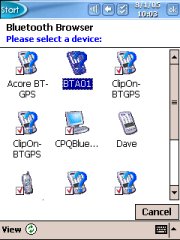 Now you enter the passkey which is 0000 and tap OK and you will then see the SPP Slave, tapping next will create the bond.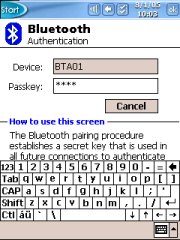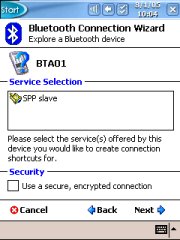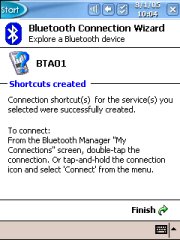 Handheld GPS Connectivity
The baud rate on the BTA01 is set at 4800 and cannot be changed, so on your GPS Handheld Receiver you need to set the output type to NMEA and baud rate to 4800. By Default Garmin default to the Garmin Protocol which operates at 9600. Once done, the Garmin/Magellan GPS will start exporting the data.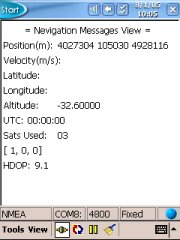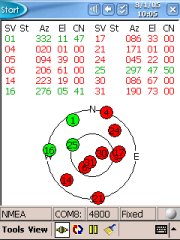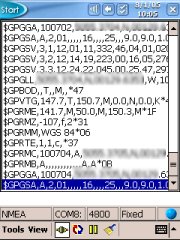 The above screenshot's show a 3 satellite lock with the GPSMap76S sitting on a windowsill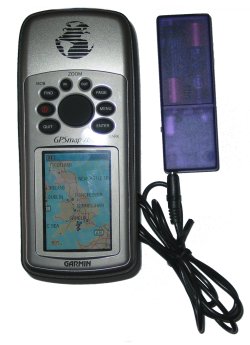 Recommendations
What I would recommend is if you are going to use this to purchase a belt clip and round button with a 3M adhesive pad. These can be purchased from a lot of mobile phone companies, or failing that Theclip.com. You can then attach this to the battery box and not only have the GPS Receiver in a case connected to your belt, but also the BTA01.
Waterproof
Most of the Garmin and Magellan GPS Handheld's are waterproof. Now the BTA01 isn't waterproof, but due to the design of the adaptor, it really shouldn't need to be. There's enough cable coming from a Garmin or Magellan PC-Mobile cable to be able to place the BTA01 in a shirt or coat pocket so it doesn't get wet on those horrible wet and windy days, whilst still keeping your GPS Receiver in it's case and just having the cable coming out of the case. So as you can see, from this setup there really isn't any need for the BTA01 to be waterproof.
Problems Encountered
I experienced no problems whatsoever with the BTA01 and connectivity to a Garmin Handheld GPS Receiver.
Handheld GPS Compatibility
So which Handheld GPS Receivers can you connect to the BTA01 ?
Garmin eMap / eTrex / Geko 201/301
Garmin R Type (GPS II/III/V/12/30/40/45/48/60/89/90/76/72/StreetPilot/GPSMap)
Garmin Rino 101/201/301
Magellan M3xx/SporTrak/Meridian
Serial Cable (PC)