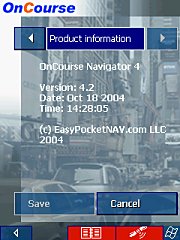 Navigon in the US – Easy PocketNAV OnCourse Navigator 4
We have recently reviewed the new Navigon Mobile Navigator | 4 (Europe) here. The following review is yet another "World Exclusive" as we are the first to review OnCourse Navigator 4. This review attempts to expand on the European review, and to show some of the US specific aspects of the Navigon engine that sits behind OnCourse Navigator 4
Time for the "world domination" test. As you may know I am always installing all applications to storage card or iPAQ File Store. Primarily to save precious RAM for running programs, but also to be on the safe side in the case of a total machine crash.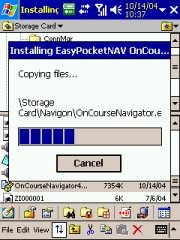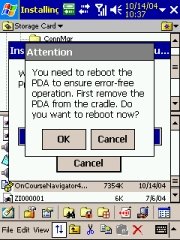 OnCourse Navigator impressed in this test. Not only does it install onto and run from storage card without complaining, it also refrains from putting tons of DLL's into the \Windows directory. As a result the crash recovery is exceptional. To recover from a total power drain, recharge the battery on your PDA or connect it to power, run OnCourse Navigator from its storage card location and navigate away. Very nice indeed.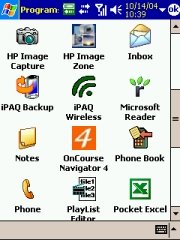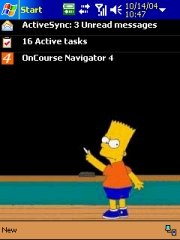 One thing that is not so nice is the installation of the Today screen plug-in. (This is also the true reason why the install routine would like you to reboot – it has nothing to do with "error-free operation"). Some may like it because it allows you to start OnCourse Navigator quicker, but to me it's an unwanted intrusion onto my setup. It also gives more problems during un-installation (something that application vendors try to ignore…)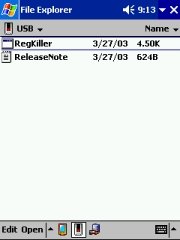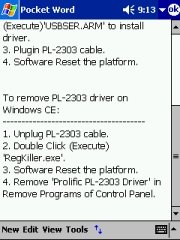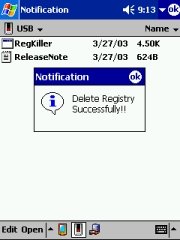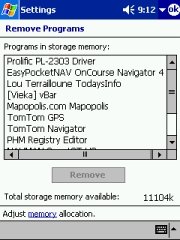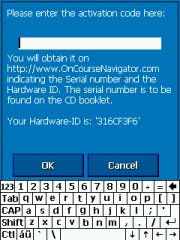 In some rare cases the install routine will also attempt to install a special USB-to-Serial driver which, not unlike TomTom GPS, redirects COM ports - much to the annoyance of people that use more than just one GPS program. (This USBSER driver is required for some of the Toshiba PDA's)
If your other programs cannot find the GPS port any more after the installation of OnCourse Navigator, have a look at the list of installed programs and remove the offending Prolific PL-2303 driver. Before you can do that you will need to run the RegKiller application that can be found in the "USB" subdirectory, and then do a soft rest.
On the first run you will need to enter your activation code. It is linked to a part of the Pocket PC Device ID (here they call it "hardware-id"), and requires an internet connection to obtain the code (the device doesn't need to be connected).
You need to do this only once though since that activation information is also stored on the storage card (if you installed the application there) and thus survives power drains and hard resets.
Standard setup
You can enter the setup dialog by "changing the preferences" - either from the startup screen or when you hit the "enter" hardware key in the map view.

The setup is exactly the same as on the Navigon Mobile Navigator (minus the TMC part), so I won't go into much detail here, and rather let the pictures speak for themselves. "Radio Mute" is a nifty feature that will mute the navigation instructions on a Pocket PC Phone Edition while a phone call is in progress.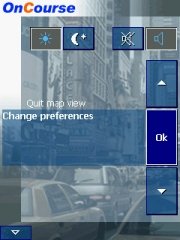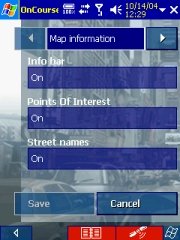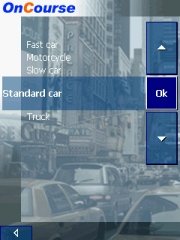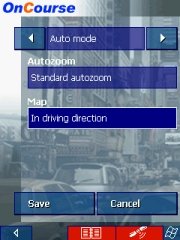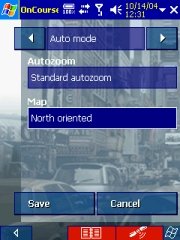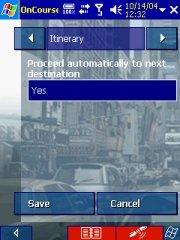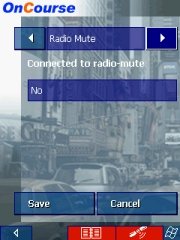 GPS Setup
Navigon were always supplying both software and hardware. This is reflected in the GPS setup which clearly favours their own receivers. For you as the end user this invariably means you will have to manually set the GPS parameters, choosing the "Other receiver" type. Since you don't do that too often it is only a minor annoyance. The COM ports on your device are listed in verbose mode which makes selecting the right port much easier.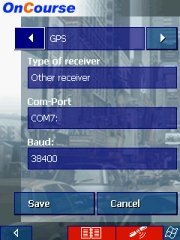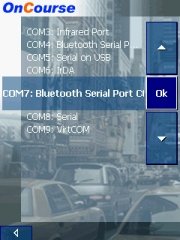 TMC
Traffic Message Channel is a pretty successful system in some European countries that transmits current traffic conditions via the RDS (radio data system) components of standard FM radio station broadcasting. Provided with a special GPS receiver (which basically includes a FM radio) users in Europe can let Navigon adjust it's routing decisions based on the incoming TMC messages. In the US the picture is very different. Every metropole has its own traffic messaging system, they are all incompatible, and most of them are not free services anyhow. As a result the OnCourse Navigator program has left out the TMC functionality. If you come over from Europe and use your MN|4 with the maps of OnCourse Navigator then keep in mind that TMC is of no use here.
Maps are provided by NAVTEQ – an accepted leader in the mapping area. Some of the map detail is actually pretty amazing. Currently maps are available for the mainland, Hawaii, and Canada (not Alaska).
Maps come pre-cut, but you can also recalculate them yourself which is highly recommended as it allows you to only store the maps you want on a smaller storage card.
But overall my impression was that the map data is at least three years old (similar to the Mapopolis data). In some areas the Teleatlas data is much more current, as you can see from this intersection that TomTom got right (for once).
Note - this issue is not specific to OnCourse Navigator. All programs using NAVTEQ data show the same old maps in my area, and this may be different in your area.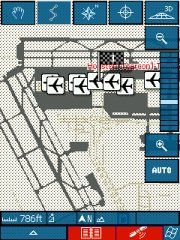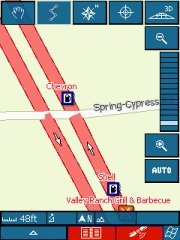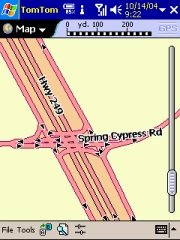 Hopefully EasyPocketNav can soon provide updated map material. The map export tool will be covered in a later review of the Mitac Mio and OnCourse Navigator bundle.
The additional maps of Western Europe will be available from the OnCourse Navigator website later.
The OnCourse User Interface is very different from anything you have seen so far on a Pocket PC. It occupies the whole Pocket PC screen, and does not utilize any of the Windows CE controls (drop down boxes, text fields etc). Instead, you will have to learn a completely new way to navigate in the application – be prepared for a week or two of getting used to that.
Hardware keys
Part of the different user interface paradigm is the way OnCourse Navigator assigns hardware keys. Other programs will allow you to execute a certain function when you press a hardware key – for example "Navigate to home" or "Switch to Map view". With OnCourse you merely assign hardware keys to UI cursor movements – up, down, right, left, enter and cancel. So when you want to confirm a task, hit the hardware key assigned to "enter", and if you want to take a step back, hit the hardware key assigned to "cancel". Unfortunately the up/down controls are not smart enough to roll through. So when the focus is at the topmost box you will need to press the "down" key a number of times to get to the bottom of the list (instead of just hitting the "up" key once).This means you can operate the whole program to some extend without the need for a pen or finger on the screen, but it also means you need to look at the screen to get a visual confirmation that you have indeed selected the right box or field. I personally think this is not a good design solution – hardware keys dedicated to functions make more sense in my opinion
Overall, routing works as expected, with clear audiovisual indicators for the required turns. During the navigation you can hit the hardware key assigned to "enter" to get into the immediate routing menu where you can toggle the sound and the day/night colors, add waypoints, set road blocks, start a route simulation or show the list of instructions instead of the map.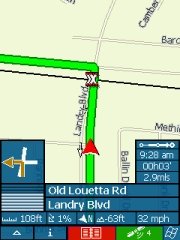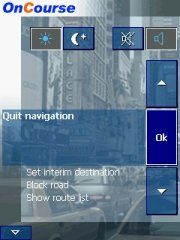 Selecting a destination
As mentioned briefly this is one of the weak points of the software. It takes way too many clicks/taps to select a new destination, and most of the time the user is left in the dark if his or her search for a city, a street, or a house number was in fact successful or not. The fact that you can choose from two different soft keyboards is no consolation.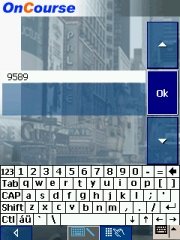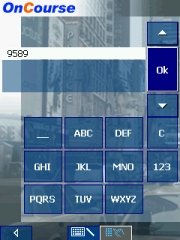 Another problem is that the user is forced to select a region and city (or ZIP code) first before he or she is allowed to specify first the street name and then the house number. This is a recurring problem with navigation programs that do not take the specifics of US suburbia into account, where cities do not have well defined and identifiable borders, but pretty much flow into each other. Another, rather cosmetic issue, is that the house number field is too small for the four or five digit long house numbers that are standard over here.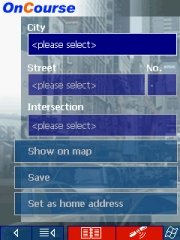 Some programs allow to search for street first and then for the cities that have that street (for example Deluo Routis), others completely put the city search paradigm at rest and allow you to always start with the "natural" way of entering addresses – first the house number, then the street (for example Mapopolis)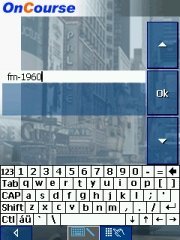 A few days back, OnCourse Navigator failed to let me choose the FM-1960 street, one of the most prominent streets in the NorthWest Houston area. I tried "FM 1960", "FM1960", "FM-1960" – all to no avail. All this because I had to select a ZIP code before, and I guessed it wrong…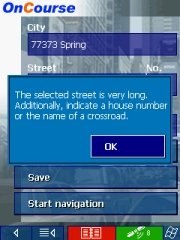 And when I tried to navigate to just my home street – without specifying a house number – I got that irritating error message asking me to think of a house number…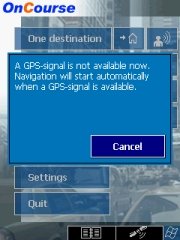 If you happen to plan a route without having a GPS fix you can still initiate the navigation – it will start for good once a fix is obtained.
Address search
Type-Ahead is absent from the UI paradigm, and this is very annoying. Given the fact that in the US many streets have multiple names, and have the same house numbers over and over on the same street, it is very important to get some support as to what streets have similar names to what you type, what house numbers are available, and how far they are away. With OnCourse Navigator, it's hit-and-miss. You enter a search criteria, hit and may or may not get a result. Same with the house numbers. If you're off by a number, OnCourse Navigator won't tell you that the next number would have worked.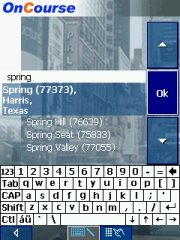 You can search by ZIP code, but after you found your address, the ZIP code will revert back to the main ZIP code of the city where your address is in. So for example you may search for a street in 77379, find it, and then when you want to navigate to it OnCourse will tell you the address is in 77373 (which, as explained above, is the main ZIP of the area). This doesn't sound like a big issue, but it is surely annoying. TomTom and Mapopolis give examples of how that can be implemented better.
I discussed these issues with Navigon and they pointed out that you can do partial searches - so instead of "FM1960" you can search for just "1960" and the program will then present you the search results. Keep this in mind when you have difficulties remembering the full address - try with just a part of it.
Route Options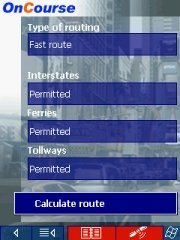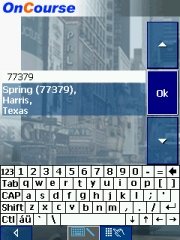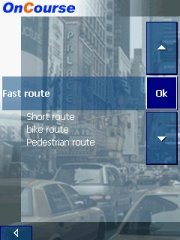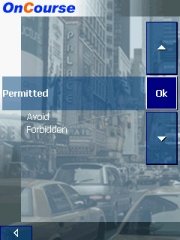 Oddly, you can only set the main route options after you have selected your destination(s). This leads to the awkward situation that you have two consecutive screens with a button "Calculate route" (Do you really, really want to calculate that route?) – one of the examples where the modularity results in decreased usability - more clicks/taps than really necessary to accomplish a task. Another example is when you have to hit "Start Navigation" twice to actually, well, start the navigation.
Voice Navigation
The voice command engine has a whopping 434 sound bites at its disposal. It's not TTS (Text-to-Speech) but that is not necessarily a disadvantage. The prerecorded voices are easy to understand and can handle nearly every situation properly. If at all, the voice is too friendly. Funny how the excessive use of the word "Please" can make a difference.
One element of the voice commands is worth mentioning. Directly after each turn the program tells you what you can expect next. Then, when you get closer, there is an intermediate message saying for example "Prepare to turn left". This message is somewhat dependant on the distance to the turn, and does not take the current location into account. This can easily lead to confusion when you are – at that moment – approaching an opportunity to turn left and are led into thinking that you need to turn left now.Best would be to not use the "Prepare to…" message because the other messages are plentiful and you never really risk to miss a turn.
If you do not like the pre-recorded voices you can actually replace them with your own files. The format is OGG Vorbis (like on TomTom GO) and there are some tools available on the web to manage the format. But be warned - it's still 434 independent files!
Points Of Interest
I happily admit that I am no specialist in the POI business. Mostly because I think that it is a losing battle – as soon as you have supplied millions of POI's for a new map cut the majority of the POI's is obsolete. The changes in the real world are just too quick for the POI maintenance to keep track. I think the only solution would be a global open source POI database where anyone can add, edit and delete POI's whenever they face a new restaurant or notice an error with an existing one etc. Enough of the ranting – there are plenty of POI's in OnCourse Navigator, and their map display and selection for navigation is pleasantly uneventful.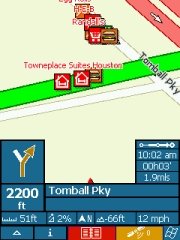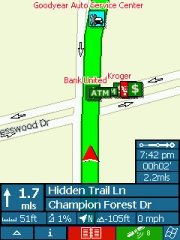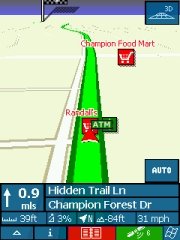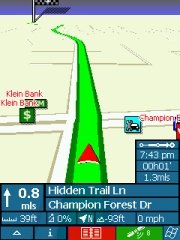 POI's are displayed on the map with their group symbol and the title which is a nice feature.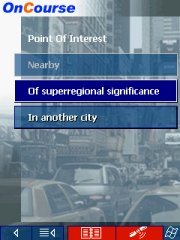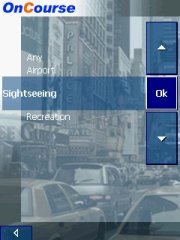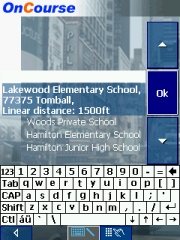 If the provided POI's are not good enough for your needs there are plenty of tools available on the web that allow you to integrate your own custom POI's into the OnCourse Navigator maps. If you want to be alerted of these POI's (safety cameras for example) you can use add-ons like POI-Warner.
Voice control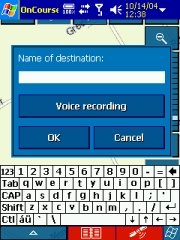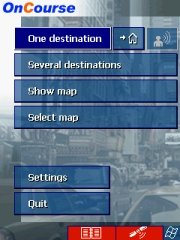 One nice gimmick is the addition of voice controlled destination selection. Whenever you save a destination you have the option to also record a short voice file saying "Papasitos Restaurant" or "Postal Office". Then, when you are in the main screen of OnCourse Navigator, you can press the icon right from the "Take Me Home" icon, and say that phrase again "Postal Office". The program is then comparing the sound sample with the prerecorded ones, and – with a sufficient success rate – finds out that you want to navigate to the post office. Let's be clear – no voice recognition is taking place, it is merely a comparison of wave files. But that's working pretty well, and all you need to do is to remember what you recorded for each of your destinations…
Travel logbook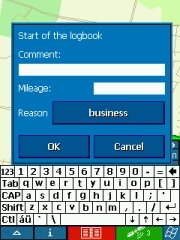 I haven't spent much time with that feature, but it's worth mentioning that you can record your journeys, and can even distinguish between private and business trips.
Skins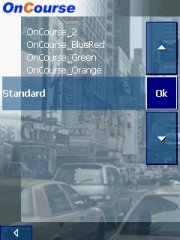 On of the main differentiations of the OnCourse Navigator is it's thorough modularity. Every aspect of the program's presentation layer can be changed. As a simple appetizer I am listing the different colour schemes that come preloaded with the OnCourse Navigator program.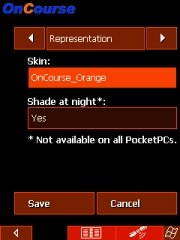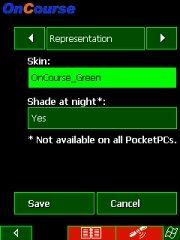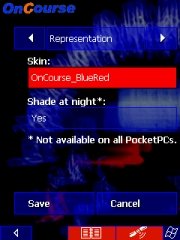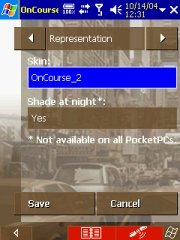 But this is only the very beginning – in addition to the coloring you can influence the location and size of all elements of the screen display – the icons, the texts, the pictograms, road thickness, arrow shape, the startup and background images etc. – everything. It sounds very complex, and it is very complex. There are some tools available that help you to create your own skins (a basic skin editor by Navigon or the more complete skinit or even help you to manage the pretty damn complicated switch-over from one full skin to another, including voice files, road speed preferences, etc (mini4inis – actually this is the tool that led to the Great Forum Clash in Germany, and now is only available to registered users of Navifriends.com).
There are a number of add-ons available for OnCourse Navigator, ranging from safety camera warning as well as for advanced features like navigation to Latitude/Longitude. This is another strong point of the engine. Not all functions may be exposed in the standard UI, but they are available through the API.
OnCourse Navigator is slow at startup. Expect a good 30 to 50 second wait (depending on processor) before you see the legal notice screen.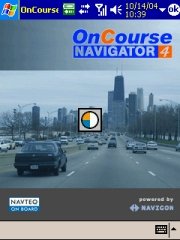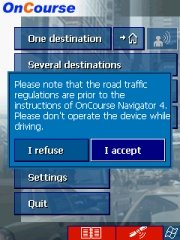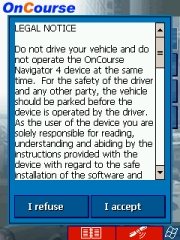 The legalese has recently changed from a small note to a humongous four page threatening letter, but the message is basically the same – be sure to know what you are doing when you are driving and operating the program at the same time.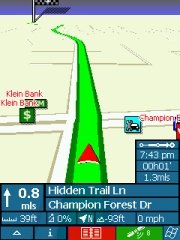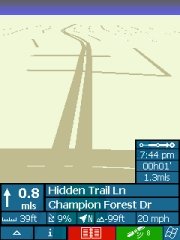 Once the application is underway it is performing so-so, even on older machines like the iPAQ 3630 (by the way, a machine officially not supported). Don't expect the performance of Mapopolis, though. Especially in 3D mode there is a noticeable lag in position redrawing (even slow enough for my screenshot program to catch the difference). Some users in Europe also report the position lagging behind in 3D mode. Navigation instruction do however always come on time, and the 2D mode is also reasonably performant.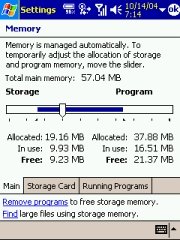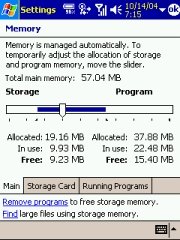 Contrary to popular belief the program is also not very memory hungry. As you can see from the snapshots above OnCourse Navigator needs about 6 MB of RAM to run, and as just mentioned, works fine on 32 MB machines with Windows Mobile 2002
Navigon in Europe
Navigon were one of the pioneers of Pocket PC navigation in Germany and in Europe. Their programs come in a variety of incarnations, oftentimes bundled with Pocket PC hardware.
Aldi/Tchibo/Medion bundles
In Germany and the UK Navigon had struck deals with huge supermarket chains, mostly as a hardware/software bundle with Medion branded Pocket PCs.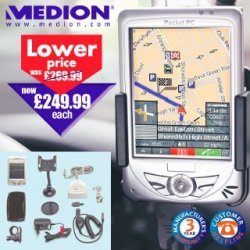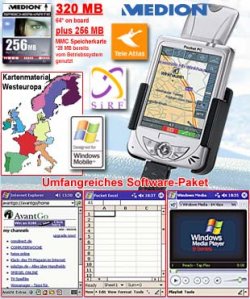 Adverts are from Aldi UK £249.99 (left)
Aldi Germany €379 / $545 (right), November 2004
This resulted in a massive explosion of Pocket GPS user numbers (and support calls, for that matter). I would say that this is a polarizing product. You either love it or you hate it, there is not much in between. (For example, quarrels over the skinning tools for Mobile Navigator have nearly lead to the extinction of the most advanced Pocket GPS user forum in Germany, and have spawned at least two other bitterly fighting forums).
All In One Bundle
On the OnCourse Navigator web store you will find a similar bundle - a Mitac Mio 168 with built in GPS antenna, and the OnCourse Navigator software. We will be reviewing the All In One Bundle later.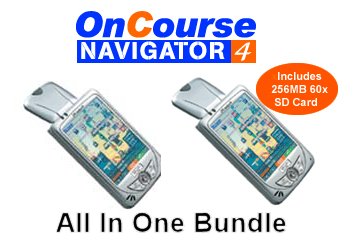 In Europe, Navigon is one of the big three players in the market for Pocket PC based navigation systems – it will be very interesting to see how the US market will react to the introduction of such a strong player, now that OnCourse Navigator is available over here. It will have to be seen how the completely different user interface will be received by the american users. OnCourse Navigator is well worth a try.
Pro
feature rich
fully customizable
installs nicely to storage card
Con
Old maps (in some areas of US)
Slow at startup
Non-intuitive UI