by Jeff Maultby
Introduction
These days an outdoor MTB/walking enthusiast who enjoys taking advantage of new technology will, when they leave home, probably take with them a road based car turn by turn voice navigation system, an off road personal navigation device, a mobile phone and a digital camera.
They will have checked that the batteries are fully charged, spare batteries are packed they have the various car-chargers. If they are lucky they won't have forgotten the rucksack to carry it all in and the waterproof cases to protect them all with!
But not I. I have found the perfect solution that replaces all the above with a single device but also adds huge benefits in the form of invaluable Ordnance Survey mapping. And what is this magic all-in-one device? A GPS enabled Nokia Navigator 6110 smartphone that has built in Route 66 satnav software and ViewRanger mapping software all encased in a Boxit waterproof case .
"Oh no", I can hear you all say, "not another mobile that pretends to be a satnav, they can't stand up to outdoor use and have abysmal battery life".
How about 10 hours navigating on one battery, a case that floats when dropped in water and has a flexible bike mount that it protects the handset while riding at speed downhill off-road at 30mph? And all this whilst being fully usable. It also allows audible, hands-free, no display navigation when MTB'ing!
Yes, it does all that and I wouldn't be without it. Even my good lady wife, who is a total technophobe, refused to return it. I knew I shouldn't have let her borrow it.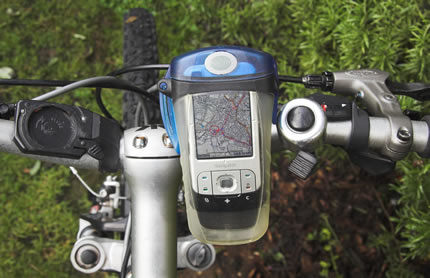 Nokia 6110 Navigator, Boxit Case & ViewRanger
Seeing your exact location on an Ordnance Survey map in Viewranger, wherever you may be, when MTB'ing or Walking or whatever is astonishing and reassuring. I'm still amazed watching the map scroll around the display while I'm moving.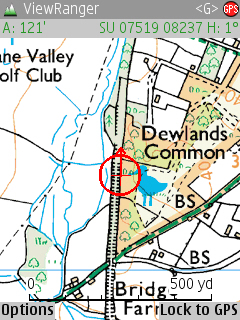 En Route
Ordnance Survey mapping © Crown copyright. Media AM70/08
Viewranger will record a track showing you exactly where you've been. It will allow you to use the OS map to create a route that you can subsequently follow. It will show your location relative to the planned route. It will show you a direction arrow to the next waypoint. It will show you a graph of changing altitude, speed or time for your track. It will show you a panorama of the view you are looking at with all the key features named. You can convert a recorded track to a route which the software will allow you to follow.
You can easily export and import routes as GPX files, so getting new routes to follow is a doddle. You can use Google earth to plan a route and import into Viewranger. You can store masses of tracks and routes on the handset and select which ones to see and use. You can use the built-in phone to take pictures which are automatically attached to the current waypoint on the track and can be viewed on the screen. You can track other Viewranger users in your group – great if one of you takes a detour.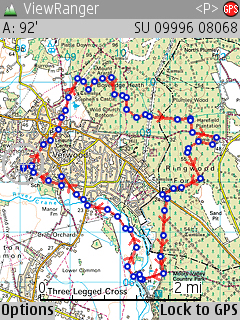 Route Planning
Ordnance Survey mapping © Crown copyright. Media AM70/08
Because it runs on a fully audio enabled device that has a loudspeaker, it allows you to attach audio files to selected waypoints. So, if you get some audio files that say "turn left", "bear right", "ahead", etc., and attach these to waypoints on your planned route where applicable, you can ride without having to worry about where the next turn is. You don't have to take your hands off the bars to press buttons on the hand set, or even take your eyes off where you're going to look at a screen.
Let's face it – when you're barrelling along at 20mph off road, the last place you want to be looking is at a satnav screen! The Boxit case has a special waterproof audio membrane that allows sounds to be transmitted in and out; this allows these sounds to be heard when MTB'ing and also allows you to make and receive calls while the handset is inside the case.
Route Start
Ordnance Survey mapping © Crown copyright. Media AM70/08
And one of the best things is the software that provides these brilliant off road mapping features is British, made by Augmentra, a Cambridge based company. It's so good it's already won several awards. It will run on any device that uses the Symbian operating system, which is most of the Nokia handsets, and many others. You don't even have to use a GPS enabled handset like the 6110 Navigator, you can use Bluetooth to connect to a separate GPS receiver that stays in your pocket or rucksack.
And you don't have to buy individual maps or map cards and hope you have the right one with you. All maps load onto the handsets' memory card and work seamlessly together. The maps all join up and know where you are and load accordingly. They zoom in and out to vary the visible detail; they let you scroll around to see what's around you without losing your track or location. And if you have both 1:50 and 1:25 OS maps for the same location, they will synchronise, and when zooming in will show the 1:25 map automatically. You can use Augmentra's website to build your own custom map that contains individual OS squares that you select from their grid of the UK. Going somewhere new? Just logon and get the new map and load it onto the hand set and it will sit alongside your other maps and be there when you need it. You can get all UK at 1:50 and a significant part at 1:25 on a currently available 8GB memory card and these are increasing in size all the time. And they're currently working on European maps also. It takes about a minute to acquire the satellites and the accuracy is remarkable, it locates you to within 20 yards.
What happens when the battery runs out you say? Well that is a common problem with all such devices but with the Nokia 6110 and Viewranger it is less so. The handset uses a lithium-polymer battery that gives excellent life when GPS'ing. I've enjoyed 10 hours use with the power management features enabled. Lets face it, you do not need the screen on all the time, so set the power management to turn off after say 20 seconds, the navigation software and GPS carries on working in the background but lots of battery life is saved. When walking, just press a button, and immediately you see where you are and where you want to go. With the audio features for MTB'ing you don't even need to do this. But to be safe I always carry a spare LiPo battery and if planning a very lengthy trip would carry several. However these are tiny and take no space or weight and genuine batteries can be obtained for less than £10 from several web sites. And Viewranger is really clever here, just switch off the handset, swap the battery, switch back on and run Viewranger and it carries on from exactly where it left off; tracks continue, route following continues; it's as if it was never switched off.
When you get back to the car, plug it in to the car charger and it will replace any lost charge and also navigate you back home using the built-in Route 66 road based car navigation software. Try doing that with any other personal navigation device. And no tea leaf can nick your car satnav when you've got it with you when you're away from the car! And its small enough to fit in your pocket while GPS'ing. Try doing that with your in car satnav or personal navigation device! And don't forget this is a smart-phone, so it has internet connectivity, text & multi-media messaging, MP3 music player, etc etc, as well as full OS GPS based navigation!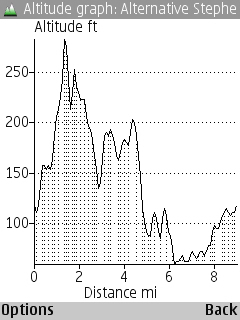 Altitude and Speed graphs
Cost? How much did you pay for your mobile phone, your personal navigation device, your car satnav and all the batteries and all your ordnance survey maps or your independent mapping software's maps. Way, way more than the cost of a Nokia 6110 Navigator with Viewranger, Boxit case and bike mount and some maps, I bet. By the way, unlike many other devices, you buy a license to the software, so when you change your hand set, or upgrade, or a better hand set comes along, just talk to Augmentra and they will transfer the license to the new device.
Are you into Motorbikes? Get a Bluetooth headset for the Nokia 6110 Navigator and use the Boxit bike mount to clip the Boxit case to the bars. You have a waterproof robust device for on-road or off-road hands-free navigation that also allows you to make and receive calls while riding. Try doing that with any other device!
In case you're wondering, no, I'm nothing to do with Augmentra, Nokia or Boxit. I've been looking for the capability provided by these products for a very long time. It is so good and so much better than anything else I've seen that I wanted other people to enjoy the remarkable benefits. And if Augmentra make a few more sales as a consequence? Well they deserve to!
---