Editorial

Last week's price reduction for our speed camera database generated a number of 'interesting' enquiries. These ranged from angry demands by those who had paid prior to the offer for a refund to enquiries about how existing subscribers could take advantage of the price drop.
Now we like to think we are fairer than most but even we have to draw a line somewhere. One complaint bemoaned the fact that our 'Marketing Department' must have known this price drop was planned. I dearly wish we could afford such a department however we are but five people and the discount was only decided on the day before it went live.
A great many of you who missed out took it in good cheer and whilst we won't be issuing refunds for the difference in price, neither will we be asking for the extra to be paid to us if you renew shortly before the prices go back up.
The long awaited CamerAlert update has proved very popular and within two days of its release we were occupying the No4 chart slot in the Navigation app section. Thanks to all who have bought the app and posted reviews.
Darren Griffin
Speed Camera Subscription - Price Discounted

The price of our speed camera subscription is now £16.99, a £3 saving off our normal rate. This is a limited period special offer price which we hope will encourage those of you who have not yet done so to sample our service.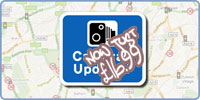 £16.99 will get you weekly updates, you can install on up to three satnavs (one of which can be an iPhone/iPad3G) and eligibility for our lifetime subscriber offer. Report a qualifying camera and you could win free updates for life. Full details here.
N.B. For existing subscribers who have a recurring payment in place, there is no way for us to vary the amount that PayPal will charge you for your next renewal. If you wish to take advantage of the £16.99 special offer then you will need to cancel your existing recurring payment with PayPal and then renew manually during the offer period.
We do not currently have an end date but to ensure fairness we will give one week's notice via an announcement in the Newsletter and on our web-site.
If you do cancel a recurring payment and renew then your subscription will be extended by 12 months and you will pay £16.99 12 months after you renew irrespective of any remaining time left on your subscription. e.g. If you were due to renew on 14th Feb 2011 but cancel your existing recurring payment and renew tomorrow, your subscription will be extended until 14th Feb 2012 but you will be charged £16.99 renewal on 16th oct 2011.
ProClip October 10% Discount Offer

ProClip USA, North American distributor of Brodit ProClip cradles and mounts are offering a 10% discount on all orders as part of their October Customer Appreciation Month.
For those unfamiliar with Brodit's ProClip system, it consists of two parts, the ProClip, a vehicle specific no-holes mounting platform and a device specific cradle.
The ProClip affixes to your dash without the use of screws and provides a stable platform to which you can attach one of the thousands of cradles Brodit have designed. If you add a MOVE clip, you can slide the cradle on/off the ProClip in seconds and transfer between vehicles.
If you change cars, keep the cradle and replace the ProClip, if you change devices, change the cradle and keep the ProClip, simple and effective.
Click here to read more.
This Week's Lifetime Subscriber Award Winners

This week, of the 35 unique submissions that met the qualification criteria for lifetime status, 15 qualified for Lifetime Member status. They are: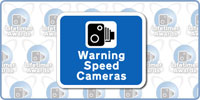 ALAKB, anghofio, ayarrow, CA_0221101502, cwood666, dazza24, Degema, divemasterza, jimmymerlin, peak_46, sandyles, Shaplad, tintenter2000, wathman, ZenithUK.
2 reports missed out as a result of not holding a subscription at time of submission this week. The remaining 18 qualifying reports were from existing Lifetime Members. Our thanks to:
AliOnHols, AllanDavies, asnook, danncus, DeeSee, DSR, Feek, idontspeed, irishbiker, Jasea, jwlchan, mightyyid, nosh, Shush59, sjbaxter, Tom59, Viking9, yeramihi.
New lifers: You are reminded that it is your responsibility to ensure the PayPal recurring payment is cancelled as per the reminder sent out to you with the congratulatory email. If you fail to heed this warning, that is also provided in your upgrade email, then we will no longer refund any subscription renewal payments that arise as a result.
Speed Camera Database: Updated 13th Oct v8.102

This week we have 51 updates to the database. The release of v1.2 of CamerAlert has resulted in a marked increase in the number of camera reports we are receiving.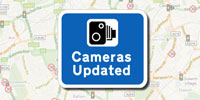 In fact the reports are arriving in such increased numbers that MaFt didn't manage to publish this week's update until very late on Wednesday evening.
So a huge thanks to all who are reporting cameras. It is your reports that help ensure our database remains the standard bearer for quality and data currency.
To download the latest release visit the download page here and to submit camera reports click here.
A-Z Maps - Satnav Friendly Road Atlases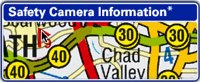 Satnav may have become the de facto navigation tool for many but most if not all of us will have owned and used a road atlas at some point.
A-Z have lead the way with road atlases and their latest 2011 range is setting the standards once more with a range of Satnav friendly features such as postcodes, safety camera information, detailed city and town centre maps and more.
A-Z have a huge choice of products available in their road atlas catalogue and the 2011 range is available now.
Click here to view the A-Z web site.

Subscribers - PayPal Auto-Renewal

If your subscription is due to expire, please be aware that all PayPal subscriptions auto-renew. You can cancel that aspect via your PayPal account. A post in the forums explains how you can check (see here).
If you overlook this and find that two payments have been made then we will issue a refund. Simply open a support ticket here providing the PayPal TransactionID for the manual payment.