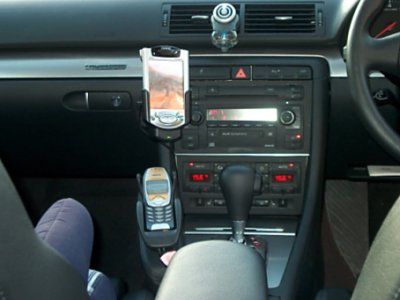 I have Audi A4 3.0 Quattro Sport that has everything but SatNav - which has been irritating me for the past few months.
The Audi SatNav system retro-fitted is prohibitively expensive, and I felt other less expensive systems were too much of a compromise (and still too expensive…).
Because I use my ipaq 3970 quite extensively AND had heard from colleagues that navigation applications for pda systems were just as accurate as much more expensive systems I thought I would give it go.
How did I chose the bits
This whole topic was new to me and I didn't know what I didn't know. Someone had told me about Handnav and so I gave them a call. Chetan told me to take a look at the Pocket GPS Website, I read the reviews and articles and then give him a call. (Thanks to Chetan @ Handnav Technology)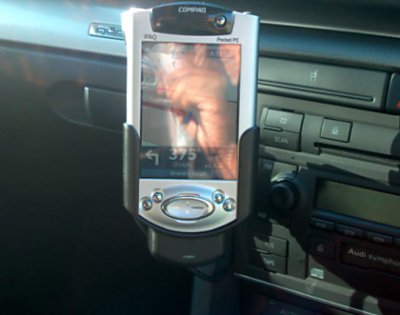 Having decided on a PDA SatNav system for my car, I wanted an installation that was neat, had no visible wires and in keeping with the rest of my car. I discounted a vent mount because I didn't want to loose the use of my air conditioning, and I discounted a Windscreen mount because I simply don't like the look of any of them
Here's what I purchased:
- Compaq (HP) iPAQ 3970, 128MB SD card
- TomTom Navigator II software with UK maps
- TomTom Bluetooth GPS Reciever
I then made a custom mount consisting of:

- Dashmount Bracket Part of a Brodit Tilt & Swivel mount
TomTom Car Kit
All of the above (apart from the iPAQ & Dashmount Bracket) were supplied by Chetan @ Handnav Technology Ltd.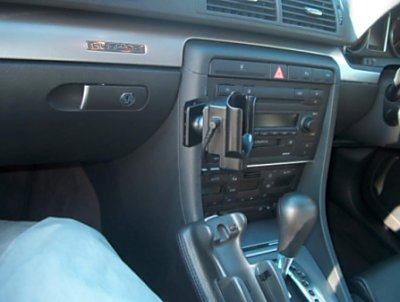 Custom Mount
The TomTom Car kit doesn't have a tilt or swivel action - which makes it a little restrictive, so I screwed the Brodit's tilt and swivel mount to the back of it (the TomTom car kit comes with it's own flat screw on piece - you need to put that on first and then screw the Brodit piece to that so that you don't damage the back of car kit cradle). I then screwed my now custom "brodit-tomtom cradle" to the dashmount bracket (see photo right).
Installation
I didn't want wires being visible and I wanted a portable system as I sometimes use my wife's A Class. That's why I went for a Bluetooth GPS Reciever (plus none of my friends had that particular system and I wanted to be the first!). Both the Bluetooth receiver and the car kit come with permanent power feed cables that can be connected to your car's power system. I had my local phone/audio installer connect this for me (Northern Car Audio - thanks Dave!). The power cable for the iPAQ goes into the centre console where the radio is and the power for the GPS Reciever cradle runs along the edge of the windscreen and then down the inside into the fuse box.
GPS Reciever
This can either be mounted or placed on the back parcel shelf or on the front dash. I plug it into the cradle on the windscreen which has a permanent power feed to it (see photo below).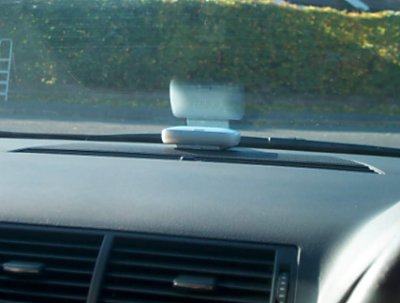 All in all I'm very happy with the finished result and wanted to share my ideas, just as previous contributors to this section have done - hope you find it useful!