Globalsat Bluetooth Audio Entertainment Pack review
Date: Monday, December 26 @ 11:56:25 UTC
Topic: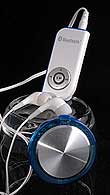 Globalsat are well known for producing quality Bluetooth devices. This time they have created a "family" of Bluetooth audio devices matched to each other to create a perfect wireless aural experience. The Bluetooth Headset, Bluetooth Audio Gateway are available individually or combined in a special Bluetooth Entertainment Pack.

This review features the BT Entertainment pack and the BT Dongle. The individual components may be slightly different.

Although the main marketing for the BT audio system is targeted largely at iPODs and MP3 players it is equally suitable for use with PDAs, and SmartPhones. I have a couple of XDAs, a whole host of iPAQs, a couple of SmartPhones, and of course a laptop PC, it seems an ideal set of gear to test the new Globalsat BT devices on.

Will the Bluetooth Audio System live up to my expectations? Click here to read on to find out...

Click here to discuss...