TomTom Mobile 5 review
Date: Thursday, March 10 @ 09:00:00 UTC
Topic: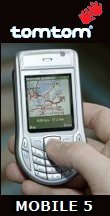 TomTom Mobile was first announced at CeBit 2004 in Hannover which would be based on TomTom's then flagship product TomTom GO based around the new core platform that would support GO, Mobile and Palm OS and soon to be Pocket PC.

Since then we've seen the new platform in operation on GO, Mobile and the new HP Navigation Kit.

TomTom Mobile contained a lot of features but also missed a lot like GO did when compared to previous versions of TomTom Navigator. Now TomTom have taken strides to address this in the new version which this review addresses, namely TomTom Mobile 5!

We have been playing with TomTom Mobile 5 for some time now and with the announcement of the full range of TomTom Navigator 5 range we can release the Full Product Review.

Click here to read the full review...

Click here to discuss...