Garmin announce the iQue 3200
Date: Saturday, July 24 @ 16:51:02 UTC
Topic: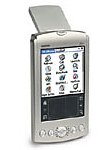 Garmin have announced the release of the new iQue. Dubbed the iQue 3200, for those who may have been hoping for an enhancement over the iQue 3600, Garmin have taken a more basic approach I'm sad to say.

The specification pans out identical to that of the iQue 3600, but doesn't offer MP3 support (which the iQue 3600 does), and offers a smaller resolution of 320x320 compared to the iQue 3600's 320x480 pixels. The processor and RAM are still the same.

The 3200 also loses the Voice Recorder which was present in the 3600 for making memo's and quick notes. The 3200 like the 3600 also is not compatible with Apple Mac's.

For a larger photo, click here.

Comments ?