M6 Toll Road ?
Date: Friday, March 19 @ 13:03:39 UTC
Topic: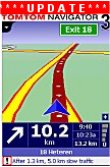 The PocketGPSWorld.com team spent quite some time at CeBit, and met with a lot of companies including the staff at TomTom and took a list of questions.

We'll share some of these questions a little later, but one of the questions people were obviously asking in our forums were "Is the M6 toll road supported ?".

The team posed this question to TomTom and the answer we received was "No". So there you are, from the horses mouth (so to speak!).

Comments ?