SysOnChip Bluetooth GPS Receiver Review
Date: Wednesday, December 31 @ 01:44:57 UTC
Topic: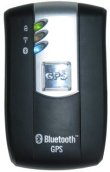 SysOnChip shouldn't need any introduction here. Back in August 2003 we reviewed the SysOnChip CF Plus GPS Receiver using the latest SiRFXTrac technology. In September, SysOnChip announced that they were producing the new Bluetooth GPS Receiver dubbed the SOC2S03. The SOC BT GPS comes standard with SiRF IIe/LP Chipset (not SiRFXTrac like the CF Plus GPS Receiver).

Straight out of the box, this is one impressive looking GPS. Look at the contour lines, the air-brushed silver alongside the shiny silver GPS square, and against the matt black finish. If anything looks good to the eye, the SOC BT GPS does!

The full review can be read here.

Comments ?