Newsletter Published Today
Date: Friday, February 06 @ 10:20:45 UTC
Topic: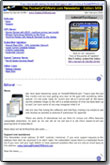 If you don't subscribe to our Newsletter you won't know that Friday is publication day. This week's Newsletter is now available with a round-up of the weeks stories, articles and links.

It is a great way to keep in touch with all that is going on in the world of GPS and PocketGPSWorld and there are also news items that are not published on this site.

It is free to subscribe to, simply enter your email address in the Email Updates sign-up box in the left hand column of every page of this site. A new issue will then drop into your email inbox each Friday.

If you want to see what you are missing you can view the latest newsletter here. We do not pass on or sell your email addresses and if you wish to unsubscribe you can do so at any point by either re-entering your address in the sign-up box to the left or by clicking the Unsubscribe link at the bottom of every Newsletter sent to you.

Click here to read more and discuss...