Otterbox iPhone 3G Defender Protective Case Reviewed
Date: Thursday, November 06 @ 17:30:59 UTC
Topic: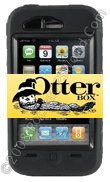 We have reviewed many Otterbox products here at PocketGPSWorld. Otterbox's reputation for no-nonsense protective cases that are tough, waterproof and built to last has been confirmed each and every time.

With the receipt of a shiny new iPhone 3G I began the search for a protective case. Although the GPS aspect of the iPhone has yet to be fully taken advantage of I still needed something that would keep it safe from my clumsy hands. Although I had looked at Otterbox's offering I will admit that at first I wasn't keen. The iPhone is a design classic and it seemed criminal to smother it in the Otterbox case and hide all its best assets!

However I'm pleased to say that I was wrong and Otterbox have designed yet another case that does exactly what it is designed to do, protect your device. And it does it very well whilst retaining access to all the ports, indeed it actually makes the iPhone more comfortable to hold and the holster has other benefits.

Read our full review here. If you have any questions post as usual in the forum thread here.