The winners of the November 2006 competition are...

A big thank you to last month's sponsor Navman for donating the prizes for the November PocketGPSWorld.com Members Competition.

The answer to the November 2006 competition sponsored by Navman was 1: 5m to 10m, 95% of the time... We had 604 entries and have selected 2 winners from the 493 correct entries. Are you the winner? To claim your prize please pm robbrady with your address details so that he can arrange for your prize to be sent to you.

Click here to see if you are the lucky winner. If not you can enter this month's Members Competition and, who knows, you may be luckier this time.

This month's sponsor is Smart Devices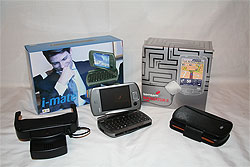 This month we have a complete iMate JASJAR PDA phone based navigation package for one of our lucky members to win. This prize has everything you need to get going: A PDA, TomTom Navigation Software and a car mount system. This package has a full retail value of £880.00. Click here to enter this month's competition.


Special Bonus: As a special bonus to all our competition entrants Smart Devices are offering a free special edition CD copy of push email software. To claim your free CD first enter the competition and then email [email protected].


Not a member? Click here

Sign up to our occasional newsletter for competition answers and news of winning entries. The newsletter signup box is located on the top left of all site pages. Your privacy is important to us, we do not sell on your email details.

Click here to read more...

Posted on Saturday, December 02 @ 16:02:15 UTC by Mike Barrett